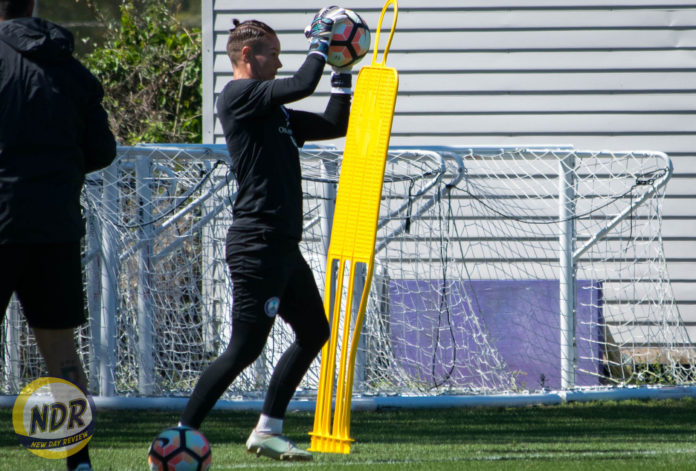 March 17, 2017 at Sylvan Lake Park
GK Ashlyn Harris
The Orlando Pride started preseason training on Monday.
Well, it's wonderful to be back, first off. The weather here is absolutely amazing, as you guys can see. It's a new start. It's a new season. New players, new goals and good personalities. So we're excited. We're definitely in a much better spot than we were at the start of last season, so that's exciting. And we actually have something to build off of, which, before—last year, we were just all new players trying to figure it out. Now there's no excuses. We know how we play. We know the principles we want to play by. We've been here before, and we know what the expectation is, and we know, overall, what the goal of the club, and that's to win a championship.
In the offseason, the Pride added United States women's national-team defender Ali Krieger and Australian women's national-team defender Alanna Kennedy.
Well, I mean, now with some of the additions we've had to the roster, they're world-class players. We have some of the best here now in Orlando, and that doesn't mean anything at this moment. It'll mean more when we get out there, and we play cohesively as a unit. I think, right now, we're just trying to figure out all these evolving pieces and put them together and see how they were collectively, but we have a lot of great options in the back, and we're trying new systems, and we're trying new connections and personnels and trying to figure out what works. And that's fun. That's the fun piece right now is just experimenting. But we have a lot of numbers to experiment with in the back, and that's exciting for me. 'Cus I gave up the most amount of goals against last year, and I don't want that. That's not a good stat to hold. So I want that to change, and it starts with being a solid unit in the back.
When asked about achieving personal accolades, Harris said the only thing that matters to her is getting results.
I mean, I have to show up and do my job, right? Every day. That's my focus. It's not about anything else but the present and focusing on what's in front of me and what game is in front of me, what session is in front of me—and making sure I'm not just focused on myself, even though I need to be to be at the best of my ability but really focusing on being a leader here and being a voice. That's always what comes first is this team. With that, my own individual performance is at the top two. I have to be able to perform for this team to do well. But whatever comes behind that, I don't focus on that. It's white noise. It's not anything that boosts my morale or makes me feel better about myself. Getting results is what makes me feel better about myself.
Harris believes the National Women's Soccer League is currently very competitive.
Right now, it's a gauntlet out here. I mean, people are fighting for contracts and for spots and for positions. You can't just show up. Last year, [Pride head coach Tom Sermanni] made a promise that he brought all these players in, and he was willing to keep them. That's not gonna happen this year. We want the best team, and that means if you're not performing, you might not be here. So there is a lot of pressure, and he's made that very clear. He wants to win a championship. And it starts with having the best players out on the field. And if that means making moves or not, bringing players on to contract, that's how it's gonna be.
When asked about her offseason, Harris said she hasn't stopped.
I haven't stopped. I've been training. I've been here. This is the best training weather for me. I've been here building off of last season. I've been in with the U.S. team, and I've gotten a little bit more experience and some games under my belt. I'm ready to rock.
The Pride hired Lloyd Yaxley as their goalkeepers coach in late January. Yaxley previously coached Harris when she was with the Washington Spirit from 2013 to 2015.
It's been great. I really respect Lloyd, and we have a great partnership together. He gets me, and I get him, and that's a really good combination to have with your coach. Knowing when to push on and when to kinda relax. And being in my 30s now, it's about fine-tuning. It's about the understanding of not thrashing your body. I'm not in my 20s. It's about the small, little details and refining them that make the biggest difference. And sometimes that's really low impact on my body. And we watched a ton of film. We're footballers. We live, eat, sleep, breathe the game, and we have very good communication, and I'm really excited for him to be here, and I've been with him for four years. He's really helped develop and get me where I am today. So to bring him to such a special place and a special club, he's having a great time.
On Monday, Sermanni said his team knows wha to expect from each other. Harris said there's no more excuses now.
I mean, there's no excuses now. There's not the excuse of, "Oh, this is our first season. This is an expansion year." That no longer can be used. So, yeah, new expectation, and we're here to—clearly with the players that have been brought in—we're here to win. We can't come bottom of the table. That's not good enough. So, we've got higher expectations, and this club has high expectations. You can see what they're doing and what they're building, and that's to be successful.
Without Pride forward Alex Morgan, Harris said she's just going to be herself still.
Listen, no matter who's here, I'm me. Every day. I show up, and my job is to be me. I'm not trying to be anyone else. I don't care who else is around. I do my job. I commit to being a good teammate. It doesn't matter who's next to me. It doesn't matter if I'm wearing a captain's band or not. I'm always gonna bring my individual personality and leadership to the team. So that's my focus. Not anyone else at this time.