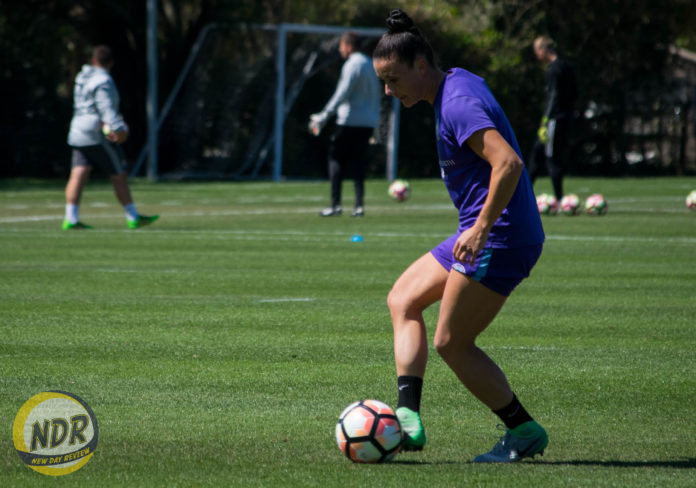 March 16, 2017 at Sylvan Lake Park
Krieger was acquired by the Pride through a trade with the Washington Spirit in November.
Amazing. Just the environment is night and day from where I came from, and I think that it's just really, really great to be around the team, to be around [head coach Tom Sermanni] again and the coaching staff. It's all first-class, like I said before. It's just nice to come around here and train in the beautiful weather and see some of the girls that I've played with previously on different teams and different atmospheres. So, it's been great. It's only the third day, so only gonna get better. It's just nice to be out here with the new club, kind of really refreshing environment. So, I can't complain. It's been great.
When asked about seeing her face on promotional material in downtown Orlando, Krieger said it's the kind of stuff you dream about.
Pretty incredible. That's stuff that you dream of, of being a player here in the community, within this team. I wanna help be a leader on this team. I know it's tough to have that adjustment period because I haven't been here. But I'm ready to come in, be a vocal leader and lead by example and help this team succeed this season. And I think all of us have already decided this is what our goal is—to win. And I think that was set right from the bat, and I think that is already instilled in the team already, and you could see that in the three days that we've been training. All that stuff kinda doesn't really matter. To me, it's important to win and to succeed here. And that's what I hope to help instill in this team and the club.
Sermanni said he, his staff and his players know what to expect from each other now. For Krieger, she is seeing the chemistry take shape.
Tom has said from the very beginning. He's made sure that all of us know the identity of the team from the very first day. And I think that is something that is very important for team chemistry and the team environment that we want to provide here. I think it is gonna show on the field, the quality of football that we're gonna play. Everybody's gonna be on the same page, and everyone's prepared to do their job. As long as they know their role, which is what—we have to make sure we all know our role in order to continue to play together and play well and play quality football on the field. But we're gonna be very dynamic this season. It's gonna be—everyone's ready to succeed and ready to win. You could see that from Day 1, which is really, really exciting for me to be a part of this new environment and this professional environment. To start off the season on that note has been great.
When asked about the team's identity, Krieger said it varies from offense to defense.
We have different identities for attacking purposes and defensive purposes. But just basically being on the same page but working hard and being fit and being prepared and having that attacking mentality to not be afraid go forward and be dynamic and have good movements off the ball and work for each other. And I think that the physicality that we bring as well, the certain mentality that we're gonna have—I think just having a good team chemistry on the field is gonna be very, very important, and that helps teams be very successful, no matter what type of personality that you have. And I think that's gonna be our mentality going forward and making sure that every single person knows their role and every single position. And I think that is something that will be identified in this first month of preseason.
Krieger is confident in the offseason acquisitions of players in the attacking third to replace superstar forward Alex Morgan until she returns.
Obviously, we're gonna miss her tremendously in the beginning. But, luckily, she's coming back in June, and we're gonna be so happy when she gets here. But we do understand that we have to get the job done without her for the first however many weeks. And so, obviously, we're going to see the personnel that we have here. We're gonna fill that role. And I know that Tom and this coaching staff has that plan. We do have depth in that position, and I think that we will take care of that and figure that out as the time goes on. But this is a great opportunity for preseason for some of those players to step up and prove why they deserve that opportunity to start in those positions. So I think that we're gonna be great. We have depth, and we're not worried about that at all. I know that defensively, I take pride in having a great defensive communicative back-line that we're gonna stay compact. We're gonna provide all the defensive qualities that we can in order for the front six to be successful. So, I know that I will help lead that tremendously, and I have full confidence in our team to be successful. But we will be happy when Alex gets back. We're gonna take care of it until she does come back.
When asked if she prefers having three or four players in the back-line, Krieger said she can adapt to either.
For me, it doesn't matter as long as we have the right personnel and the right positions. You can't fit square pegs in round holes. And obviously Tom has a great plan for that. So we're going to have the right personnel, and I think, personally, you have to look at your team and say, "Okay, this is a formation that we can play," not fit the players to a formation that you wanna play. You'd rather wanna look at the players and say, "Okay, we're able to play this formation." And I think that whatever he decides to do, we're gonna be 100 percent behind him in support of that, and I will do my job and everyone else is gonna do their job in order to make that successful. For me, I like either. I can adapt either way, and I think a lot of these girls are very professional in that way that they can adapt to any formation that he wants to play. So, we're prepared for anything, but we're gonna be very successful at it no matter what it is.
Krieger will join the back-line with three Australian women's national-team defenders. They are Steph Catley, Laura Alleway and Alanna Kennedy.
It's gonna be incredible. I mean, you wanna play with some of the best players in the world, and luckily they're on my team. And I think it's gonna be a great setup for us [defensively]. It's just really exciting to play with good players because you learn from one another, and you demand a lot out of each other, but you know that you're there to be successful and to do a good job, and we're all good, quality players, and we wanna put a good, quality product out on the field, and I know that you can have trust within those playes to do so. So I'm very, very excited to play with them, to play alongside them and to call them my teammates.
When asked about the growth of the National Women's Soccer League, Krieger said this is the best league in the world.
It's very exciting that women's football is growing, not only in our league but around the world. I think that you can see that the gap is closing between the players and the young players coming out of college, the rookies. And I think that it's really great that the gap is closing, and we're filling in those little holes that maybe before, when we first started the NWSL, there was a much bigger gap that we had. So, now, you can see the gap is closing. More sponsors are wanting to come. More owners are wanting to come in and bring quality and quality organizations, which is very exciting. But it's such great competition. Every single game, you don't know how it's gonna be until you start. You know every game's gonna be great competition, and it's gonna be a tough battle. So that is also very exciting. A lot of teams are very athletic, very dynamic. And you can't assume that when you get out there, it's gonna be an automatic win. So every single game is an opportunity to get better, is an opportunity for this game to grow and an opportunity for players to prove why they deserve to be in the NWSL and within these clubs. So I think that that is so exciting for us. It's fun, and it's obviously more fun to play great teams than just to go out there and win 4-, 5, 6-nothing. So I think that keeps this league the strongest league in the world, and we're gonna continue to grow that. So that's what's very exciting for the NWSL right now.