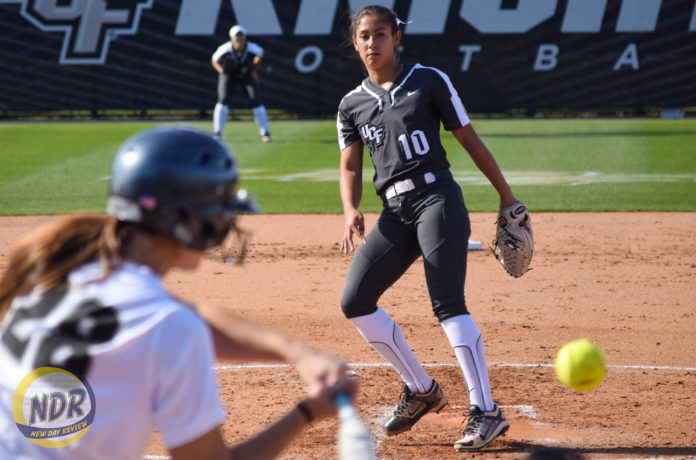 Game Recap
ORLANDO, Fla. – A back-and-forth battle between the University of Central Florida and Providence College ultimately concluded in extra innings. After eight innings, the Knights (8-6) came away with an 11-10 win over the Providence College Friars (2-4) at the UCF Softball Complex in front of an announced crowd of 415.
Relief pitcher Alea White (4-4) got the win on the mound after pitching 2.1 innings with no hits and no runs with three strikeouts. Providence's Christina Ramirez (2-2) got the loss after pitching a complete game, allowing 15 hits, 11 runs and six walks while striking out three.
"We haven't seen a lot of games like that where they're scoring four on us, and then we answer with four, and they score on five on us, and we answer," UCF head coach Renee Luers-Gillispie said after the game. "It was good to see that of a young team, being able to know that we can do that. It's not exactly the way we want to win games, but it's showing us that we're capable of being able to stay in a game and stay focused on what we need to accomplish."
UCF and Providence entered the bottom of the eighth inning after White pitched consecutive scoreless innings. That gave the Knights an opportunity to walk off in both innings with the game tied at 10-10.
"We needed that this year. Knowing that we had one senior coming in with three freshmen pitchers, that's kind of hard to find somebody, especially as a freshman that can be a closer for you," Luers-Gillispie said. "Alea's really been great at being able to step up and be that closer for us and have some big games for us. Really excited about the freshman class."
Second baseman Aubrey Johnson's sacrifice bunt advanced Brittany Solis to third after she was placed on second to start the bottom half of the eighth. Then, Megan Greenwell singled to the shortstop and stole second. Catcher Autumn Gillespie won the game with a walk-off RBI that saw Providence's shortstop commit a fielding error to allow the final score.
"We struggled a little bit on defense, but, with offense, we were able to just answer back," left fielder Linnea Goodman said after the game. "With every run that they scored, we scored another one over them. So, our offense really picked us up this week. We're just trying to keep it going for the rest of the weekend."
The roller coaster of a game swung in favor of the Knights in the bottom of the fourth inning when they were down 5-4. After giving up four runs in the top half of the fourth, the Knights retaliated with four runs of their own.
Senior right fielder Willow Kalinen helped lead the Knights to their own four-run inning when she hit a one-out triple. After third baseman Tamesha Glover grounded out to third base, Goodman singled up the middle to drive in Kalinen. Designated player Courtney Rotton doubled to left-center field with the next at-bat to score Goodman. After Cassady Brewer singled and advanced to second on the throw, Solis hit a two-RBI double to left-center field to cap the fourth-inning scoring.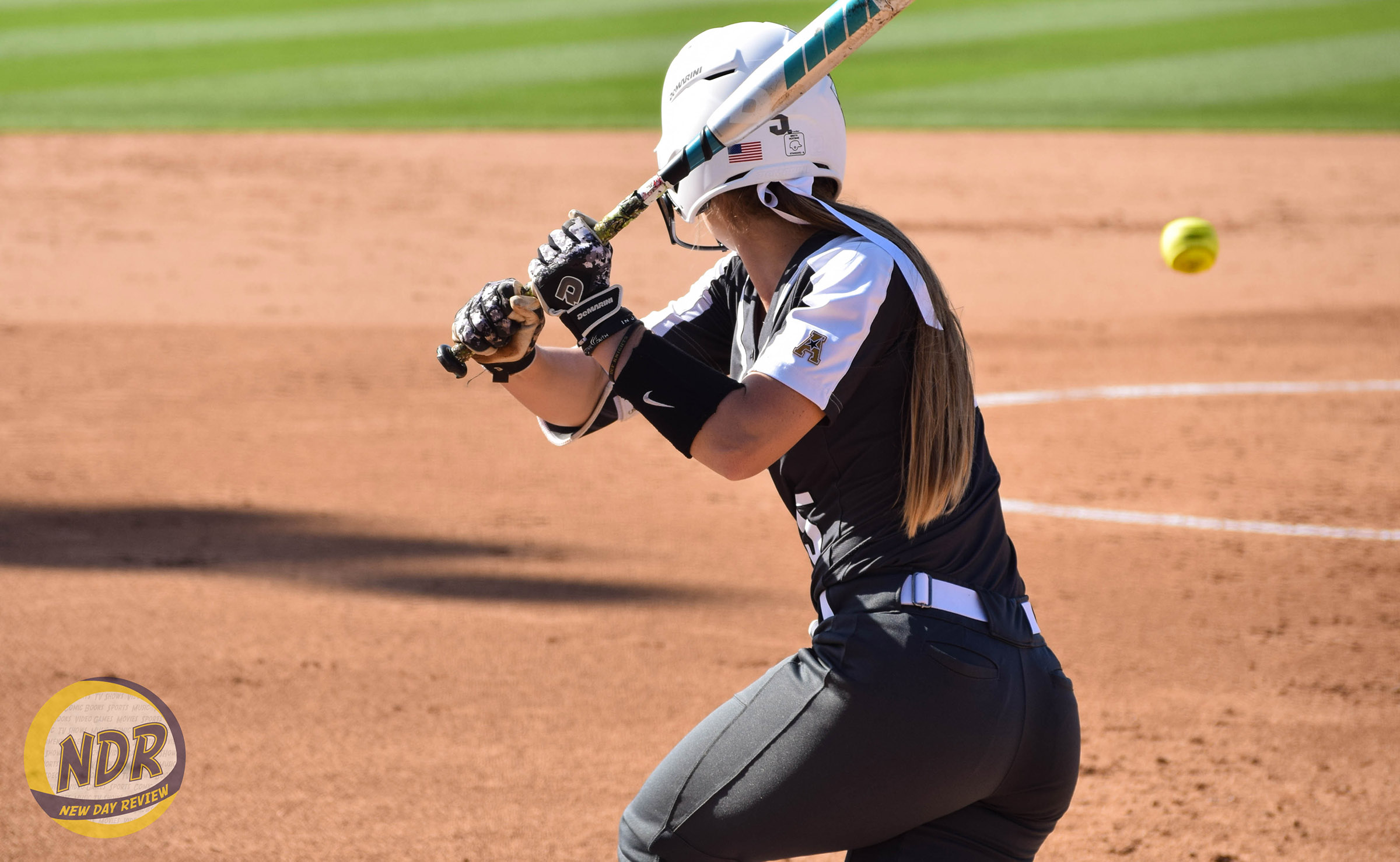 "Willow's been working really hard with [associate head coach Corrie Hill] to be able to focus on her hitting," Luers-Gillispie said. "And she sees the ball a little bit better on the outside. So when she gets a chance and she's getting pitchers that are throwing her a lot of outside pitches, she's starting to sit back and actually hit.
"She's really becoming that triple threat for us. And for her to be a lead-off like that and get a solid hit like that to rally that inning, it was huge."
Relief pitcher Kamryn Toney held the Friars to no runs in the fifth after allowing the four runs in the fourth. Two of the runs came from walks by Calixto.
"As a freshman, you look at her being able to come in behind by [Calixto] and be able to have runners in scoring position and kinda take those two runners that were on," Luers-Gillispie said. "It was a difficult situation for her as a freshman, but she's learning from that too. She knew coming in that she had to be able to start doing a little bit better in that next inning, so she was able to shut 'em down."
After UCF added two more runs in the bottom of the fifth to take a 10-5 lead, Providence orchestrated a five-run sixth inning to tie the game.
Providence's Emma Lee first notched a base hit that drove in Michaela Veneziali. After Brittney Veler walked and Vanessa Portillo struck out swinging, Julianne Rurka doubled to left field to drive in Lee and Nicole Lundstrom. A dropped fly ball by Johnson let Rurka and Veler score to tie the game.
"If the other team answers back, we don't try to just fold over and let them beat us," Goodman said. "We try to answer back, we try to push back as hard as we can. We fight. We're a team. We're not just gonna give up. We fight."
Player of the Game: Linnea Goodman
Goodman finished the game 4-for-5 with three runs and three RBIs. She's hitting .357 on the season so far.
"I definitely have been working on using all my tools as a lefty hitter," Goodman said. "Being able to hit, bunt, soft slap, hard slap, work with the defense, and I think that's been helping me a lot. And just picking a good pitch to swing at and be able to use those tools."
What's next?
UCF plays Florida Gulf Coast University on Saturday at 5 p.m. as part of the Knights' weekend tournament.
Knights Playing Top 25 Opponenets
In the early 2017 season, the Knights have played three top 25 teams. UCF first lost to the No. 21 Kentucky Wildcats 6-3 on Feb. 11 at home. Then the Knights lost to the No. 8 UCLA Bruins 1-0 on Feb. 17. In two games at the Easton Bama Bash, the Knights lost 4-0 and 3-2 to the No. 9 Alabama Crimson Tide on Feb. 24 and Feb. 26, respectively.
For Luers-Gillispie, her freshmen-laden team is getting quality experience against top-ranked teams.
"For the young ones, especially our freshmen, because we have such a big class of freshmen, to be able to know what their expectations are as a Division I athlete," Luers-Gillispie said. "So being able to go up against that and be able to stay in those games…you're seeing some really good level of play.
"Now, would rather win some of those games, but we know that we're in it."
Included in the rest of the Knights' ranked schedule are the No. 13 James Madison Dukes, the No. 17 Georgia Bulldogs, the No. 2 Florida State Seminoles and the No. 1 Florida Gators.
Highlights
An RBI single through the left side by @CourtneyRotton puts us back on top and an error increases our lead to 3-1 #ChargeOn pic.twitter.com/GMZJJF4xkq

— UCF Softball (@UCF_Softball) March 3, 2017
Turning on this one is @WillowKayy for a triple down the right field line #ChargeOn pic.twitter.com/QqEb0WuMQB

— UCF Softball (@UCF_Softball) March 3, 2017
A clutch two-out single up the middle by @linnngoood ties the game, 5-5 B4 #ChargeOn pic.twitter.com/g95CxHg1a4

— UCF Softball (@UCF_Softball) March 3, 2017
Back in the lead! @CourtneyRotton doubles to left center with two out, 6-5 B4 #ChargeOn pic.twitter.com/DqL5UtXmqr

— UCF Softball (@UCF_Softball) March 3, 2017
.@linnngoood connects on a two-run double to left center to increase our lead to 10-5 B5 #ChargeOn pic.twitter.com/io0JOteCc9

— UCF Softball (@UCF_Softball) March 3, 2017
After a walk drawn by @beesoleez9, @Miss_Aubreyy connects on a double off the fence in center field, 10-10 B6 #ChargeOn pic.twitter.com/UXcwz3pNLH

— UCF Softball (@UCF_Softball) March 3, 2017
WALKOFF! @young_auddy brings home a run to lift us over Providence, 11-10, in 8 innings #ChargeOn pic.twitter.com/8NQgKNmtV8

— UCF Softball (@UCF_Softball) March 3, 2017
NDR Notes
By the bottom of the fifth inning, the Knights scored their 10th run. This was the Knights' third game they've scored 10 or more runs. Their season-high is 13 runs in a 13-4 win over the Texas Tech Red Raiders on Feb. 25.
The Knights played in their second extra-innings game of the season. UCF won 2-1 in nine innings against California Polytechnica State University on Feb. 17.
Scoring
| | | |
| --- | --- | --- |
| | University of Central Florida | Providence College |
| Runs | 11 | 10 |
| Hits | 15 | 6 |
| Errors | 3 | 3 |
| Left on Base | 10 | 7 |
| | | | |
| --- | --- | --- | --- |
| Inning | Team | Play | Score |
| B1 | University of Central Florida | Brittany Solis singled to third base, bunt; Courtney Rotton advanced to second; Linnea Goodman advanced to third, scored on throwing error to third, unearned | 1-0, UCF |
| T3 | Providence College | Nicole Lundstrom home run over center-field wall, RBI | 1-1, UCF |
| B3 | University of Central Florida | Courtney Rotton singled through left side, advanced to third, RBI; Linnea Goodman advanced to third, scored on throwing error by left fielder; Tamesha Glover scored | 3-1, UCF |
| B3 | University of Central Florida | Brittany Solis flew out to center field, sacrifice fly, RBI; Courtney Rotton scored, unearned | 4-1, UCF |
| T4 | Providence College | Vanessa Portillo home run to left field, RBI | 4-2, UCF |
| T4 | Providence College | Mackensie Compton reached on fielding error by third baseman; Nicole Lundstrom advanced to second; Michaela Veneziali scored, unearned; Izzy Mendez scored, unearned | 4-4, T |
| T4 | Providence College | Emma Lee singled up the middle, advanced to second on throw, RBI; Mackensie Compton advanced to third; Nicole Lundstrom scored, unearned | 5-4, PC |
| B4 | University of Central Florida | Linnea Goodman singled up the middle, RBI; Willow Kalinen scored | 5-5, T |
| B4 | University of Central Florida | Courtney Rotton doubled to left-center field, RBI; Linnea Goodman scored | 6-5, UCF |
| B4 | University of Central Florida | Brittany Solis singled to left-center field, 2 RBIs, advanced to second; Cassady Brewer scored; Courtney Rotton scored | 8-5, UCF |
| B5 | University of Central Florida | Linnea Goodman doubled to left-center field, 2 RBIs; Tamesha Glover scored; Kyra Klarkowski scored | 10-5, UCF |
| T6 | Providence College | Emma Lee singled through left side, RBI; Nicole Lundstrom advanced to third; Michaela Veneziali scored | 10-6, UCF |
| T6 | Providence College | Julianne Rurka doubled to left field, 2 RBIs; Brittney Veler advanced to third; Emma Lee scored; Nicole Lundstrom scored | 10-8, UCF |
| T6 | Providence College | Nadia Kemp reached on dropped fly ball by second baseman; Julianne Rurka scored, unearned; Brittney Veler scored, unearned | 10-10, T |
| B8 | University of Central Florida | Autumn Gillespie reached on fielding error by shortstop, RBI; Megan Greenwell advanced to third; Brittany Solis scored, unearned | 11-10, UCF |
Statistics and Starting Lineup
Pitching
| | | | | | | | |
| --- | --- | --- | --- | --- | --- | --- | --- |
| Player | Team | IP | R | ER | H | BB | SO |
| Alea White (4-4) | University of Central Florida | 2.1 | 0 | 0 | 0 | 2 | 3 |
| Manami Calixto | University of Central Florida | 3.2 | 4 | 2 | 2 | 3 | 4 |
| Christina Ramirez (2-2) | Providence College | 7.1 | 11 | 8 | 15 | 6 | 3 |
Hitting
| | | | | | | | | | |
| --- | --- | --- | --- | --- | --- | --- | --- | --- | --- |
| Player | Team | AB | H | R | HR | RBI | SB | BB | SO |
| Linnea Goodman | University of Central Florida | 5 | 4 | 3 | 0 | 3 | 2 | 0 | 0 |
| Tamesha Glover | University of Central Florida | 3 | 2 | 2 | 0 | 0 | 1 | 1 | 0 |
| Brittany Solis | University of Central Florida | 3 | 2 | 1 | 0 | 3 | 0 | 1 | 0 |
| Nicole Lundstrom | Providence College | 2 | 2 | 3 | 1 | 1 | 0 | 2 | 0 |
| Vanessa Portillo | Providence College | 4 | 1 | 1 | 0 | 1 | 0 | 1 | 1 |
UCF starting lineup: 1. Tamesha Glover (5) 2. Linnea Goodman (7) 3. Courtney Rotton (D) 4. Cassady Brewer (3) 5. Brittany Solis (6) 6. Aubrey Johnson (4) 7. Megan Greenwell (8) 8. Autumn Gillespie (2) 9. Willow Kalinen (9)
UCF starting pitcher: Manami Calixto (2-2)
Providence starting lineup: 1. Emma Lee (9) 2. Brittney Veler (7) 3. Vanessa Portillo (5) 4. Julianne Rurka (3) 5. Nadia Kemp (4) 6. Paige Mulry (6) 7. Jackie Martin (2) 8. Nicole Lundstrom (DP) 9. Mackensie Compton (8)
Providence starting pitcher: Christina Ramirez (2-1)