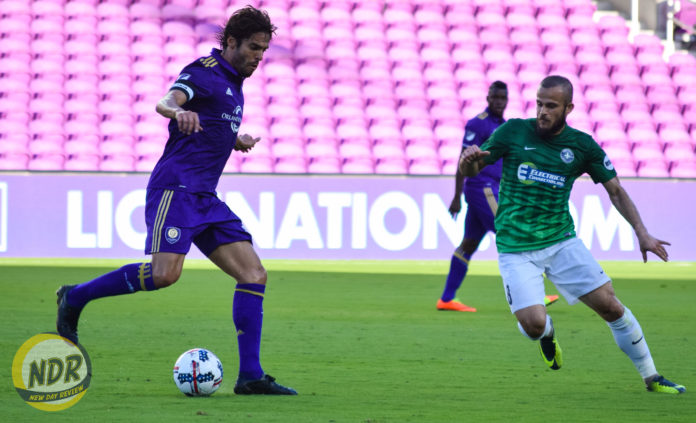 In each of the last two Major League Soccer seasons, Orlando City SC team captain Ricardo Kaká has said his goal is to make the playoffs and win a championship. At the team's media day held at Orlando City Stadium on Monday, the Brazilian said he has changed his goals for the 2017 season.
"My goal this year is win games. So, change it a little bit," Kaká said during the media-day press conference with head coach Jason Kreis and CEO Alex Leitão. "The last two seasons, we played 68 games, and we won 21. So I think it's not good enough for a team that wants to be a big team in this league and [wants to win] this league one year… Preseason, we won a lot. We lose one against Toronto… Now it's time to win every game, and we're gonna start on Sunday."
The Lions have finished with less-than-desirable results in their first two seasons in MLS, recording a 12-14-8 record in 2015 and a 9-11-14 record in 2016. But City endured some turmoil last season, losing its leadership in the middle of the season when former Lions head coach Adrian Heath was fired.
For Kaká, different and fresh motivations will help his team be successful this season. In addition to the new stadium, Kaká mentioned the additions of new players and having a coaching staff during preseason as positive factors.
"Well, this season, we have new players, like I said, new coaches can start from the first game from the preseason, new stadium," the 34-year-old captain said. "So, different motivations. Of course, we had to do something different from the last two seasons to not miss one, three points. Probably, we are gonna change, and we will see the results at the end of the season. So…we are in the right way."
More specifically to the preseason, Kaká has noticed a stark difference in the team's mentality. A winner's mentality is what he wants to see. Kaká saw that first with Colombian forward Carlos Rivas in the Lions' season-finale 4-2 win over D.C. United in 2016.
"I saw [the desired mentality] in the last games that Carlos played," Kaká said after the game on Oct. 23. "He played very, very good, and he showed us that he wants to stay here, and he can be a very important player for Orlando City."
In the team's press conference, he iterated the same recognition but applied it to most of the team.
"I think it's the mentality. [The way that we] came back from the offseason showed us that our mentality's changing," he said. "And in the spirit of preseason, the philosophy that the coach wants for the team indicates that we are ready… Now we are five weeks training, and most of the players, a majority, we really understand how the coach wants, but it's the most big change for this team."
Kreis is also beginning to see his team's shape come into form during the preseason. For the second-year City head coach, it's about his vision lining up with reality.
"Beginning of the preseason, you're not exactly sure about what the organization will look like. Coaches have a vision in their mind about what they want it to look like, and as you go through the preseason, you're trying to paitn that picture for the players in various, different ways," Kreis said at the team's media-day press conference. "Through that time, that vision that's in my head hopefully [is] translating onto the players, for the team collectively.
"We feel like every single match it's gotten a little bit better, a little bit clearer. And we hope that that continues this season."
Orlando City opens its 2017 campaign with a home match against Kreis' former team New York City FC on Sunday at 5 p.m.