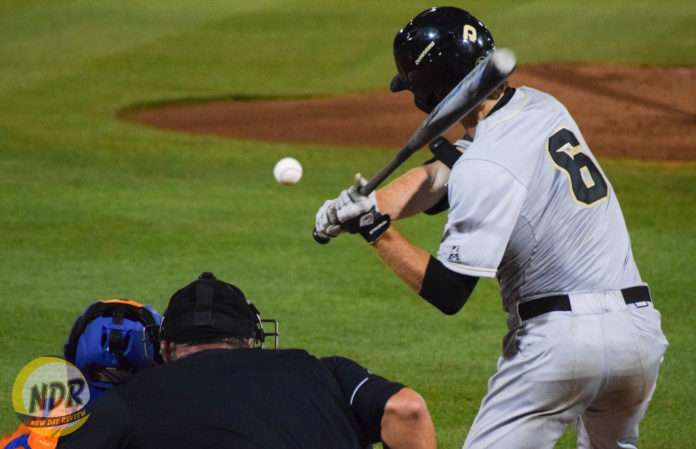 Game Recap
GAINESVILLE, Fla. – Rarely does a team enjoy leaving the comfort of home-field advantage. It wasn't anymore enjoyable for the University of Central Florida when the Knights played their first road game against the No. 2 Florida Gators. The Knights (7-1) fell to the Gators (7-1) 4-3 at Alfred A. McKethan Stadium Tuesday night.
"We just couldn't get the big hit when we needed it," first-year UCF head coach Greg Lovelady said after the game. "We did some good things. I didn't think [Chris Williams] was very sharp today, but he managed and was able to give us a good start."
Williams (0-1) recorded the loss in 5.0 innings, allowing two earned runs, two hits, two walks and struck out three. UF's Nate Brown (1-0) allowed three hits and two walks while striking out five in the win.
"It was fun coming up, playing versus them," Williams said after the game. "Just need to get out there, attack them a little bit more, throw some more strikes early. It's hard when you fall behind. Now you gotta throw back, throw right over the middle. It's good pitches to hit, so just really got to get ahead versus better teams."
UCF trailed 4-2 entering the top of the ninth. After center fielder Luke Hamblin drew a lead-off walk and advanced to second, Ryan Crile singled up the middle to drive in Hamblin for his first run of the night and the Knights' third. Rylan Thomas then knocked a first-pitch base hit up the middle. But pinch hitter Austin Griffin ultimately struck out swinging on a full-count pitch to end the game.
"Just bringing the lefty in. Didn't feel like I was getting some good swings ooff left-handers off Kam [Gellinger] lately," Lovelady said. "With Griff's power and whatnot, I just felt like he was the best option on the bench to flip the hitter and hopefully knock in [Josh] Moser from second base."
Said Lovelady on Hamblin's performance and lead-off walk in the ninth: "Luke and Eli Putnam just battled all night tonight. I mean, Luke had a phenomenal night. Got on base I think four times. And just battled. Luke had a great at-bat where he just battled and battled and got a walk, and that's why those guys are hitting the top of the order right now… We have nine guys like that, we're gonna win a lot of games, and we'll score a lot more runs."
Right-handed pitcher Eric Hepple kept the Knights in the game when he relieved Drew Faintich with the bases loaded in the bottom of the eighth inning. He forced three-straight fly balls to end the inning.
"Eric Hepple did a phenomenal job coming in with bases loaded and no outs and keeping the game where it was at," Lovelady said. "[He] gave us a chance in the ninth inning to tie it or win it."
Down 3-0 entering the top of the sixth, UCF began its rally when Crile and Thomas both hit base hit to start the inning. After Gellinger reached first on a fielder's choice to second, pinch hitter Bryce Peterson drove in Crile for the Knights' first run of the game.
Consecutive base hits by right fielder Eli Putnam and Hamblin and a Kyle Marsh walk to start the top half of the seventh loaded the bases, eventually resulting in Putnam scoring on an RBI by Crile.
"It just shows we got some grit to us, and the guys aren't going to quit and roll over and just give up," Lovelady said. "They just kept competing, which was good. Got some guys on base, we scored some runs, got some hits; we just needed more of 'em. Again, we just had too many guys on base that we just didn't get the job done."
Gators catcher Mark Kolozsvary homered over the left-center field wall to give the Gators a 4-2 lead. For Crile, who finished 3-for-5 with two RBIs and a run, his team needed to refocus after that.
"Coach didn't really say anything, but you definitely have to refocus in that situation," Crile said after the game. "We're confident in our bats, so we know with a couple more innings left and a couple more opportunities, we're not gonna get too down in that situation."
UF got on the board first in the bottom half of the third when center fielder Blake Reese doubled to center field on a 3-1 count to drive in Kolozsvary, who earned a lead-off walk. Reese scored after UCF shortstop Brennan Bozeman committed a fielding error.
Player of the Game: Ryan Crile
Crile was instrumental in the Knights' near-comeback effort. He scored the first run in the sixth, drove in the second one in the seventh and drove in the Knights' final run in the ninth.
What's next?
The Knights host No. 2 Florida on Wednesday at 6:30 p.m.
First Road Game
UCF took to the road for the first time this season. For Lovelady, he didn't feel any different being on the road.
"I didn't feel any different. The guys did a good job," Lovelady said. "It doesn't matter where we're playing, who we're playing or what time we're playing, you just go out there, and you worry about yourself. I thought we did a good job of that. Again, it just came down to not getting enough hits."
Highlights
Crile delivers his 11th RBI of the season, brings us within one!! #ChargeOn

UCF 2 Florida 3 pic.twitter.com/MdwwLsyfeI

— UCF Baseball (@UCF_Baseball) March 1, 2017
FINAL: #UF 4, #UCF 3. Austin Griffin strikes out swinging on a full-count pitch to end the game. @Lhammy5 went 3-4. #ReadNDR #ChargeOn pic.twitter.com/m86ZyIHUTy

— New Day Review (@NewDayReview) March 1, 2017
NDR Notes
Putnam continues his hitting streak for the Knights. He finished 1-for-4 with a run and a walk.
UCF left a season-high 13 runners on base The Knights' next-highest amount came in a 13-3 win over Manhattan College on Feb. 24.
The Knights suffered their first loss of the season to No. 2 UF.
Scoring
| | | |
| --- | --- | --- |
| | University of Florida | University of Central Florida |
| Runs | 4 | 3 |
| Hits | 4 | 10 |
| Errors | 1 | 2 |
| Left on Base | 7 | 13 |
| | | | |
| --- | --- | --- | --- |
| Inning | Team | Play | Score |
| B3 | University of Florida | Blake Reese doubled to center field, RBI; Mark Kolozsvary scored | 1-0, UF |
| B3 | University of Florida | Jonathan India reached on fielding error by shortstop; Blake Reese scored | 2-0, UF |
| B4 | University of Florida | Blake Reese singled to center field, RBI; Mark Koozsvary advanced to second; Keenan Bell scored | 3-0, UF |
| T6 | University of Central Florida | Bryce Peterson reached on fielder's choice to third base, RBI; Kam Gellinger out at second; Ryan Crile scored | 3-1, UF |
| T7 | University of Central Florida | Ryan Crile out at first, RBI; Kyle Marsh advanced to second; Luke Hamblin advanced to third; Eli Putnam scored | 3-2, UF |
| B7 | University of Florida | Mark Kolozsvary home run to left-center wall, RBI | 4-2, UF |
| T9 | University of Central Florida | Ryan Crile singled to center field, RBI; Luke Hamblin scored | 4-3, UF |
Statistics and Starting Lineup
Pitching
| | | | | | | | |
| --- | --- | --- | --- | --- | --- | --- | --- |
| Player | Team | IP | R | ER | H | BB | SO |
| Nate Brown (1-0) | University of Florida | 3.0 | 0 | 0 | 3 | 2 | 5 |
| Chris Williams (0-1) | University of Central Florida | 5.0 | 3 | 2 | 2 | 4 | 3 |
| Eric Hepple | University of Central Florida | 1.0 | 0 | 0 | 0 | 0 | 0 |
Hitting
| | | | | | | | | | |
| --- | --- | --- | --- | --- | --- | --- | --- | --- | --- |
| Player | Team | AB | H | R | HR | RBI | SB | BB | SO |
| Blake Reese | University of Florida | 3 | 2 | 1 | 0 | 2 | 0 | 0 | 1 |
| Ryan Crile | University of Central Florida | 5 | 3 | 1 | 0 | 2 | 0 | 0 | 0 |
| Luke Hamblin | University of Central Florida | 4 | 3 | 1 | 0 | 0 | 0 | 1 | 1 |
UF starting lineup: Nate Brown (0-0)
UF starting pitcher: 1. Dalton Guthrie (6) 2. Austin Langworthy (7) 3. Jonathan India (5) 4. JJ Schwarz (DH) 5. Deacon Liput (4) 6. Keenan Bell (9) 7. Christian Hicks (3) 8. Mark Kolozsvary (2) 9. Blake Reese (8)
UCF starting lineup: 1. Eli Putnam (9) 2. Luke Hamblin (8) 3. Kyle Marsh (7) 4. Brennan Bozeman (6) 5. Ryan Crile (DH) 6. Rylan Thomas (3) 7. Kam Gellinger (5) 8. Logan Heiser (2) 9. Matthew Mika (4)
UCF starting pitcher: Chris Williams (0-0)