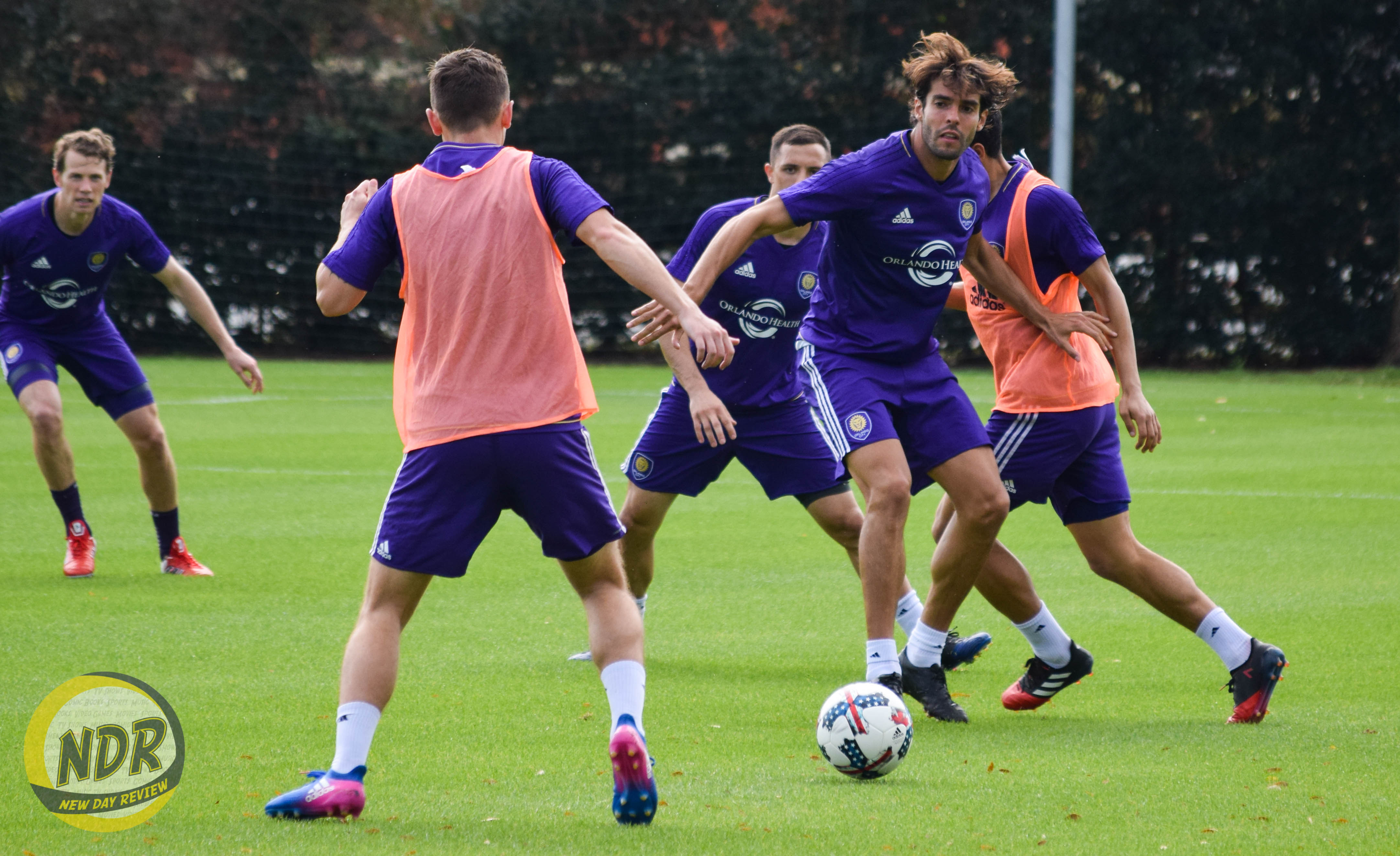 Feb. 8, 2017 at Sylvan Lake Park
MF Antonio Nocerino
(translated from Italian)
In the 2016 season, Nocerino didn't join Orlando City SC until its second match of the regular season against the Chicago Fire.
It's been great. I very much needed the preparation, which I didn't have the opportunity to get last year. And that's fundamental to prepare for the whole season.
When asked about his role on the team, Nocerino said he just wants to be available.
No, actually my main concern is just making myself available. Be ready whenever I get the call-up. I'm available and willing to play wherever he asks, whenever he asks, so, as I said, the key thing is just for me to constantly be prepared and contribute with enthusiasm.
When asked about being a leader on the team, he said he'll let the facts speak for themselves.
Well I don't know. Maybe it's just because of my age and my experience. I'm not too concerned with calling myself a leader. I'll just let facts speak for themselves. If others want to say it, that's great, but my focus is on having a great season.
(spoke in English)
Nocerino spent his offseason in Orlando, primarily because of family reasons.
I stayed in Orlando because I have a son in the school… New season is very, very important for everyone. For new stadium, for people, for country, for fan, for you. I work hard with the team for very, very good season because it's very important.
The 31-year-old has played for popular Italian clubs Milan and Juventus.
It's a big, big opportunity for everyone because the player is young player. I don't know if he play in beautiful stadium. It's a big opportunity. The club work hard for this opportunity, and, now, the team is work—deserves to play in the new stadium, in the pitch because, for me, the new stadium is England stadium. I play in Old Trafford. The younger player have a big, big opportunity.

I can't wait. Because, for me, it's big opportunity, no? It's a new expectation for me, for team, for club, for supporter. It's a new season. It's a new life. Together, work for win because for me, win or lose is no same. The team is work hard for one focus. Work, work, work for week. After, I lose because the team is very strong. Is 150 percent for winning in Orlando because the team in the home is very, very hard stadium for team that come in Orlando.
During the team's 10-day trip in Jacksonville, Fla., the club's communications team released a video of Nocerino, Ricardo Kaká and other players singing in the car. The video would go viral.
Who did it better? @KAKA and Noce or @NickyJamPR and @enriqueiglesias? pic.twitter.com/nht1ySU8D9

— Orlando City SC (@OrlandoCitySC) February 3, 2017
This moment for me is very, very important because work together—the moment is a funny moment. Every moment is work hard in the pitch. After is a funny. Because the great season, you work knowing in the pitch. Yeah, in the pitch, it is normal. In the dinner, in the lounge, it's very important. I like because I am funny. I like play with the player. It's important change the moment because you run every day, you work hard every day.

I repeat, it's important. Because you look at the bigger player with Ricky. Ricky is the first, same with me. He's funny. Look, Iglesias follow the video, reposted the video. Iglesias like the video of me and Ricky. It's great moment because it's good for team, for together. For me, this is moment to help the season.

I no sing every day. Different moment. Depends on moment. Now, is no. At the moment, I don't know. I prefer play, not sing. Group bonding, for me is important. It's important for stay good after in the season.
When asked about how comfortable he's beginning to feel in Orlando, Nocerino said his family is very happy.
My family is very happy. My son stay good. My wife is like. Orlando is nice. Is nice for family. Is quiet. I have the fortune to play in the good team, good club. It's a club family. For me, it's perfect. I speak with the club. I don't know if I have opportunity for finish the career in Orlando. I hope. I have the big opportunity. Me and my family is very, very happy stay in Orlando.
MF Richie Laryea
Last season, Laryea played mainly with Orlando City B.
[I'm feeling] very good. Had a good offseason. All the guys look fit now for preseason, and preseason's been going very well. Good intensity, so feel good for my second year.
Like the other players on the team, Laryea was assigned offseason workouts.
A lot of training. We had an offseason plan that [director of fitness] Dave [McKay] worked out for us. So we were doing all of that, and everyone looks fit, like I said.
When asked about his personal goals, Laryea spoke about having more experience now.
Do a lot better than I did last year. I'm one year wiser now, so I want to contribute to the team, keep working hard, hit some personal goals like playing more and all that.
When asked about where City head coach Jason Kreis might put him, Laryea said the second-year Lions head coach is giving just about everybody equal opportunity to prove his worth.
He's just pretty much told all of us that he's giving everyone like an equal opportunity to come into preseason and show what you can do. So, I feel confident in my ability. Just keep working every day and see if chances come.

That's always good for a professional player of any sport. You want to know that no one's above you or below you. Everyone's going in and putting in the work every day.
When asked about where he was most comfortable on the field, Laryea said that Kreis has been working him mainly on the left and wide.
They've been playing me wide left for a bit, which is—I don't mind it.

I had a lot of time with the B team. I've been trying a few spots this preseason, so just adapting to one and running with it.
Orlando City added midfielder Will Johnson and defender Jonathan Spector during the offseason.
It's very good also they added guys; like, Will's very competitive. He drives the group. Spector's here as well. So, like, it's a high-intensity—the training's always intense. Everyone's flying in, nothing bad, though. All positive, good work.

They bring experience to the team, so everyone in training, you see, they're giving 110 percent. So it shows us younger guys that have to get the same level if we wanna get to where they're at.
City forward Cyle Larin spent a lot of the offseason working out in Orlando. Laryea, one of his best friends, spent time in Orlando with Larin as well.
Yes, I stayed for three weeks and then headed back to Toronto and then came back earlier for preseason.

[Working with Cyle is] good, always. We get a lot of work in together, so same thing, nothing new.
When asked about Nocerino's impact on the team, Laryea said his experience helps.
He helps me a lot. He helps a lot of guys on the team. So, just listening to him—obviously he has experience in places that he's played over the years, so he's a good guy to listen to, and he's growing as a leader on this team.
Off the field, Nocerino is very social with his teammates, finding himself at the center of a lot of team-bonding moments.
He's always bothering people, especially me. No, no, he's a good guy, though. He's always bringing character to the team and obviously for himself.
This preseason, Kreis has emphasized the importance of good body language. During Tuesday's training session, Kreis was upset with his players for having bad body language.
Yesterday, obviously, as you guys probably have seen, he wasn't too happy. But today, I thought it was a lot better. Everyone's competing. There's no like people throwing their hands up. Lose the ball, get back at it, defend—that type of thing.

It takes time, obviously, for—he's always looking at next play. So if you made the pass, you don't have time to stand still or admire anything. You have to get back on your horse and get ready to get another ball and make another play. So it's something that you have to get used to, but I feel like everyone's getting it.