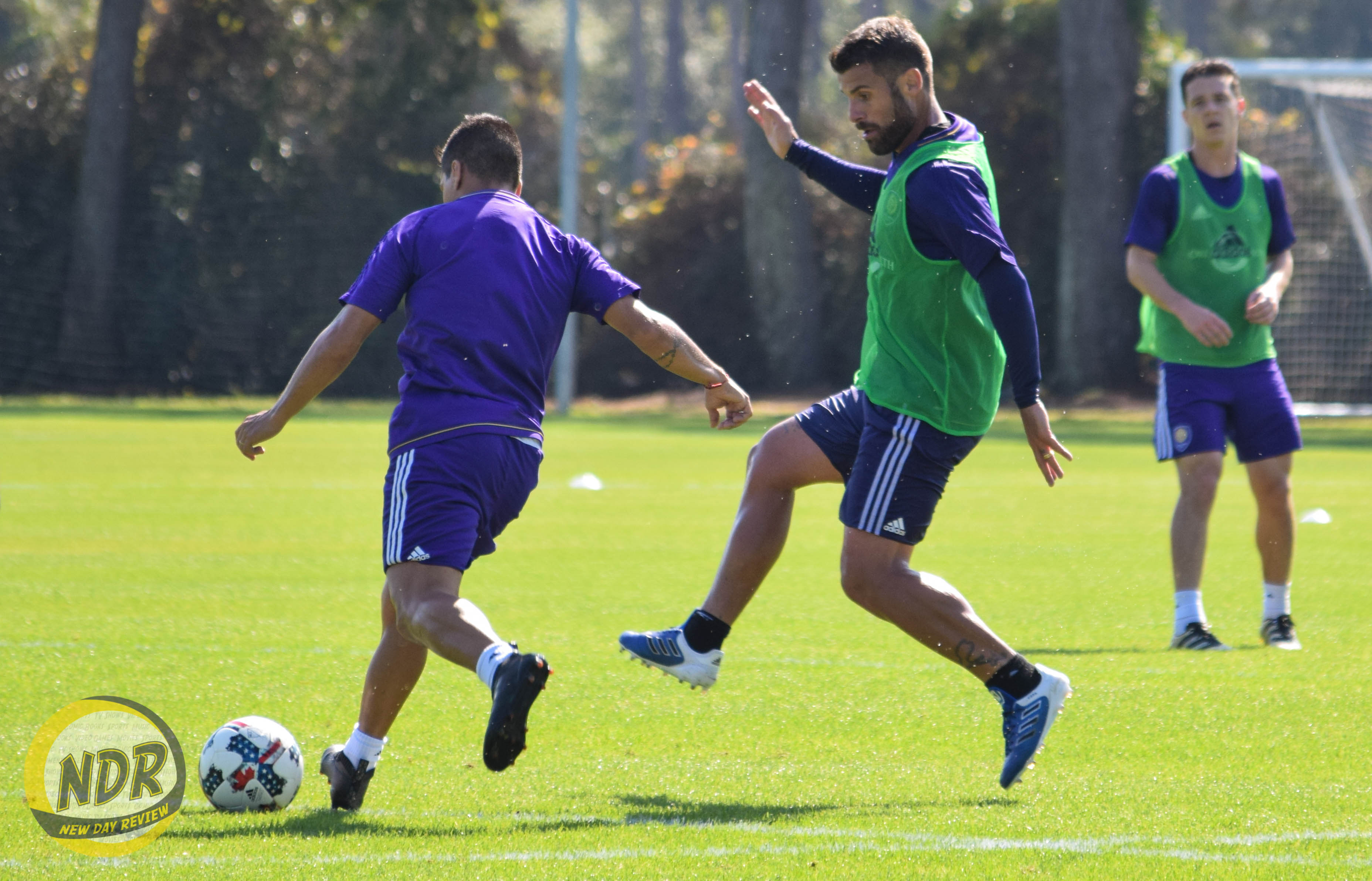 Feb. 2, 2017 at Sylvan Lake Park
HC Jason Kreis
Orlando City SC opens its 2017 season against New York City FC in the club's new soccer-specific stadium in downtown Orlando on March 5.
Anxious. Ready. We need to be patient as well 'cus 26 days is a long time. We can do a lot of work in the next 26 days [to] prepare ourselves for that match—not just that match, for the entire season. So, anxious, excited but remembering to keep our guy on the ground, keep working.
During the Lions' training session on Tuesday, Kreis got on some players because of body language.
Little disappointed. Disappointed with reactions to things. Talked a lot about having positive reactions to negative things, and there were some negative things in the training session. I just started to see a lot of guys reacting with their heads down and not in the manner in which we've set. The expectational level that we've set over the first two weeks is higher than what we had today. So, had to remind them of what we're about.

Some negative things, just have guys with their heads down, their shoulders slumped. We just don't have time for that. There's gonna be lots of mistakes. [They] happen in this league in training sessions and matches. It's my opinion that the teams that react best to those mistakes and react the quickest are often times the ones that have the most success.
Orlando City is currently in the middle of doing two-a-days, having two practices in one day.
I think, first and foremost, the training sessions—we do two-a-days because we feel like we need an extra session to work with the players both from a physical standpoint but also from a tactical standpoint. The number of sessions that we have over the preseason sometimes I feel like it's not quite enough because we need to play the matches as well. This morning was mostly about work and just philosophical things. And this afternoon will be much more tactical.
Barry was selected by City with the 13th-overall pick in the 2016 MLS SuperDraft.
He was a player that kind of opened my eyes when I first got here. I didn't know much about him at all. Then the first match that we played against Stoke City, played very well. Scored a goal and earned a starting position. Really didn't think that he'd be in the starting lineup, but from what he did in that match, he earned his chance. Did well over a couple of games, but then started to falter a little bit. I think he is exactly like most of the younger players in this league where they put together a couple of really good games, and then they go through a little bit of a rut. And that's a question of when they come back out of that. And so he was a player that showed us some bright spots and then went into a little bit of a rut, and then we never quite got him out of that towards the end of the season. So I think he comes into this season with a little bit of a chip on his shoulder and feel like he has something to prove. He worked real hard in the offseason, and he's done a great job in the preseason so far.
Some players are currently out with flu-like symptoms and injury.
Mostly good. [Brek Shea and Conor Donovan] were out ill today with flu-like symptoms. So we'll try to keep them away from the rest of the group so we don't have that running around the team. And then we've got a little bit of a muscle injury with Kevin Alston. Pierre da Silva has a bruise that he should be back from any day now.
The Lions recently returned from a 10-day trip to Jacksonville, where the team focused on defense and came away with a 5-0 win over Jacksonville University in a training scrimmage.
We were really pleased. I thought it was an extremely positive trip. Our guys handled it the exact right way. The facilities were excellent, the hotel was excellent. Everything that surrounded the group was really good, and the work the players put on the field was terrific.
Before coaching Orlando City, Kreis was the head coach at Real Salt Lake and NYCFC in its first Major League Soccer season.
Well, I think this is the first year I can remember where we're actually gonna get to spend some time at home during the preseason. Every year before for the majority of the teams in MLS, the only way you get any training is to go away to places like Florida, Arizona or California. And so I think that this is a unique opportunity here where we got to just drive two hours away, spend some time sequestered, and now we get to enjoy being at home. But at the same time, we worked extremely hard while we're here.
When asked if two-a-days was atypical of what his teams usually do during preseason, Kreis said that this was something he has always experienced.
No, I think [two-a-days are] very typical in preseason. We're gonna spend some of our time doing two-a-days. Every time that I've trained before has always done some. We're not gonna do too many. We're not gonna go crazy here on the guys, but it's important from a physiological point of view and tactical point of view and also a mental point of view that the players put in the work.
Goalkeeper Josh Saunders was acquired by Orlando City in a trade with NYCFC that sent the Lions' natural fourth-round pick of the 2019 MLS SuperDraft.
Well he comes in clearly to support Joe [Bendik], first and foremost. The job that Joe did last year and the work that Joe put in last year for the team means that he comes into this season as the clear starter. But we felt like over the year that we didn't have a strong-enough and an experienced-enough back-up goalkeeper so that we could get Earl Edwards [Jr.] some games. Never had the ability to send Earl out with the B team, which is what Earl needs. Earl, now, is [in his] third year as a pro, and I don't believe he's played more than a handful of professional games. And so he needs matches. Now would bring in a guy like Josh, and [it] affords us the opportunity to get Earl out, to get a bunch of OCB games and further his own development.
Barry started four of his eight MLS appearances in 2016, tallying an assist and 293 minutes.
I think it's different for every individual. I hate to lump everybody under the same bucket. I think it's very typical for a first-year player that has a tremendous amount of success to have a sophomore slump. And I think Hadji had little bits of success, but I don't think he'd be in that same category. And I would expect, and from what I've seen so far, I really think this is going to be an up year for Hadji.
When asked if Barry would see time with Orlando City B, Kreis harkened back to his comments about garnering experience for younger players like Edwards Jr.
For any of the younger players, you're often times making a decision in your mind about what's better for the younger player and for the team. You're gonna weigh it all up. Sometimes the best thing for the team is to have a player like that available off the bench. But maybe that's not the best thing for the player because, again, going back to Earl's situation, it's the same for any player, really. They need games. To develop, you need to be playing competitive games in competitive atmospheres. So, sometimes the better situation is to not have a player like that on the bench and go get him 90 minutes with the B team. And that's not just singular for Hadji Barry; that's for all of our young players. And when they go with the B team, they need to understand that when they're going to perform there, they're being judged and evaluated because that is their opportunity to show us what they can do.
Going into the 10-day trip to Jacksonville, Kreis said the work would primarily be about offense. Starting this week, Kreis said the focus transitions to offense.
So we shift now. We'll shift and put the majority of the emphasis on what we do when we have the ball. And this morning's session was very much geared towards that. How we're transitioning from putting in the defensive work to transition to offense and what we want that to look like.
F Carlos Rivas
During the offseason, players received specific workout regiments from Kreis and his staff.
I think I came back in pretty good form. I was in Colombia when the team gave us different assignments to work on. I'm really glad I came back without any issues or complications, and it's good to hear that Jason thinks I'll form a good part of this team.
In 2016, Rivas started eight of his 21 appearances, tallying his first three MLS goals and four assists in 799 minutes.
My goals are really are to just improve day by day. I don't think I got as much playing time as I wanted to last year, and my goal is to work on that and get more minutes and get more goals this season. I think, for me, really, I just need to keep improving and working hard at training little by little and just keep showing that I can be out there. Obviously, the goal is to get more minutes this season and get more goals and be a bigger part of this team.
Rivas became a father in mid-July to his son Dylan.
Honestly, it's changed me a lot. It's the best thing to ever happen to me. It gives me another motivation and other goals to be as good as I can for him.
F Hadji Barry
In the team's 5-0 win over JU during a training scrimmage on Saturday, Feb. 4, Barry scored in the 75th minute from 20 yards out.
Just the hard work that I put in the offseason, and to get a first goal in our first game was special. But the most important thing—we just wanted to get a result, and we got that. Now it's time to get back to the training ground and try to get better for next game.
During the offseason, Barry was able to visit his immediate family for the first time in 10 years. He is originally from Conakry, Guinea.
I went home to see my family, but I still put in the work. Jason gave us a workout [during the] offseason, and we did that.

It was great. After 10 years of not seeing my family—Mom, Dad, brother, sister—so it was special moment seeing them. I needed that, and now I feel fresh. So I'm ready to get back to work.

I can just put that aside and just kinda focus on the game. For the past 10 years, every day, I won't lie to you, I think about them every day. So just seeing them this past December is good, and now I can put that aside and put in the work.
Like a lot of other players, Barry's goals are primarily team-oriented, focusing heavily on making the playoffs.
Trying to get better than last year. I say I have more team goals, which is like everybody is making the playoff. And just trying to take the next game on the schedule and trying to win that.
When asked about what's different about himself this preseason than last year's, Barry said it was a matter of knowing what to expect.
It's different. I know what to expect. Like I said last year, I didn't know what to expect. It was my first year—rookie, all the nerves. So, now I just can relax and play the game that I love.

I'm more relaxed. Just trying to take the next ball to my feet and try to make the best decision I can.
During the team's training session on Tuesday, the focus seemed to be heavily on Barry toward the latter end of practice.
I'm honored for them to have that belief in me. So I can't disappoint them. So I gotta come every day, give 110 percent, trying to get better.