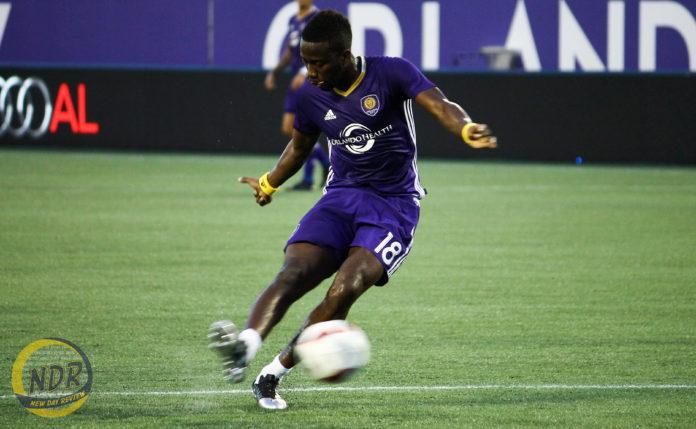 It appeared to not bode well for midfielder Kevin Molino on the first day of preseason training. Molino was seen running laps during the team's first official training session of the preseason on Monday, and Orlando City SC head coach Jason Kreis had said it was part of an "in-house" matter.
Now, the club's final player from its United Soccer League days has finally departed. In what will be considered one of the biggest deals in Major League Soccer history, Molino and 2016 MLS Re-Entry Draft pick Patrick McLain have been traded to expansion side Minnesota United FC, according to a report by the Orlando Sentinel's Alicia DelGallo.
In return, the Lions will receive $650,000 in total money ($450,000 general allocated money, $200,000 targeted allocation money). DelGallo also reported that "Orlando City will also retain a percentage of any future transfer fee if Molino is transferred outside of MLS by Minnesota."
Molino reunites with former City head and current Minnesota coach Adrian Heath. For Lions general manager Niki Budalic, who reportedly turned down a big offer from Minnesota in early January, said the plan was still to keep Molino in Orlanod.
"Nothing has changed. We always wanted to keep Kevin," Budalic said, per DelGallo's report. "We made every attempt to resolve the situation. Unfortunately, he had made his opinion that he wanted a new change and [to] move on. Once he did that, we felt we couldn't convince him to stay.
"We talked contract, new contracts. We had several discussions in person and on the phone. We dealt with his agent—at the end, we all agreed it was best to go our separate ways. The most important thing is we're not prepared to keep people here who aren't happy. We want people here who are committed to helping this team win, and we didn't feel that was the case with Kevin."
Molino, who recorded 11 goals and eight assists in 2016, will leave for Minnesota as Orlando City's all-time leader in goals (42) and assists (31).
"I spoke with Adrian, and he asked me if I wanted to be a part of Minnesota United and join the team, and that was it," Molino said, according to a press release by Minnesota. "I have worked with him for a long time, so it was an easy decision."
Heath didn't mince words when praising his newest addition.
"Where do you start with Kevin?" Heath said, per the release. "As a player, he has incredible touch on the ball, can score goals, can create goals. He has great balance. There's nothing he can't do with a football. In my opinion, he's the best player in his position in the country."
Orlando City will play its lone match against Minnesota in Minnesota on Saturday, May 27 at 8 p.m.