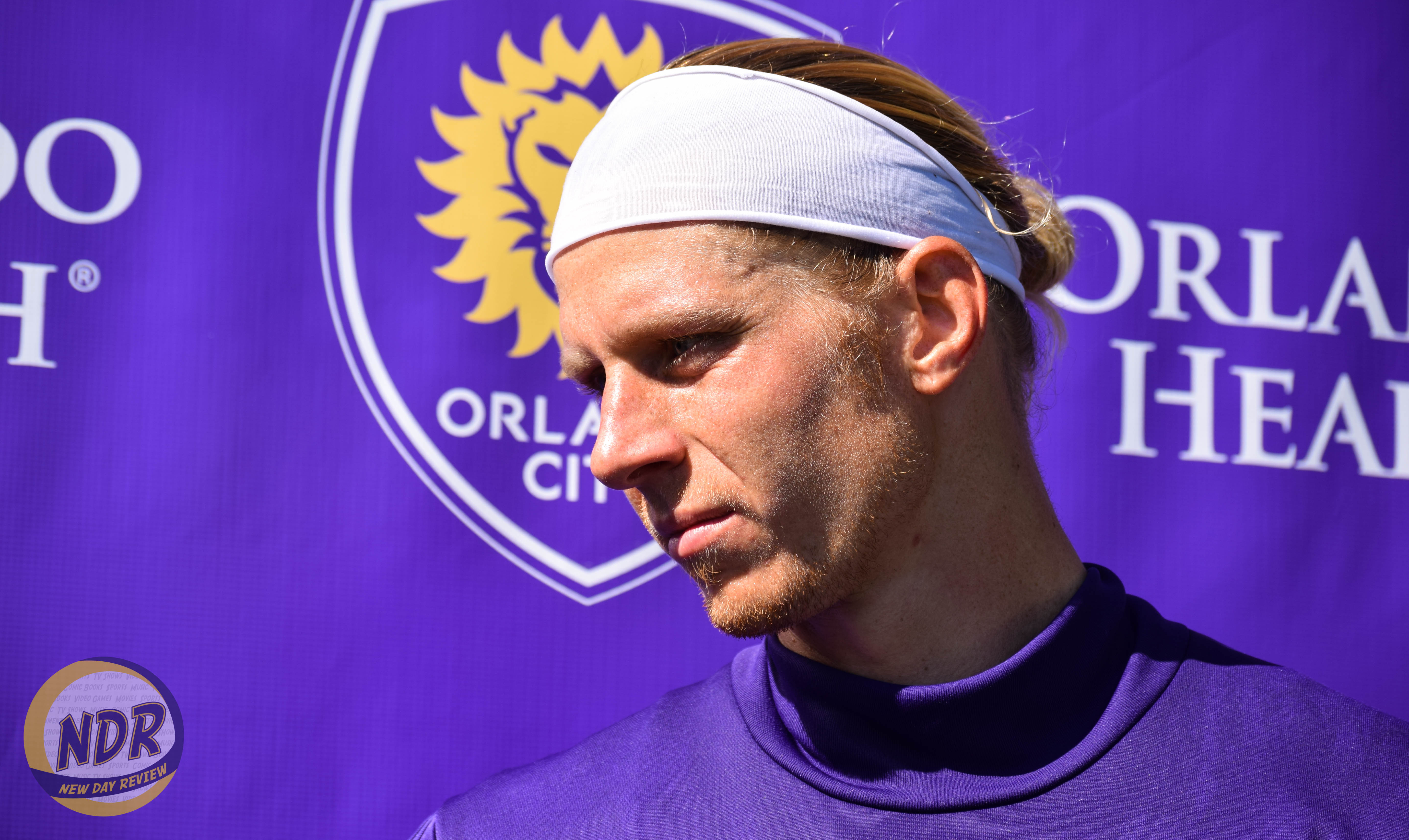 Jan. 25, 2017 at Sylvan Lake Park
HC Jason Kreis
On Tuesday, it was announced that Orlando City SC signed U.S. men's national team and former Birmingham City defender Jonathan Spector.
Yes. We brought him here to play center-back. Really looked at what he's done over many years in England at right-back. In particular this season, he's played almost extensively at right-back, but last season, he was playing a lot of center-back. That's where I saw him as well with the national team, and that's where he'll fit in with us.

No doubt about it. [Experience] was a big characteristic of the profile of the player we were looking for in the offseason. We were looking for somebody with a lot of experience. We were looking for somebody with a lot of leadership capability. We were looking for somebody that could communicate and lead the back-line. And we believe that Jonathan will be that.

Obviously went over there in December and spoke with him at length. Spent a couple hours with him, and that was one of my key questions was, "Do you know what's going on in MLS?" And he does. He's been watching it, and he actually said he's had a couple times where he's done some broadcasting on the MLS games in England. And so he's been paying attention to it. He's been keeping in touch with it. And at the end of the day, he's American. He's born and raised here. So I don't think there's gonna be much of a transition, if at all.

It was the one piece where I just kept feeling this large anxiety about because I think it was the most important acquisition that we could make in the offseason was to find that profile of a player. And it wasn't an easy process to narrow it down and to get the deal done. And so in the end, I'm very, very happy.
The Lions left for Jacksonville Wednesday to spend the next 10 days training there. The trip will be capped off by a training scrimmage against Jacksonville University on Saturday, Feb. 4 at noon.
We can start seeing opponents a week from Saturday. We'll play Jacksonville University, and I would say I wouldn't read too much into the lineups as we roll them out over the preseason. I think it's time for everybody that's around this club to spend more time focusing on the group as a whole rather than the individual players or who the starting lineup is one week or the next. We believe that we are going to have an extremely deep and competitive roster this year. And it will be a task to maintain their position in a starting lineup from one week to the next.
When asked if the roster was complete, Kreis said it's "close" to being finalized.
Close. Close. We have Victor PC, the young Brazilian player that we signed from Tampa, has had some visa issues. He should be in with us next week. Obviously we signed Jonathan, but he's not with the group. And then we have our draft pick that should be in next week as well. There's a couple of hurdles we needed to handle from a visa standpoint to get him here. And then I think we're nearly there. We maybe complete or we may need to make one more move. We'll see.
When asked if he and his team had accomplished everything they wanted to during the offseason, Kreis said they did.
We did. And some of that was an evaluation about what we have here and whether or not we have here might be a little bit better than we could change it too. So it was just a lot of thought and consideration and discussion put into what are the exact right moves that we need to make. What are the areas of the field that we feel we need to strengthen? And then what are the ares of the field that we are quite happy with? So, I think, in the end, what we came to and I think what you've seen is we were pretty happy with this group. Certainly, we know it needs to improve. But a lot of, we feel, is on ourselves as coaches. We need to prepare the team, maybe a little bit better. We need to get everybody on the same page and be a little bit better.
City captain Ricardo Kaká trained with the team for the first time on Wednesday.
He's flying. He's absolutely flying. I couldn't believe it. I thought he would be somebody, at his age, that may take a few days to warm up and get back into it. But he's absolutely flying out there. So I think he's—I don't think, I know he's in a very, very good fitness shape right now.
Orlando City B signed forward Joe Gallardo to a United Soccer League contract on Wednesday.
Joe's a talented young player. We were really keen on getting him last year. We got the job done to get him into our club. I think he's somebody that I think over the future we're looking at some big things for, hopefully. But there's still a lot of development to happen there.
For Kreis, the 10 days in Jacksonville will center around defense.
We're gonna spend the entire bit of Jacksonville—so 10 days of training on defensive work. So I hope to come out of that feeling very, very stable defensively and feeling as if everybody on our team has the exact or right idea of where they need to be and where we want to defend and what we're trying to accomplish.

I think it's good to get the group in a hotel together. I think it's good to get the group away from their homes. I don't mean to say this in a negative way, 'cus I don't mean it at all, but away from their wives and children and together. It's important for us to spend time together now and bond a little bit and work on team chemistry.
When it comes to new stadiums, Kreis is familiar with the process. In his first head-coaching stint with Real Salt Lake, the team moved to Rio Tinto Stadium in October 2008.
Obviously there's so many small details. But you add up all the details, and I think the way to express it the most effective way is to say that it's our home. No matter how you try to paint it or dress it up, the Citrus Bowl wasn't really our home. It's somebody else's home. You're kinda renting it. This will be our home. And I hope that we—the fans included—I hope that we are all on the same page and say that our home is something that we're going to be very willing to fiercely protect.
MF Brek Shea
This will be Kreis' first preseason with the Lions.
Every coach is different. Every preseason's different. Every practice is different. But he had a strict fitness plan for the offseason, and he wanted the guys to come in fit so we don't have to work on fitness first two weeks. We can start playing right away. And the team did that.
On Monday, City forward Cyle Larin and Kreis said some players were staying in Orlando to train.
I ended the year last year with a little injury. So I stayed here doing rehab and working out with a bunch of the guys, and I think it'll help the team as a whole. We didn't spend as much time messing around and spent a lot of time getting better and preparing for this year.

I feel probably better now than I have in a really long time going into a season. So I'm ready and excited.
In addition to Johnson, the Lions have signed Donny Toia and signed Pierre da Silva to a Major League Soccer contract, among other additions.
We have some new faces—some very experienced players in the league. I think any experience you can get and players who've played here before can help. And I think that'll be a big part of the team.
When asked about his personal goals, Shea said he's interested in helping the team.
I just want to help the team, you know. I want the team to make it to the playoffs. If I can be a part of that, then that's awesome.
From 2010 to 2015, Shea has scored four goals in 34 caps for the United States men's national team. USMNT head coach Bruce Arena said he still believes Shea to be a national team-caliber player, according to the Orlando Sentinel's Alicia DelGallo.
Obviously, that's cool to hear, but I'm focused on club and myself getting ready for this season and playing well. Any player does that, then they get a chance to go prove themselves on the national level. So, hopefully I do this first and then worry about that later when that happens.

He's obviously been around this league and U.S. Soccer for a very long time, and he's been very successful, so I think it's good for him to come back. I never played for him, but I've talked to him many times and been around him, and I think he's a great coach and a great guy for the program.

Like I said, I've never played for him, so I don't really know that day-to-day coaching. But I hope to get to know, so we'll see.
When asked about his role this year, Shea said Kreis has given him a direction to focus on.
He's told me he wants me in [an] attacking role. But that was in the last year. So that gives me something to focus on instead of worrying about different positions, and that's a position I've played most of my career and what I like to do, so I'm excited about that.
MF Will Johnson
Johnson was acquired by Orlando City via free-agent signing in late December.
These kind of beginning to preseasons for every team is pretty similar. Everyone's got a lot of optimism. Everybody's got smiles on their faces. They're excited to be back playing soccer again. You hear a lot of the same things from all the different teams across the country, so I won't bore you with those. But excited to be here. Happy to have this day finally come and excited to get started.

I mean, today was my first real session with them. Nice guys. Obviously, over time, I'll develop relationships in terms of soccer and that kind of things, but welcomed, I think, most of the new guys with open arms and understand that this is a business, and we're here to compete and win and make each other better.
Johnson played under Kreis at Real Salt Lake from 2008 to 2012.
There's definitely some things that he said that I hadn't heard before, so that's to be expected 'cus he's a guy who evolves and understands just staying the same is not gonna be good enough in a league that continually evolves and gets better every year in terms of quality of coaches, quality of players. But he's been great. Honored that he's brought me here to be a part of his project. He's got big visions for this club, both on and off the field. And so for him to reach out to me and make that call meant a lot to me, and that's the reason I came here.
When asked about his first impressions of Orlando City and its brief history, Johnson noted the club's first-ever MLS match against New York City FC.
The initial impression was impressive. The amount of people that they got—obviously they made a big bang with the first game against New York City two years ago. And since then, it's just continued to grow. The one negative when you came to play here was that it was on turf in a football stadium. I'm a soccer purist, and, so, for me, that was always the negative. You didn't always necessarily look forward to coming to play here because I believe that soccer is best played on grass, and now we have a beautiful brand new stadium with beautiful grass. So I think it's all kind of evolving into the perfect club and makes me feel that teams now who want to come to Orlando are gonna have a time playing here, but they're gonna like the trip. They're gonna look forward to it. I think this will be a trip, when people see the new stadium, that they circle on the calendar and say, "Looking forward to that one."
The Lions will play in four training scrimmages and one closed-door friendly this preseason. That list includes competitions against the Tampa Bay Rowdies.
It's big [going to Jacksonville]. But as I kinda started with, everybody's kinda doing the same thing at this time of year. Everybody's going on the road to get to know each other and to bond. I don't know that you can necessarily bond better than another team does, so it's important because we need to go and do work, and we need focus, and we need a place to go and do that where we don't have the off-field distractions that sometimes you have when you're at home. So I think, just first and foremost, getting to a place where we can work and put in real work, and I think that's where you'll see the difference between what we're doing and what other teams are doing.
Johnson is a three-time MLS All-Star and was named to the 2013 MLS Best XI. When asked if he is coming into his leadership role immediately or waiting back first, Johnson said he is approaching it in the latter manner.
Probably more the latter. You know, you can learn a lot from listening to guys, from watching guys—how they prepare, how they interact with each other. Is that a positive thing to guys [that] act in ways that the teams that I've been on that've been successful? Is there similarities? So I think, first and foremost, I need to get to know guys and understand what they're about, understand what makes them tick and what motivates them into being here and wanting to play for Orlando City. And then try to, over time, try to implement more ideas—Jason's ideas and that kind of thing. But I think, first and foremost, it's listen. You know, ask guys, "What do you think?" and "What do you wanna get out of this year? How important is this to you? How much are you willing to work? How long are you willing to stay at the training ground? Or are you going on the golf course at one o'clock? What are we doing here?" And so those are the conversations that'll take place. And we'll build it as we go.
Orlando City allowed a league-high 60 goals in 2016. The second-highest mark is a tie between the Chicago Fire and Columbus Crew SC at 58.
I mean, obviously the numbers speak for themselves. They gave away a lot of goals—a lot of them self-inflicted. I think there wasn't a whole lot of continuity. Guys were kinda coming in and out. And then obviously any time you change a coach in the middle of the season, different guys are gonna get different opportunities. So probably a perfect storm of a lot of things. But I think you need to—when you want to be a winning team, you need to form an identity. Get a focus, get a blueprint for how you're gonna be successful. And all the teams that are successful start with defense first. You can look at MLS Cup and see Seattle. They didn't have a shot on goal. They came to defend. They had a game plan. They executed it, and they won a trophy without a single shot on goal. And that has to be part of our identity here in fixing a lot of things that went wrong last year especially in the back.
Like Kreis, Johnson was also a part of the move to Rio Tinto Stadium when he was with Real Salt Lake.
Well, moving from turf to grass, first and foremost. Moving from a football stadium to a soccer stadium. That, for me, is a big deal. And going into a place that you call home. Maybe the guys in Orlando thought that Camping World Stadium, but I bet if you ask most of them, they thought, "I didn't feel quite right." And so when we go in, we're gonna make this our home. We're gonna treat it like our home. We'll invite 20,000 of our friends every week and make it really hard for people to come in there. I think you'll start to see a sense of pride from the players and the staff that probably wasn't there with Camping World Stadium because it wasn't their stadium.