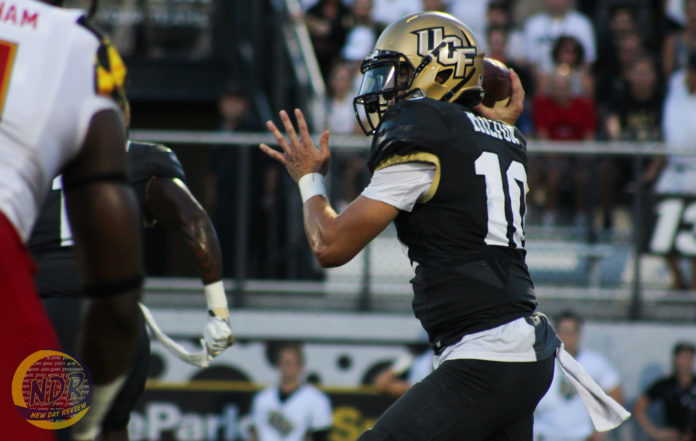 The University of Central Florida's progress toward a conference championship and a bowl game was slightly slowed in the team's 26-25 homecoming loss to Temple University Saturday. It was a game filled with plenty of lessons, but they were lessons that UCF head coach Scott Frost said could have been taught even with a win.
"There's a lot of lessons to learn from that game," Frost said at the team's game-week presser Monday. "I wish we could've learned them having won. If we win the game, score one more time or hold them at the end, there's still lessons we can learn."
Though, the Knights' loss can be attributed to a myriad of reasons. For one, they were flagged 12 times for 110 yards. The Knights were also held scoreless in the second half, as they only possessed the ball five times for a total of 8:55. That was after they held a 25-14 halftime lead.
But the one factor that was inconsistent from all of UCF's other games—both wins and losses—was the team's total-rushing statistic. For the first time all season, UCF rushed for less than 100 yards. Going into the game against Temple, the Knights boasted an average of 232 rushing yards per game; in Saturday's game, they ran for 86.
Now, granted, true freshman starting quarterback McKenzie Milton was sacked seven times, but that's an issue he's aware of and trying to manage.
"I think I need to stay a little more relaxed in the pocket, step up into it," Milton said. "I mean, their D-ends were rushing pretty high. That might have led to a couple of sacks."
Even then, though, senior running back Dontravious Wilson, the Knights' leading rusher, mustered only 35 yards on 15 carries. Were it not for the sacks, Milton would have rushed for the Knights' most, as he tallied a 63-yard touchdown run in the second quarter; instead, he finished with nine rushing yards total.
But that was Temple. Week 8's opponent is against the University of Connecticut, an even better rushing-defense team. Whereas the Owls are ranked 54th in the nation, allowing 149.86 yards per game, UConn is ranked 26th, allowing only 129.86 yards per game.
That's where the Knights' passing game comes in. It's a possibility that UCF will rely more on their pass attack come Saturday—at least that's the vibe sophomore receiver Tre'Quan Smith got.
"[Relying on the pass] was a big thing this week that our coach came in and talked to us about," Smith said after practice Tuesday. "He said, us as receivers, we really gotta get it going. We really gotta have a big game this Saturday with the passing game. We're looking forward to having a big game with the passing game, and when the passing game going, it's gonna open up the run game."
Ultimately, it all starts with the quarterback, though. It's apparent there's no shortage of confidence coming from any of Milton's coaches or teammates.
"Just watch the games," Knights offensive coordinator Troy Walters said after practice Tuesday. "He makes passes, he makes throws. He leads the offense. He does everything you ask. He has a lot of confidence, and we have a lot of confidence for him and behind him, and we know that he's a playmaker."
As for quarterbacks coach Mario Verduzco, he's understanding of Milton's learning process, doing just enough to where it's not too burdensome.
"Every experience for [Milton], every snap is new," Verduzco said after practice Tuesday. "There's no memory bank for him. From week to week, from team to team, like if this was his second time playing Temple, so on and so forth. But slowly by slowly, that's getting built up from practice and just the game experience. So that part of his life is growing, as well."
So far this season, Milton has thrown for 643 yards, five touchdowns and two interceptions on 42-for-72 passing (58.3 percent). For Milton, he's got a great opportunity to show off his arm against the Huskies on Saturday, as they boast the 119th-best passing defense, giving up 285.9 yards per game.
"My confidence is very high with [Milton] because he's confident with himself," Smith said. "He knows the offense. He's always calm and collected… So seeing that from a freshman who just came in—you know, very calm, knows what he doing and don't get rattled.
"That's very relieving as a receiver."