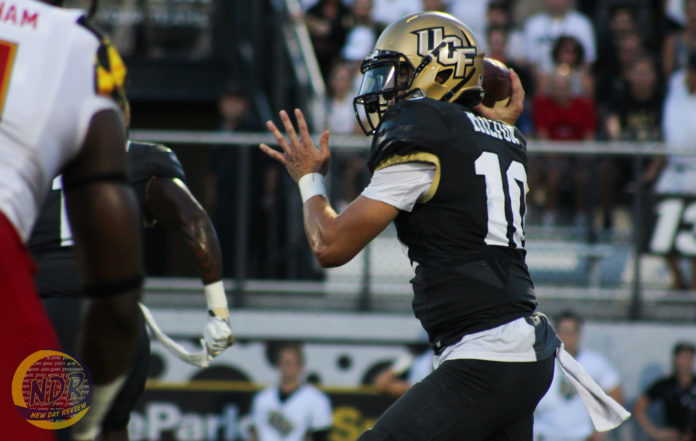 Coming off a comfortable 53-14 victory over Florida International University, the University of Central Florida shifts its to focus to a string of eight consecutive American Athletic Conference games to close out their regular-season schedule.
The Knights open conference play against East Carolina University in Greenville, N.C. On Saturday, Sept. 24, the Pirates suffered a 54-17 loss to Virginia Tech University. Both UCF and ECU enter the matchup with a 2-2 record under the leadership of new head coaches.
"These guys are buying in; they're understanding," UCF head coach Scott Frost said Monday in the team's game-week press conference. "I think last Saturday was huge for this program because it starts to give us our confidence. This is a different team than the one I saw when I got here… To go out and beat a team that beat us last year and go out and dominate them like that, I think the guys are starting to understand what it can look like if we continue improving like we are."
That grown confidence stems from a 276-yard rushing performance that amassed six rushing touchdowns and 26 first downs against the Panthers. The Knights are currently 25th in the nation in rushing, averaging 236.8 yards per game.
Senior running back Dontravious Wilson accounted for half of the rushing scores with his three rushing touchdown performance and currently leads the team with six combined touchdowns (five rushing, one receiving). True freshman running back Adrian Killins continues to warrant an increased role in the Knights rushing attack and was given kick-return duties last week. Killins has a team-high 241 rushing yards on 15.1 yards per carry.
"I love having guys that can run like him in this offense. I wish I had seven of them," Frost said. "We got some really good players, but he's definitely got elite speed, and he's a big play waiting to happen. So, we're going to continue to find creative ways to get him the ball and make sure he gets enough touches to continue making big plays."
It was also true freshman quarterback McKenzie Milton's first career win as a starter. Milton eliminated the mistakes that derailed him in a 30-24 double-overtime loss to the University of Maryland, in which he turned the ball over four times. The Hawaii native followed his collegiate debut with 173 yards passing and a touchdown on 8-for-14 passing with no turnovers against FIU.
"It was great to see him throw a couple balls away, escape and do smart things with the ball. And he still made some great plays," Frost said. "He's really creative, and he's a playmaker, so those things are going to happen. But he didn't make any dumb plays either—or freshman plays, if that's a better way to put it. And that's what he needs to keep doing."
Facing the No. 8 passing offense in the nation, the Knights, who are 22nd in passing defense (175.5 yards per game), will have a tough task containing a Pirates aerial attack that's averaging 368.0 yards per game.
However, UCF's defense has been consistently good through four games, placing in the top six of every major defensive category amongst AAC teams and in the top 50 nationally. The following are the Knights' defensive rankings:
19th in yards allowed per game: 308.0 yards per game
22nd in passing yards allowed per game: 175.5 yards per game
48th in rushing yards allowed per game: 132.5 yards per game
T-13th in total sacks: 13.0
"With the defense, I feel like we're a lot closer than last year," said senior safety Drico Johnson, who notched his first career interception against FIU. "We kind of know what each other's doing… We kind of like clicking together."
Pirates senior quarterback Philip Nelson will likely be throwing a lot against UCF, as he's thrown for the fifth-most passes (167) in the nation through four games. This season, he's thrown for 1,457 yards, nine touchdowns and three interceptions. His favorite wideout is senior Zay Jones, who is only one of four receivers in the country to average double-digit receptions per game. Jones is second in receptions per game (12.3) and second in total receptions (49).
"They're creative on offense," Frost said. "This is a big challenge… I'm excited to see where we stack up against people in our conference. I think ECU is one of the better teams in our conference."
ECU leads the head-to-head series (10-4), winning their last matchup 44-7 in 2015 at Bright House Networks Stadium. The Knights last beat East Carolina on Dec. 4, 2014, on a Hail Mary to current Baltimore Ravens wide receiver Breshad Perriman.
Kickoff is slated for noon on Saturday at Dowdy-Ficklen Stadium and will be broadcast on CBS Sports.