1. Passing The Torch
After becoming the first freshman in University of Central Florida history to lead his team in receptions and receiving yards, sophomore receiver Tre'Quan Smith is aiming to follow a line of many great Knights receivers.The 2015 American Athletic Conference Rookie of Year, who was named one of 10 college players to break out in 2016 by USA TODAY, is currently on pace to surpass his freshman performance through a quarter of the season (projected to finish with 56 receptions for 828 yards and eight touchdowns after recording 52 receptions for 724 yards and four touchdowns last year).
If Smith continues this pace, he could catch up to Baltimore Ravens receivers Breshad Perriman and Kamar Aiken, former Los Angeles Rams receiver J.J. Worton and New York Jets receiver Brandon Marshall in UCF receiving yards."It's a great feeling knowing that people think that about you," said Smith, about the potential of joining UCF's trend of receivers in the National Football League.
"I look at them guys and watched them guys play. It's an awesome feeling just learning from them and having them teach you things on a field when you're not on there."While still early, Smith is considered the No. 16 prospect at his position for the 2019 NFL Draft, according to CBS Sports.
2. Hobbies & Passions
When Smith isn't making highlight catches on the field, he loves to play video games on his Xbox One. His favorite games series are Call of Duty, Madden and NBA 2K. And you can bet Smith has created himself in Career mode, taking the virtual journey to make the pros; but, in the virtual world, he's not playing receiver.
"When I create myself, I never played wide receiver because they never got the ball a lot. I played quarterback or running back," he said.Smith, who carries a 3.3 cumulative GPA, is also a young, open-minded learner, hungry to grasp new concepts."I like to learn something new every day because you never know when you might need it," he said.
Currently, Smith is studying how to make himself a more effective communicator, which he says will only help him become a better leader.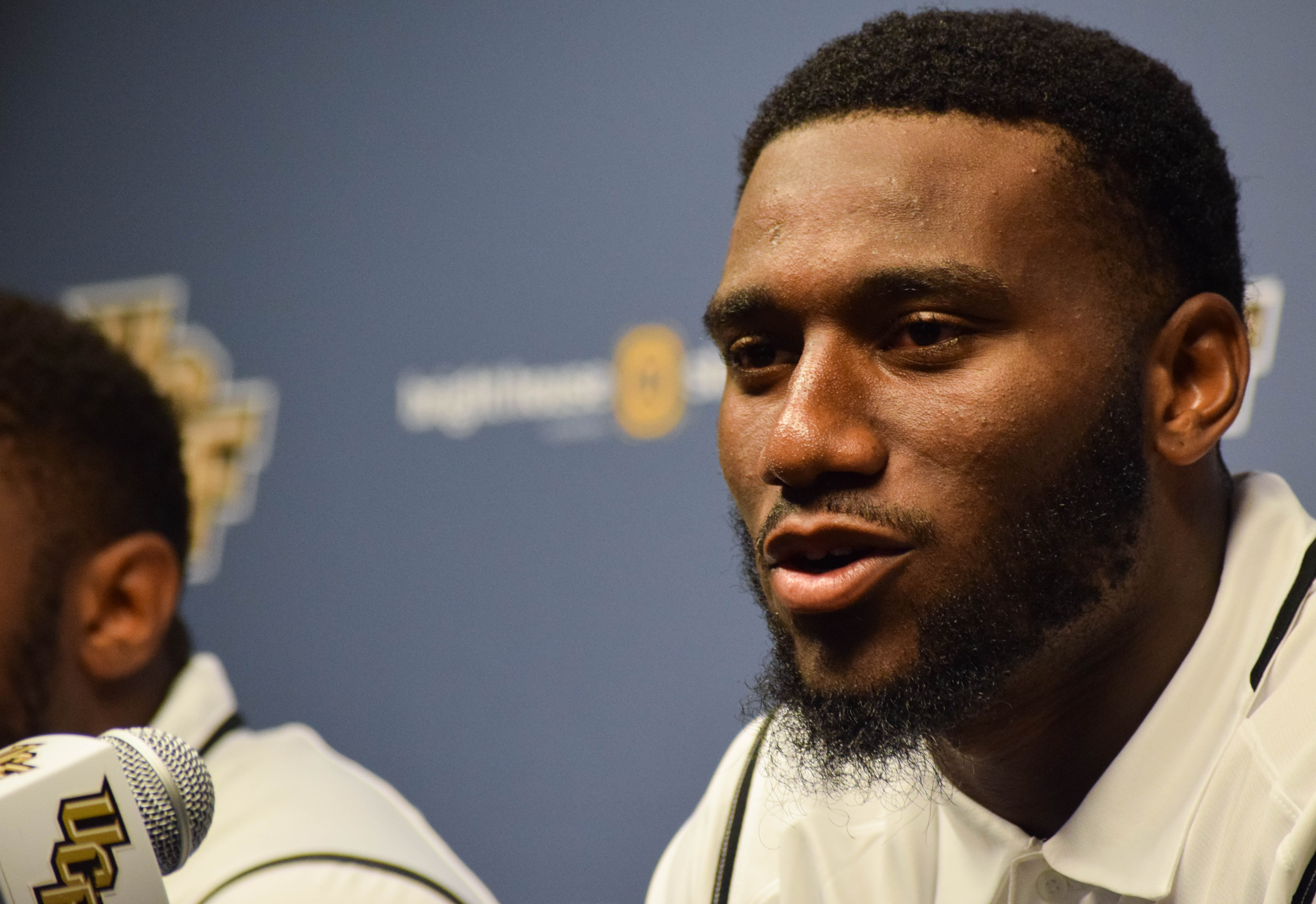 "I'm trying to communicate because I know myself, and I'm not a real big fan of communication. It's hard for me," he said. "Whether it be with my teammates or in a classroom, I try to work on that constantly every day, building myself… That way anybody on the team can just come up to me and talk to me, whatever the situation may be."
3. Career Aspirations
While NFL pursuits are in the realm of possibilities for Smith, the sophomore receiver knows he has a zeal for becoming a teacher or a coach, which he largely credits his high-school coaches and athletic director at Village Academy in Delray Beach.
"For one, I love kids. And just the role my coaches and my teachers had on me—I still talk to [them] everyday—I want to be able to teach them everything I learned," he said. "I want to model their life, so they know how to go out into the world and how to prepare themselves."
Smith also has dreams of becoming an entrepreneur, however, he's unsure what business ventures he would want to pursue.
4. Favorite Wide Receivers
A late bloomer who began playing football during his freshman year at Village Academy, Smith takes the time out of his day to re-watch tape of some of his favorite UCF wideouts, as well as former NFL receiver Randy Moss. He tries to mold and mimic his style of play after them, including Perriman's speed, Worton's and Josh Reese's route-running and Moss' leaping ability.
"I reminisce [in] awe, like, 'Wow, I wish I could do this like they did,'" Smith said. "I know I'm not a speedy guy, so [the] ability to high-point is something I try to copy. Once the ball is in the air, I try to get it to the best of my ability."
In practices, he tries his hardest to never let his team's defensive backs intercept the ball by catching it over them. He attributes his success to his natural athleticism and playing basketball in high school, where he would use his vertical jump to get put-back dunks as a combo forward.
5. Full House
As the middle child of eight children—three brothers, four sisters—Smith is involved in a family tree full of naturally gifted athletes. His oldest brother, Juan, played basketball and football for Village Academy and is currently serving in the army. He will be in attendance for the East Carolina University matchup on Saturday at Dowdy-Ficklen Stadium.
He also has two younger brothers who both play high-school football. Vincent recently began playing for Village Academy, and C.J. is the No. 10 prep safety in the 2018 class from Oxbridge Academy in West Palm Beach, Fla.
"Some people would think [that many siblings] is overwhelming, but I love it. I wouldn't replace it with anything in the world," Smith said. "I love my brothers and sisters. There's no feeling like coming home. But all at the same time, we're competitive in whatever we do."