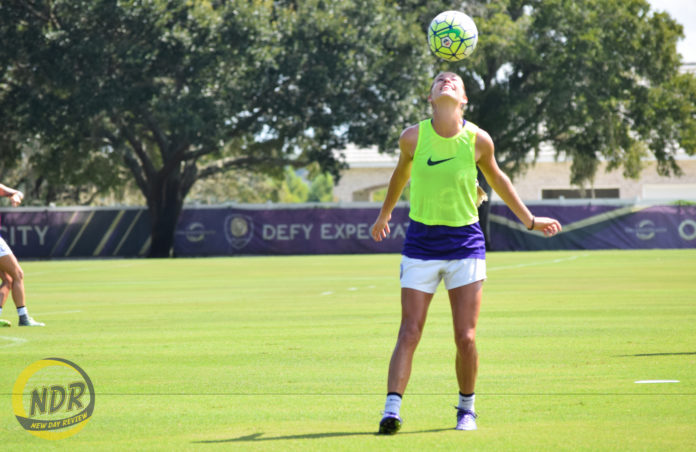 When the Orlando Pride entered the National Women's Soccer League in late 2015, the team didn't hold back when it came to compiling a roster for their inaugural season. From United States women's national-team forward Alex Morgan to Australian women's national-team left-back Steph Catley, there was no shortage of talent for the City Beautiful.
But it was partially because of that international status many of their players had that led to the Pride finishing only in ninth place out of 10 positions in the NWSL. The Pride's best players frequently leaving for international duty left the team's success up to a squad that regularly saw its rookies step up in roles they weren't necessarily attuned to.
Though, that challenge was an obstacle the rookies welcomed and had been waiting for since they started playing soccer.
"It's a totally amazing feeling to actually be here and be in this moment," said Sam Witteman, who was the Pride's first pick in the 2016 NWSL College Draft. "When you're a little kid, of course, it's what you want to do the rest of your life."
The rookies' persistence during what Morgan has deemed a "building year" didn't go unnoticed by the Pride captain. The national-team superstar was impressed with  how the up-and-comers performed in the 2016 campaign.
"You just have so many younger players that are coming in and getting their first professional playing experience and doing well with it, so I feel like they're only going to continue to get better," Morgan said. "I've already seen them grow so much this season that I'm really excited to see what next season has to offer for them."
Being a rookie in the NWSL hasn't just been about the on-field action, though. For rookie midfielder Dani Weatherholt, Morgan's been a role model for her because of the impact she has off the pitch.
"She's been a role model to me because you can see how she influences little girls, and I think that's definitely been one of my goals coming in is the influence I get to have on little girls and be a role model to them," Weatherholt said. "That's why I feel lucky to be [with] the Pride is because of [co-founder] Kay and [founder] Phil [Rawlins]. They really value [community]."
Pride head coach Tom Sermanni has noticed Weatherholt embracing that goal of being in the community as well as the potential she has on the pitch.
"Dani is just an unbelievable teammate on and off the field," Sermmani said. "Mature, does a lot of things away from the game in among the community that people don't see and has been a really consistent player whenever we've stuck her in."
As for Christina Burkenroad, this moment in her life is a little surreal. She chalks that up to the fan support during game days and the quality of players she's surrounded by.
"Honestly, just walking out onto the field every game day [is a 'pinch me' moment]," Burkenroad said. "It's just seeing all the fans, thousands of fans, more than I've ever played in front of and being on the field with world-class players. Every day is a 'pinch me' moment."
Playing at this level is no small task, though. The competition is suddenly, drastically elevated, and there is a looming pressure to have to win because of the financial implications that come with professional sports. It's even more difficult when playing professionally involves a cross-country move, something Witteman, Weatherholt and Burkenroad all had to do coming from programs out of California.
"[There's] a lot more on the line. Each and every day you're coming in here, and it's what you do," Witteman said. "And it needs to be what you do at your absolute best. So in that sense, it's a lot more pressure, but I think the people we're surrounded by here in Orlando really make it still be that fun experience and that thing I grew up loving to do."
It helps that the rookies find solace in each other, too. When it comes to the chemistry and rookie bonding, Burkenroad sees the relationship as an "amazing dynamic."
"We're all really good friends, we're all really close," Burkenroad said. "We came here together kind of in the same position, fighting for roster spots. We just want the best for each other."
And with the Pride's final match of their inaugural season having been played on Saturday, it looks like the best has yet to come. An eight-game winless streak to close out the Pride's season isn't demoralizing the team; in fact, for Morgan, it's motivation.
"I think it's really important to remember the way we feel this season because it doesn't feel good. I'm really looking forward to next season, and I think we'll definitely use this season as motivation."