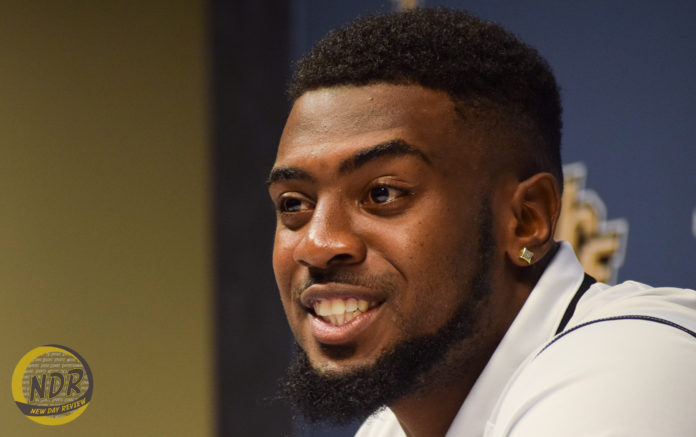 Sept. 26, 2016 at Bright House Networks Stadium
Availability: HC Scott Frost, CB Drico Johnson, OL Aaron Evans, RB Dontravious Wilson
HC Scott Frost
University of Central Florida true freshman McKenzie Milton has taken the reigns at quarterback, as senior Justin Holman continues to nurse a hamstring injury from Week 2 against the University of Michigan.
We're not going to talk about which ones are healthy, and which aren't. But we feel good about how McKenzie's played, how Justin's played. If and when we're at a point where both guys are healthy, we'll make a decision.
The University of Central Florida avenged their season-opening loss in 2015 against Florida International University by blowing out the Panthers 53-14, highlighted by 45 unanswered points after a slim 8-7 lead.
I think the defense was the key to us getting out in front and closing the door on them. Offense did a lot better job again taking care of the ball, being efficient and executing. But when your defense is getting off the field that often, it gets your offense a lot of chances. Our defense has played really well for four games.
Scott Frost arrived to the UCF campus in December 2015 after serving as the University of Oregon's offensive coordinator.
This is a different team than the one I saw when I got here. And today was our best practice ever, our best Monday ever. So these guys are buying in; they're understanding. I think last Saturday was huge for this program because it starts to give us our confidence. I think these guys recognize and see what it looks like when everybody plays the way that they're supposed to and does their job.

To go out and beat a team that beat us last year and go out and dominate them like that, I think the guys are starting to understand what it can look like if we continue improving like we are.

Our energy was great today. Our execution was really good. Usually, Monday practices are a little sloppier. You're installing a lot of new stuff on both sides of the ball, getting new looks. And it was really clean today. So the guys are staring to understand concepts on both sides; they're starting to understand what we're trying to do. And the enthusiasm and effort is really good, so we just need to keep that going and keep on the trajectory we're on.
After surrendering four turnovers in a double-overtime loss to the University of Maryland, Milton eliminated his mistakes to 173 yards and one touchdown on an efficient 8-for-14 passing while adding 28 yards on the ground on eight carries.
McKenzie got better. I think the big thing with him was eliminating the mistakes, and it was great to see him throw a couple balls away, escape and do smart things with the ball. And he still made some great plays. He's really creative, and he's a playmaker, so those things are going to happen. But he didn't make any dumb plays either—or freshman plays if that's a better way to put it. And that's what he needs to keep doing.
The Knights are currently 25th in the country in rushing yards per game, averaging 236.8 yards.
Well, we got to be able to run the ball. And when we run the ball, it opens everything else up. The guys are understanding schemes now. Coach [Greg] Austin has done an unbelievable job with the [offensive] line, and we feel we have a bunch of backs that are dangerous enough to help us in the running game. The receivers are getting involved and are starting to block a lot better. So it's a team effort to get that run game going, but run game opens up pass game. There will be a day around here when we're throwing it to open up the run and putting up the ball a lot of times. Right now, with a young quarterback and some young receivers and backs, it's great we can lean on the run game a little bit.
The Knights had eight different receivers record a catch and nine different players carry the ball in their lopsided victory over FIU.
This offense isn't built to highlight any one person; it's built to get the ball to the person who's open and get the ball to the person in space. Sometimes, a guy is going to touch the ball eight to 10 times in a game. Other times, it will be two. Just, hopefully, it happens at the right time when that guy has a chance to make a big play. I think Jordan Akins is a good example of that this year. He hasn't gotten 20 to 25 catches this year, but when he's gotten them, the ball was supposed to go there, and it ended up being big plays for us. I think the key is everybody understanding it's team first and not being selfish. And being okay with 10 touches or two touches as long as the team does well. Because defense is going to take certain things away, and it's going to lead to some guys or other guys getting the ball.
The East Carolina Pirates rank No. 8 in the nation in passing yards with 368 yards per game.
East Carolina is a good team. They've done a good job. They've got some big, strong guys, and I'm impressed with their personnel. They do a good job on defense. They take away the run game, so I think that's going to be a real challenge for us as we run the ball better. This might be the biggest challenge we've had to try to continue running the ball. They're going to pack the box and run to the ball hard. They're creative on offense… I'm excited to see where we stack up against people in our conference. I think ECU is one of the better teams in our conference.
The Knights kick off conference play on Saturday at noon against the Pirates in Dowdy-Ficklen Stadium.
The key was getting out of games like Michigan and Maryland with confidence, with enthusiasm and healthy, and we managed to do that. I don't think we'll play a team as good as Michigan all year, so that was a good test for us… Maryland played well against us and is a good football team. We need those experiences to play people like Houston and people like East Carolina and the rest of our conference going forward. I'd always rather win a game than lose it. But sometimes those experiences are healthy, particularly when you're trying to grow.
Speedy true freshman Adrian Killins continued to show his explosive playmaking ability with a 61-yard touchdown burst against FIU.
I remember about a week and a half into fall camp, A.K. went down kind of awkwardly, and we were worried about him. He twisted his ankle a little bit. Seems like right when he got back from that, a switch flipped on, and he figured out how to practice, how to go full speed, and he was a completely different guy. And we could see this coming. I love having guys that can run like him in this offense. I wish I had seven of them. We got some really good players, but he's definitely got elite speed, and he's a big play waiting to happen. So, we're going to continue to find creative ways to get him the ball and make sure he gets enough touches to continue making big plays… A lot of freshmen are getting the chance to play this year, true freshmen for us. I think that's going to bode well for us in the future. But everybody on the team has to keep moving forward and improve.
The Knights last beat East Carolina on Dec. 4, 2014 on a Hail Mary by Holman to current Baltimore Ravens wide receiver Breshad Perriman.
We're going to treat this one like the last one and the next one. I think we got a big challenge. I think the guys will naturally know this is a conference game. They're going to be more familiar with this team we're about to play than maybe some of the outer conference opponents. But our preparation is going to be the same, and our attention is going to be the same… I think it's really even top to bottom. I think every team in this league is dangerous and can win any week. So, you've got to come with your best game every week in a league like this.
Through four weeks, the University of Central Florida is ranked No. 19 in total yards allowed (308.0 yards). Last season, the Knights finished 114th in the country, allowing 464.1 yards per game.
I feel great with the defense. I feel we're as close as we ever were last year. We kind of know what each other are doing, all of us who started last year. The season that we had last year didn't go well, but all of us are coming together and watching film, and we're all getting on the same page and getting it together.

The staff gave [everyone] the chance to show their talent through camp and spring, and it really opened their eyes to some of the very good players [we have]."
Last season, the Knights lost to East Carolina 44-7.
[ECU] is a very good team. They throw the ball very well, and they have a very good receiving corps. We have to watch a lot of film on them. [Defending ECU] is going to be a big part of our secondary. They're going to put it all on us and rely on us to lock them down, and we have to try to keep them under 100 yards passing. Our defensive line's got to give them pressure, our linebackers [too]. They're going to put [a lot] on the defense.

We treat it like any other game of the season. We just keep focused and prepare for this ECU and take them on.
In Saturday's 53-14 win over the Panthers, Knights cornerback Drico Johnson recorded UCF's second interception of the season.
It felt great [to get an interception], but without my defensive line and my linebackers doing their job, I wouldn't have ever gotten the tip. With [Demeitre] Brim tipping the ball to me, we work on that drill every day of practice, so it paid off.
The Knights finished 0-12 in the 2015 campaign.
It's a new beginning with our team. We're just trying to start over. We're not looking back at what happened in the past. We just try to look forward and keep going.
The Knights finished 126th out of 128 schools in points per game with 13.9 last season.
We're finally starting to prove ourselves after last season. It's a really satisfying feeling because they came in our house last year and…we got beat, but it's a satisfying feeling to go over there and prove to ourselves that we can do this.
UCF only rushed for a team total of 975 yards last season. In 2016, the Knights have rushed for 943 yards through four games.
The numbers show that we definitely have [improved from last year]. I'm really excited to see how much the offensive line has grown as a unit and as a family. We're a lot closer, and we're a lot more detailed in our craft, and it's shown on the field. We all keep each other way more accountable. We're having fun, and we're doing our jobs, and it's really satisfying to see. It's probably great for the running backs. We're opening up big holes for them, getting movement on the front, and it's just fun to watch. As a football player, I've played so long, and that's what you live for as a football player.

I'm absolutely [seeing improvement from Week 1 to Week 4]. It's more so the details. From a normal eye, I don't think you really notice it as much, but people that are really entrenched in this can see the footwork changing, where your eyes should be, or really all of the little details that most people wouldn't notice. Definitely from Game 1 to Game 4, there have been dramatic improvements, and there is still a lot to work on, and I'm excited to see what happens this season.
UCF won consecutive American Athletic Conference championships in 2013 and 2014.
Since I've been here, our goal has been to win the conference championship, and we did not accomplish that goal last season. Even though we have a new coaching staff this season, my goal is still to win the conference championship. We're just now starting conference play, we're improving each and every week. We had pretty much a stalemate against Maryland, a slugfest, and this is what this week is going to be, a slugfest. And I'm excited for this season, this opportunity, because last year was a fluke.
With the Hail Mary win in 2014, the Knights captured a share of the American Athletic Conference championship.
There's definitely some ill will [between UCF and ECU], the way we won two years ago, but it feels like a lot of teams are out to get us. I hear UCONN, USF, and, [to us] it's just another game. I don't really think it's a rivalry. We're just competitors, and let's get after it.
Knights running back Dontravious Wilson scored three touchdowns in the Knights 53-14 win over FIU Saturday.
It was a great feeling to see all of the hard work that we put in each and every week show itself on the field.
UCF's game against ECU on Saturday, Oct. 1 will be the Knights' first AAC game this season.
We come into each week pretty much the same. We're just coming to get better. But obviously it's conference week and we're more dialed in and the intensity will pick up.
Wilson scored his second of three touchdowns against the Panthers on a speed-option play with Milton.
Having a talented guy like [Milton], they don't know whether to play me or the quarterback so a lot of time he puts a lot of pressure on the defensive end where he takes the quarterback and he pitches it and if he takes me then he keeps it. So, I think it's very helpful to have a guy like that back there.

[The running backs] are all like brothers so we never look at it as jealousy, we always just come out and compete. One of us makes a play and then the next guy is ready to make a play. That's how we kind of keep each other going.