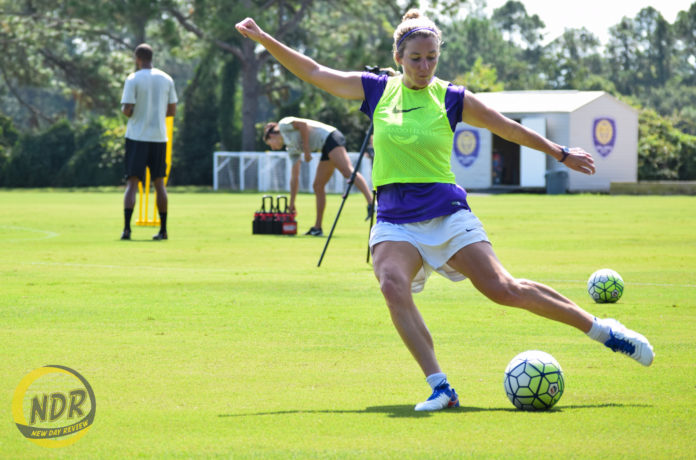 It's been more than two months since the Orlando Pride won their last game. That was on July 10 in a 2-1 win over the last-place Boston Breakers. Pride captain Alex Morgan recognized that and emphasized how important a win would be for the team's outlook after its first season.
"It doesn't matter, really, the place that we're ending in," Morgan said. "What matters is that we start strong and we finish strong. Since we've been out of playoffs, that's kind of been the case, as we still want to showcase this team and where we've come from the beginning. And so this game is another chance to do that."
Pride head coach Tom Sermanni reiterated a similar sentiment when it came to his perfect ending in Saturday's game against FC Kansas City.
"A perfect end would be a win. A perfect end would be a good performance. A perfect end would be to finish the season on a high note," Sermanni said after training Wednesday. "So I think those two are the priorities: a good performance a win."
But despite not making the playoffs, there were still positives to draw from the team's inaugural season. For Morgan, she's seen this season as a time of growth as a leader and captain.
"I think for me, at least personally, I grew into more of like a captain, a leadership role," Morgain said. "So I'm trying to just continue that and just try to check in with players every day and make sure that everyone's not only happy, but they're embracing the role that the coach has given them."
Unfortunately for the Pride, Saturday will also mark the end of a career. On Thursday, Orlando midfielder Becky Edwards announced her retirement. Saturday will be her final game of professional soccer after a seven-year career.
"It's been seven years playing professionally, and, in my heart, it feels right," Edwards said in a press release Thursday. "I've had a good career, and I think I've given it my all in every environment I've been in. For me, personally, it feels like it's time for something else.
"I feel satisfied."
As for the opponent on Saturday, Sermanni has noted that Kansas City presents similar problems they've been facing all season: a consistent lineup surrounding experienced players. Shea Groom leads the team with eight goals of the team's 16 goals.
"They're a very sort of fluid team that's played together consistently for the last four years. So this is the first year where they haven't made the final," Sermanni said. "But they've got a mix of some very high-quality, experienced players like Heather O'Reilly and Becky Sauerbrunn."
Orlando hosts Kansas City at 5 p.m. at Camping World Stadium.