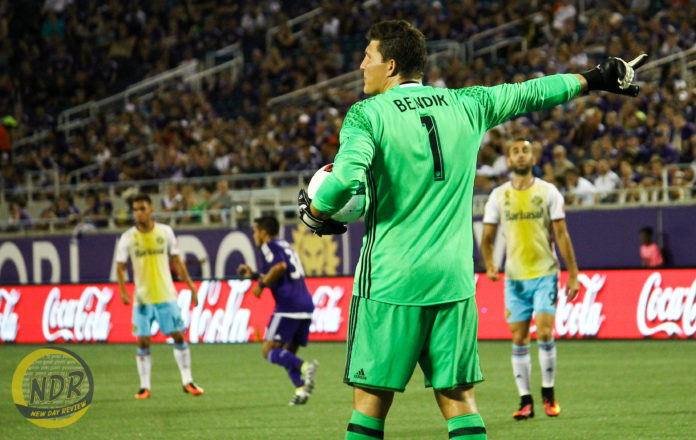 It's not over until it's over. As cliché as that might be, Orlando City SC has known making the playoffs would be a fight that would go to the very end of the season. With five games to go, the pressure is on for the Lions to get at least a point out of each match they play. But for City goalkeeper Joe Bendik, the pressure's always been there.
"I don't really think [the pressure's] after last week's loss, but there's just pressure period," Bendik said after training Wednesday. "We're fighting for that line and that playoff spot, and [it] happens to be the team we're playing is doing the exact same thing… So that's all the motivation we need there."
Though the pressure is there, City head coach Jason Kreis said Saturday's game against D.C. United isn't necessarily a must-win.
"I don't know about must-win. I'd say must-get-a-result," Kreis said after training Thursday. "I think that we go there with the intention to pick up the three points. If we end up failing a little bit and getting one, I think we can still be pleased with that. But we'll go there with the intention of getting all three."
One of the reasons Kreis felt his team faltered in the 4-1 loss to ninth-place Columbus Crew SC was because of his team's pressuring. Following the loss, Kreis said he felt his team was pressuring 80 percent in the first half, and that, "80 percent pressuring is the absolute-worst place you want to be."
After training Thursday, City forward Matías Pérez García talked about Kreis' message to the team regarding that part of their game.
"Obviously, he told us not to repeat the performance we had [against] Columbus," Pérez García said. "We worked a lot on pressuring, which we think was a lot of the issues that we were having at Columbus and just to keep our heads up and be confident in our abilities."
As for D.C., their offense is not dominated by any one player. Their leading goal-scorer, Lamar Neagle, has only six goals. Luciano Acosta leads the team in assists with nine.
"D.C.'s an extremely hard-working team. A team that's very much together and fighting for each other and doing everything they can to scrape and scratch and claw themselves into the playoffs," Kreis said.
A win for the Lions would put them back in the No. 6 spot, where the New England Revolution currently sit. New England plays No. 9 Columbus on Sunday. They have one more game played than both City and D.C.
Kickoff at Robert F. Kennedy Memorial Stadium is set for 7 p.m.