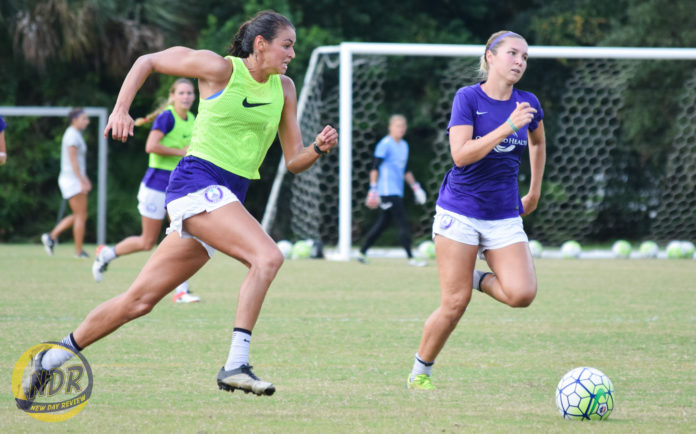 Sept. 15, 2016 at Sylvan Lake Park
Availability: MF Kristen Edmonds
Kristen Edmonds has played in 18 matches this season. That's good enough for second-most, trailing only Jasmyne Spencer (19). She also leads the team in goals scored with six.
I mean, you never know really what to expect going in the season. You know, you just go in and try to do the best that you can and try to do everything that you can for your team, and that's what I came into this season doing. We're an expansion team, a new club, so you're just going to go in and give everything you got. And I think this season—I was playing well, but it's because I'm really happy in Orlando, enjoying myself, so I'm enjoying my soccer, as well. So it definitely translates to the field.

I really just like it down here. I mean, the weather's beautiful all the time, I really love the club. They really put everything into our men's and women's teams, and it's nice to be—during the summer, it's pretty much only soccer down here. We don't really have a close football team, basketball's in the winter. So it's kind of just soccer, and the fan base that we have is unbelievable. And the environment that we get to play in is really remarkable. So it's really, really nice to be in Orlando.
In the Orlando Pride's inaugural National Women's Soccer League season, they have played to a record of 6-12-1 with one game remaining.
Yeah, I think we have a lot of potential to do well in this league. Obviously we didn't get the results that we wanted. There was a couple games where we definitely left points out there that we should have had, but I think looking forward, we're going to come in really strong next year and just put bits and pieces together that we might have missed this year. We're looking forward to coming in next year and hopefully making the playoffs.
In the most recent training sessions, Orlando head coach Tom Sermanni and midfielder
Dani Weatherholt
 have said that the final game against FC Kansas City is for the fans.
Yeah, I mean it's definitely for our fans, and, I think, for us as well just to go out on a high note. We're on a bit of a losing streak, or a winless streak, I should say. To get a win in the last game would send us off on the right note, and I think it would be really good for our fans to see us get another "W" especially in front of them at home.
The Pride will face off against Kansas City on Saturday, Sept. 24 at 5 p.m.
I mean, [Kansas City has] been giving teams trouble all season. I think that they have a really strong, strong team. We definitely can't take them lightly. It's definitely going to be a battle come next Saturday.
New additions McKenzie Berryhill and Lisa De Vanna have been with the Pride for the past couple of weeks. While De Vanna has seen action in two matches already (one as a starter), Berryhill has yet to play a minute of game time for Orlando.
[Berryhill and De Vanna] are both awesome. McKenzie's a sweetheart. Hopefully she'll get to suit up this weekend, and we get to see a little bit of what she's got, but in training, she does well. She's a solid defender and looking forward to playing with her next season. And Lisa's a spark, for sure. Whether she starts or comes off the bench, she's definitely going to give us a little extra on the field and looking forward to playing with her, as well.
Sept. 14, 2016 at Sylvan Lake Park
Availability: HC Tom Sermanni, MF Dani Weatherholt
HC Tom Sermanni
The Orlando Pride are currently on a six-game winless streak. A 2-1 win over the Boston Breakers on July 10 was the last win Orlando had.
It's trying to finish off on a strong note. It's always important for a team to finish off strongly, just in the sense of having a positive feel around the players but also looking ahead at next season that you want to actually finish off on a winning note. And I think we owe our performance to our supporters who have been magnificent this season, sort of supported us through thick and thin and through some difficult times that we've had, results-wise. So I think we owe it to them to put on a good performance.
Apart from the Breakers, Orlando is the only other team to have double-digit losses (12) this season. Boston has lost 14 matches.
[The season] has been tough because every game has been a difficult game, and I think when you get, particularly when results don't go well, you're constantly looking at ways to try and improve things, and then you tend to make changes which can cause more inconsistency. It's like anything in life. If things are going well, decisions are easy. When things aren't going well, decisions become a little more difficult and a bit more complex. And I think over the last couple of months, that's what's happened. And, unfortunately, I think there was a couple of games at the end of June and in July that could have turned the season the other way, had we gotten positive results in those games.

But, you know, overall, I think, as a coach, you've got to look at the efforts of the players, and I can never criticize the effort and the commitment of these players. And when you go through tough times, you've got to keep chipping away, keep chipping away, keep positive and keep trying to improve and keep trying to turn things around.
Orlando plays their final match of the regular season on Saturday, Sept. 24 against FC Kansas City at 5 p.m.
I think we're really motivated going into this last game. I think every time we play, we have an opportunity to grow as a team, and I think that's ultimately what we're trying to do each game, is grow a little.
The 2016 campaign has been the inaugural season in the National Women's Soccer League for the Pride.
I'd say the beginning of the year, it's always difficult as a new team to come together, and I think we came together really well, and we meshed really well from the start. So I'd say that was our biggest accomplishment is, from the start coming out strong.
Dani Weatherholt was selected by Orlando with the 31st-overall pick in the 2016 NWSL College Draft.
I feel really grateful that the coaches and the players have given me a lot of opportunities; that's what I'm most grateful for. And I think I've grown a lot in the aspect. I've learned a lot from a lot of great women in front of me.
Weatherholt has made 11 appearances in her rookie season.
I think we're all very competitive. We're all true competitors; that's why we're here. So, any time we have a chance to compete—whether that's at training or in a game—we're going to be motivated. So we're just pulling from our competitive drive within. And also our community. I think they've been behind us this whole year. So, we just really want to prove to them that we can compete at a high level.
The Crown is the official supporters' group of the Pride.
[The support from the fans] has meant a lot to us. Them coming out to support us in our very first game with 23,000 fans, and they've supported us every game. They've been there cheering for us as loud as they can, and it really has meant a lot to us. So, the last game's for them, definitely.
(Featured photo by Carlee Stetson / New Day Review)