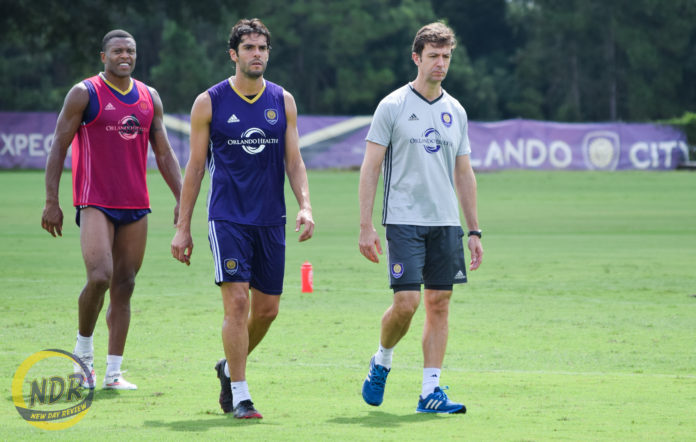 Sept. 15, 2016 at Sylvan Lake Park
Availability: MF Ricardo Kaká, DF Luke Boden
MF Ricardo Kaká
Orlando City SC midfielder Matías Pérez García joined the Lions in the beginning of August following a trade that sent former City midfielder Darwin Cerén to the San Jose Earthquakes.
He's helping a lot. Matías is a great player, talented. His technique, his ability, his creativity, everything that he can put on the field, on the games. So he's helping us to create the actions for me. For me, it's very good because I have someone to change this position so I can be forward most of the time. After that, he arrived, I scored more goals, so it's good for me and good for the team.
Orlando is currently in the No. 6 spot in the Eastern Conference with the New England Revolution trailing the Lions by only one point.
Actually, we think about the playoffs, but we don't go on the field thinking about that. We go on the field thinking about to win, win three points, and, after that, we'll see what is our position on the table. Of course, now, not playing when you see the table, and you see you are in, it's very good it's our motivation.
Following a two-game win streak in games against FC and the Montreal Impact, City lost to the Los Angeles Galaxy 4-2 on Sunday, Sept. 11.
I think that [consistency] is the most important thing for us now. It's tough when you play a game like a 10 and the other you play like a five. So I prefer to play the games like six-and-a-half, seven, like average. So, this is what we're trying to do now. But I think we are on the right way because the last games against New York, Montreal, we played very good. Unfortunately, we had this game against L.A., but it's a lot of things on the game as well. The travel, a week away, and, so, things that we didn't count on that, but I think that the team is in the right way in getting better in the right moment of the season.

Our focus is to getting better, to be confident to play against Columbus and win this game because it's very important for us to win at home. Three points that is important now depends on us to make the playoffs. So, we'll try to do that.
The Lions will face Columbus Crew SC on Saturday, Sept. 17 at 7:30 p.m.
[Columbus] made the final last year, so I know that they've been changing a lot of players, but they're still very good, the same coach. They are a team that likes to play everywhere all the time, away or at home, so we need to be aware because they have very good players.
Orlando City captain
Ricardo Kaká
scored two goals in each of the two games against NYCFC and Montreal.
When you score, when you can participate in the important things for the team, but I think it's just work. When you work hard, sometimes things just go well, go bad. Sometimes, hit the post and go in, sometimes hit the post and go out. But most important thing is the team is doing good…in this part of the season.
Kaká's two-goal performance against NYCFC was the first time in his Major League Soccer career that he has scored multiple games in a single game.
It's very good moment for me, personally. After a few injuries this season now, I have a consistency, and I played most of the last games, participate in the important moments during the games, so for me, it's important. As I said, it's a very important moment for us. We are getting to the playoffs, and if you get the last week now, probably we will make the playoffs, and we will arrive there.
In addition to the Captain scoring, defender
Brek Shea
has found a scoring rhythm, as well, notching one goal in each of the last two matches against the Impact and Galaxy.
Yeah, we saw Brek's playing in Montreal. He played very good. He scored a goal. He participated, he was active. So, it's important when you have a player like him that can give a lot for the team, be confident and be ready for the games.
Though the Lions hold a one-point lead in the sixth-place spot in the Eastern Conference, there are still six games remaining in the regular season. All six of the remaining games are against Eastern Conference teams.
Every day, we have a team meeting here, and every day, [head] Coach [Jason Kreis] saying that because we need to be ready for this game and understand how important these games are for us. Everybody, I think, is conscious of that, and we are putting out our efforts here on the field and during the trainings.
Following Kaká's penalty-kick goal (his second of the match) against Montreal, the Captain celebrated by imitating a fisherman.
A few friends in Brazil that were fishing in that day, and they asked me if I could come with them, and I said, "Probably not." But I did that for them.
DF Luke Boden
Los Angeles is No. 2 in the Western Conference with a 11-4-14 record.
I think, obviously, L.A. we had one or two decisions go against us. I mean, I'm not saying we shouldn't have defended better, but I think maybe we had one or two decisions go against us, and hopefully at home, we have the advantage a little bit. And hopefully we can get people on our side a little bit. So going into the game, we just want to try and keep a clean sheet again and get back to basics and hopefully get a few goals, and then we can play our game.

I mean, going to L.A., it's going to be a tough game. They got a lot of quality. You haven't got any time for mistakes. They punish you, and we knew that going into the game, and we knew it was going to be a tough game. I think everybody would have been really happy if we could have got a point or something, but unfortunately that didn't happen, and you just have to look forward to the next game, which is obviously Columbus on Saturday. So, you know, we're looking forward to that. And we're at home again, so hopefully we can get a win.
The Lions won 4-1 over Montreal behind goals from
Carlos Rivas
, Shea and Kaká.
We put everything in, obviously, into Montreal to win that game, and then you have to try and recover for Sunday's game, a tough game and the travel along with that too. Obviously we were away for the week. So it's really hard to play two games away, but we're professional soccer players. You have to get used to doing that, so we have that again soon. I think we have D.C. and Toronto. We have the same thing, so we have to prepare properly for the next games, and, as I said, Columbus is coming, so hopefully we can beat them.
Pérez García has started five of his first seven appearances with Orlando City.
He's a great player. As long as we can do our job at the back, we've got such good quality going forward. We've got great players on the team, great forward players on the team, and scoring goals is not our worry. It's trying to keep clean sheets, at the moment. And that's a team thing. That's just not the back four. That's everybody on the field.
With a 5-11-11 record, Columbus is at the bottom of the Eastern Conference.
We don't look at things like that. Columbus are a good team. MLS, any team can beat any team. You look at Colorado last year. Obviously, they were bottom of the league, and this year, they're top of the league. Things turn around so quickly in MLS. You can't really look at them things. And we played Columbus already, and we know how good they are. They got some good players, they're fast. They got some really fast players. So, it'll be a good game.
Sept. 14, 2016 at Sylvan Lake Park
Availability: HC Jason Kreis, F Cyle Larin
HC Jason Kreis
Orlando City SC lost to the Los Angeles Galaxy 4-2 on Sunday.
Disappointing result. I don't know that I would go so far as to say, "Disappointing performance," because I still thought there was a lot of good things in the game. We started well. We scored the first goal, we still created a lot of good chances, and we actually defended pretty decently.
The Lions concluded a two-game road trip following the loss in Los Angeles that included a 4-1 win over the Montreal Impact.
It's always a little difficult after, again, a long travel and a day off to get their engines running a little bit. But the spirit's good, and that's where we need it.
City will return to play when they host Columbus Crew SC on Saturday, Sept. 17.
Well, we know Columbus is a quality team, and I think the difficult thing that you run into with matches like these is sometimes people and players and staff, everybody may walk into a match like this and say, "Oh, Columbus is at the bottom of the table and look at the number of points that Columbus has," rather than the quality that Columbus has. Columbus is a very good team. It's a team we know was in the MLS Cup final last year, and it's a team that's got a lot of quality. And so we need to approach this match the right way, understand that we're playing a very good opponent and understand how critical it is to us to pick up all three points this weekend at home.
With only six games remaining in the regular season, the Lions are sitting in the last available playoff spot with 34 points. The New England Revolution have 33 points but also have one extra game played (29).
I don't know that I would consider [teetering on the edge of making the playoffs] frustrating. I think I'd rather be toggling it than be way under it. So, I think it gives us an objective and something for us to continue to focus our minds on and a goal to reach.

Honestly, I think that no matter where you're at in the table, you have those same feelings. Whether you're fighting for the last spot in the playoffs, or you're fighting for first place in the conference, I think that there's pressure for every match, and that's what we've all signed up for.
Lions defender Brek Shea started in the win against Montreal and came on as a substitute in Los Angeles. In both contests, he scored a goal.
We're hoping that we see continued good performances. We've had two good performances in a row now: one in a starting role for 60 minutes and the other coming in as a substitute and helping the team, and I think that's what we need to just focus on is continue Brek feeling positive about his performances, feeling confidence because he should. He's worked very hard to get himself to where he is right now, and he's feeling a good moment.
On July 23, the Lions drew Columbus at 2-2.
I remember their team was very open, and we'll get chances, and as long as we defend well as a team, I think we can win that game and come out with three points.
In Orlando's inaugural season in Major League Soccer, the Lions missed the playoffs by five points.
I don't think it's frustrating. It gives us something to keep working on every game. And if we stay above it now, we'll be in the playoffs. Three points this game is very important.