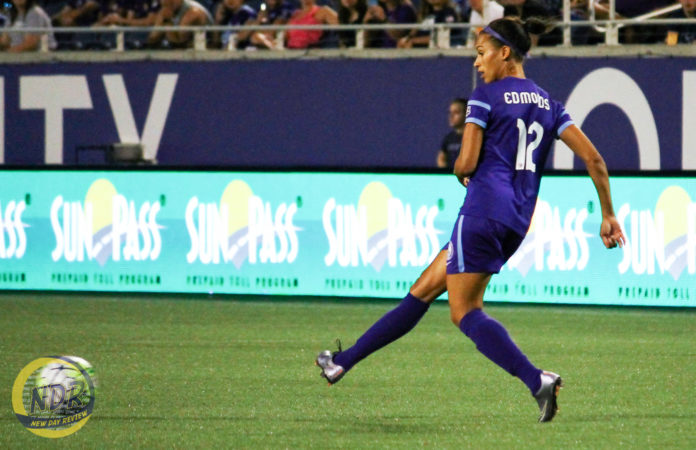 ORLANDO, Fla. – The last two games for the Orlando Pride in their inaugural National Women's Soccer League season are about getting as many points as they possibly can. Orlando's Saturday night match was a step in the wrong direction, as the Pride (6-12-1, 19 points) fell to Sky Blue FC (7-7-5, 26 points) 2-1 at Camping World Stadium.
Pride midfielder Kristen Edmonds started the match's scoring in the 43rd minute on a free kick from just outside the top of Sky Blue's box. Her shot lifted to the top-right corner of Sky Blue's net and past the outstretched arms of goalkeeper Caroline Casey.
"We were trying to see where the keeper was going to go," Edmonds said. "She was really far to our left, so I said, 'I'm just going to hit this one,' and I did. And it went upper-90, so it worked out."
But Sky Blue would reciprocate with new life in the second half.
Skye Blue forward Sam Kerr started the scoring for the visiting team in the 48th minute. Her individual effort included a burst of speed past Orlando midfielder Dani Weatherholt and a crossover move past defender Monica Hickmann Alves. Kerr then slid the ball to the left of goalkeeper Ashlyn Harris.
"An Achilles heel of ours, [that] seems to be continuing this season, is suicidal defending," Sermanni said. "And I think [there] was two examples of that in the first five minutes of the second half, almost a carbon copy of the goal Sky Blue scored against us in midweek. It happened virtually at the start of the second half despite our best efforts to look at that, study it and come up with a strategy to stop it."
In the 54th minute, Sky Blue forward Maya Hayes broke away from Pride defender Kaylyn Kyle for an equalizing attempt. Hayes' initial shot was blocked by Harris' splitting effort to the ground , but the rebound fell directly to Hayes for the go-ahead score.
It looked as if the Pride might equalize in stoppage time when forward Alex Morgan scooted to the right side of Sky Blue's box and crossed over the head of Casey to Laura Alleway. The Australian national teamer's ensuing header went high over Sky Blue's goal, effectively ending the match.
Woman of the Match: Sam Kerr
Kerr's attacking presence has been noticed in both Saturday's match and the Pride's Wednesday 1-1 draw with Sky Blue. The 23-year-old notched equalizing goals in the second half on Wednesday and on Saturday. Her individual effort came no more than four minutes following resumption of play in the second half. She finished with four shots (two on goal) and a goal.
Energetic De Vanna Makes 1st Impression
After only playing no more than 10 minutes in her Pride debut in Wednesday's 1-1 draw with Sky Blue, forward Lisa De Vanna made her first start Saturday night for the Central Florida squad. Her quickness and ability on the ball were immediately noticed from the start, as she provided pace and offensive opportunities for the Pride early in the match.
In the 20th minute, Edmonds launched a free kick into Sky Blue's box that was was deflected by Orlando's Sarah Hagen to De Vanna. As the ball took one steady hop toward De Vanna, the 31-year-old wound up for a one-timer from just outside the box. Her shot, while on target, took one hop into the arms of Casey.
"I thought she started well, and then I thought she kind of ran out of gas, to be honest," Sermanni said. "And that's to be expected. She's been ill during the week… I think you saw flashes of De Vanna tonight that kind of show there's something that she can bring to the team and bring to this league… I got what I expected out of her tonight."
De Vanna finished the match with 62 minutes of playing time and one shot (one on goal).
Alleway Returns to the Pitch
Sermanni noted that Alleway would be out with a quad strain on a week-to-week basis on Aug. 25. On Saturday, she made her first appearance for the Pride since before the 2016 Olympic Games.
"I felt a little rusty, but it was good to be out there with the girls again," Alleway said. "Disappointed in myself not being able to help out too much in missing [the header] which Alex put on a plate for me.
"It was really weird, like, it played over in my head literally three times before she actually kicked the ball. I just had this instinct, knew where she was going to put it. I was screaming far post. I just had this gut feeling, and, like every good striker knows, that when you hit the bar line, you try and dink it far post. So I thought if I could get in that area—there was no communication, there was just, you know, minds were in sync."
Alleway made an impressive impact in her 11 minutes of play. Apart from the overpowered header in stoppage time, she was a part of the buildup to the equalizing attempt, as she serviced the ball to Jasmyne Spencer, who found Morgan to her right.
"It was good to get her back in there," Sermanni said. "I think she injected some life, and she injected some pace, and that really helped us… I was pleased with her contribution and just her impact of coming into the game."
What's next?
Orlando has a bye week starting on Sept. 12. Their next and final game of the season will be at Camping World Stadium against FC Kansas City on Saturday, Sept. 24 at 5 p.m.
Scoring
| | | | |
| --- | --- | --- | --- |
| Time | Team | Goal-scorer | Assisted by |
| 43' | Orlando Pride | Kristen Edmonds | Alex Morgan |
| 48' | Sky Blue FC | Sam Kerr | n/a |
| 54' | Sky Blue FC | Maya Hayes | n/a |
Statistics and Starting Lineups
| | | | | |
| --- | --- | --- | --- | --- |
| | Goals | Assists | Shots | Shots on Goal |
| Orlando Pride | 1  | 1  | 9  | 2  |
| Sky Blue FC | 2  | 0  | 8  | 5  |
Orlando Pride starting XI (4-4-2): Ashlyn Harris (GK); Cami Levin, Kaylyn Kyle, Monica Hickmann Alves, Josée Bélanger; Jasmyne Spencer, Dani Weatherholt, Kristen Edmonds, Lisa De Vanna; Alex Morgan (C), Sarah Hagen
Sky Blue FC starting XI (4-4-2): Caroline Casey (GK); Erin Simon, Christie Rampone (C), Kristin Grubka, Erica Skroski; Maya Hayes, Sarah Killion, Raquel Rodriguez, Sam Kerr; Tasha Kai, Kelley O'Hara