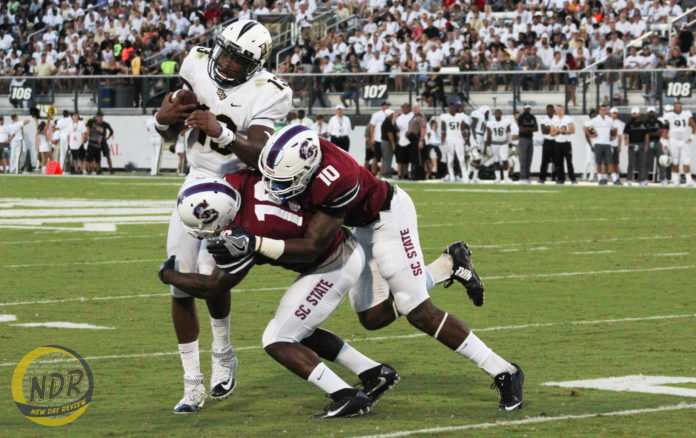 Special-teams errors and the absence of a passing game led to the University of Central Florida's first loss of the 2016 campaign. On Saturday in Michigan Stadium, UCF (1-1) fell 51-14 to the No. 5 University of Michigan (2-0) in front of a crowd of 109,295.
Wolverines junior quarterback Wilton Speight threw four touchdowns, and senior running back Khalid Hill ran for two more as the Wolverines coasted to victory.
The tone for the game was established in the first quarter after an odd sequence of special-teams mistakes by the Knights. UCF's first three kicking attempts—two punts and a field goal—all were either blocked or tipped.
Michigan's passing attack exploited the favorable field position to open up the game 21-0. Senior tight end Jake Butt converted a goal-line touchdown of three yards, Hill punched in a two-yard rush, and senior wide receiver Amara Darboh broke open for a 45-yard grab.
True freshman running back Adrian Killins put the Knights on the board in the second quarter with an 87-yard touchdown run that tied a school record set by former Knights running back Kevin Smith in 2007. It was one for the highlight reel, as Killins leaned forward over the goal line akin to a track and field sprinter.
But an ejection and injuries began to make things worse for the Knights.
With the Knights down 24-7, redshirt senior linebacker Demeitre Brim laid a booming hit on true freshman receiver Eddie McDoom. Brim was subsequently called for targeting, serving him an ejection. Several plays later, senior cornerback D.J. Killings went down with a non-contact injury in his lower back.
Then, following a 35-yard scramble-turned-run, senior quarterback Justin Holman awkwardly tripped and slid toward Michigan's sideline and would subsequently be sent to the locker room. He would be replaced by redshirt senior Nick Patti. Last year, Holman injured his hand against Stanford University in Week 2 on the road.
After Holman left the game, the Knights' passing game remained absent. Between Holman and Patti, UCF finished 6-for-22 with 56 yards passing.
Michigan outgained UCF 447-331 in total yards; however, the Knights were able to hold Michigan's rushing attack to only 119 yards while posting 225 yards of their own.
They tied their season rushing touchdown total from last season (four) on senior running back Dontravius Wilson's 34-yard burst that was set up by Patti's 26-yard scramble on the previous play in the third quarter.
UCF, trying to rally late in the third quarter, regained possession after a fumbled snap by punter Kenny Allen. Facing a fourth-and-14 situation, Patti ran right into the Knights' sideline, lobbing an eventually incomplete pass intended for Killins that effectively ended the Knights' last scoring opportunity.
The Wolverines have now won their first two games by a combined 97 points after blowing out the University of Hawaii Rainbow Warriors 63-3.
Player of the Game: Wilton Speight
The junior quarterback for Michigan outplayed his first college start against Hawaii by passing for an extra 167 yards while throwing for four touchdowns. He posted three touchdown passes by the half. After witnessing his first pass go for an interception against the Rainbow Warriors last week, he has yet to turnover the ball in 49 passing attempts.
Insult to Injury
According to Shannon Green of the Orlando Sentinel, head coach Scott Frost did not provide any injury updates on Holman (hamstring), Killings (back) or junior tight end Jordan Franks (leg) and said he'll never discuss injuries.
All three players missed time last season.
Last year, Holman suffered a broken finger during UCF's first drive against Stanford. Killings worked through multiple injuries and a suspension to start seven games in 2015. Franks broke his hand in preseason camp two summers ago but was available in 11 of 12 games.
If Holman misses any extended time, the Knights must rely on Patti to run Frost's no-huddle spread offense. Patti has never started in his four seasons between Boise State University and UCF. It remains unclear who the third-string quarterback is.
What's next?
UCF returns to the safety of Bright House Networks Stadium but will face another Big Ten opponent in the University of Maryland. The Terrapins defeated Florida International University 41-14 on Friday.
This will be the second time that UCF has hosted a Big Ten school since 1999 when they lost to Purdue University 47-13.
Scoring
| | | | | |
| --- | --- | --- | --- | --- |
| Time | Team | Play | PAT | Score |
| Q1, 8:48 | University of Michigan | Wilton Speight to Jake Butt, 3-yard pass | GOOD | 0-7, UM |
| Q1, 3:29 | University of Michigan | Khalid Hill, 2-yard run | GOOD | 0-14, UM |
| Q1, 1:55 | University of Michigan | Wilton Speight to Amara Darboh, 45-yard pass | GOOD | 0-21, UM |
| Q2, 14:17 | University of Michigan | Kenny Allen, 24-yard FG | n/a | 0-24, UM |
| Q2, 11:30 | University of Michigan | Wilton Speight to Jake Butt, 14-pass | GOOD | 0-31, UM |
| Q2, 11:10 | University of Central Florida | Adrian Killins Wilson, 87-yard run | GOOD | 7-31, UCF |
| Q2, 6:07 | University of Michigan | Kenny Allen, 36-yard FG | n/a | 7-34, UM |
| Q3, 11:47 | University of Michigan | Khalid Hill, 1-yard run | GOOD | 7-41, UM |
| Q3, 9:44 | University of Michigan | Kenny Allen, 37-yard FG | n/a | 7-44, UM |
| Q3, 8:03 | University of Central Florida | Dontravious Wilson, 34-yard run | GOOD | 14-41, UCF |
| Q4, 10:24 | University of Michigan | Wilton Speight to Amara Darboh, 30-yard pass | GOOD | 14-51, UM |
Statistics
Passing
| | | | | | | |
| --- | --- | --- | --- | --- | --- | --- |
| Player | Team | Completed | Attempts | Yards | TDs | INTs |
| Justin Holman | University of Central Florida | 3 | 11 | 37 | 0 | 0 |
| Nick Patti | University of Central Florida | 3 | 11 | 19 | 0 | 0 |
| Wilton Speight | University of Michigan | 25 | 37 | 312 | 4 | 0 |
Rushing
| | | | | | | |
| --- | --- | --- | --- | --- | --- | --- |
| Player | Team | Carries | Yards | Average | TDs | Long |
| Adrian Killins | University of Central Florida | 1 | 87 | 87.0 | 1 | 87 |
| Dontravious Wilson | University of Central Florida | 17 | 81 | 4.8 | 1 | 34 |
| Justin Holman | University of Central Florida | 7 | 46 | 6.6 | 0 | 35 |
| De'Veon Smith | University of Central Florida | 10 | 38 | 3.8 | 0 | 17 |
| Chris Evans | University of Michigan | 9 | 35 | 3.9 | 0 | 18 |
| Khalid Hill | University of Michigan | 5 | 9 | 1.8 | 2 | 3 |
Receiving
| | | | | | | |
| --- | --- | --- | --- | --- | --- | --- |
| Player | Team | Receptions | Yards | Average | TDs | Long |
| Taylor Oldham | University of Central Florida | 3 | 29 | 9.7 | 0 | 13 |
| Jordan Akins | University of Central Florida | 1 | 17 | 17.0 | 0 | 17 |
| Amara Darboh | University of Michigan | 5 | 111 | 22.2 | 2 | 45 |
| Jake Butt | University of Michigan | 7 | 86 | 12.3 | 2 | 25 |
| Jehu Chesson | University of Michigan | 4 | 84 | 21.0 | 0 | 35 |
(Featured photo by Christopher Bobo / New Day Review)