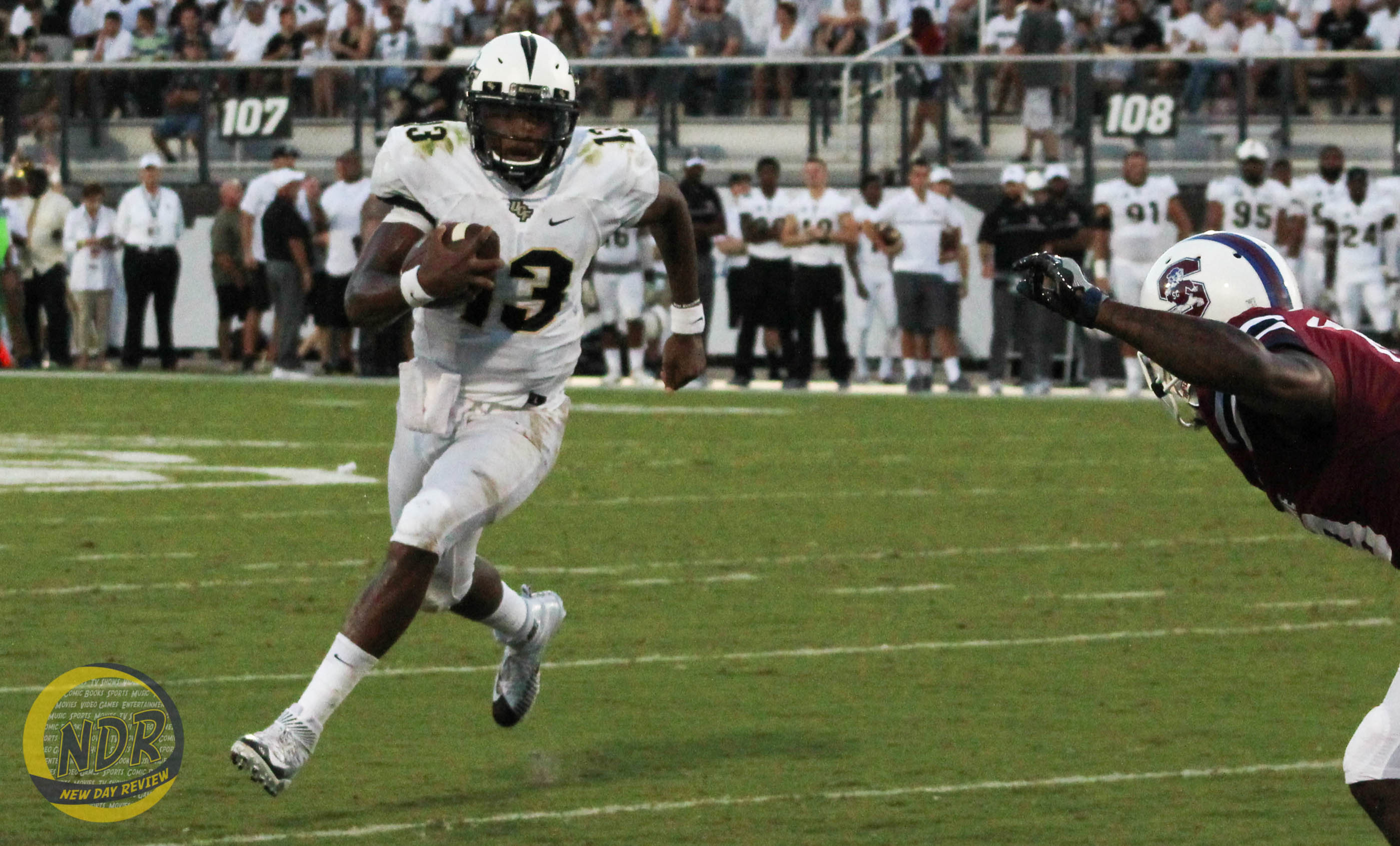 Notes & Quotes: UCF Football (Week 2)
A major test looms for University of Central Florida head coach Scott Frost and his new era of football. Opening up as a 37-point underdog in Saturday's game against the University of Michigan, the Knights will travel to face the No. 5 Wolverines on Saturday, Sept. 10 in a non-conference battle at Michigan Stadium.
Frost, who led UCF to a 38-0 win over the South Carolina State Bulldogs in his head-coaching debut, expects his team to embrace the challenge of playing a powerhouse program on the road.
"I don't want our kids afraid to play anybody. I think our guys are excited to go up there and look that challenge in the face and take swings at them," Frost said during the weekly game-week press conference Monday. "I want our guys to be confident, and regardless of the score at the end of the game, we're going to come out of this game a better team."
In their season-opener, Michigan overpowered the University of Hawaii Rainbow Warriors in a 63-3 victory. The Wolverines' offense tallied 512 yards and was led by true freshman running back Chris Evans, who rushed for 112 yards and two touchdowns. It took Evans only eight carries to set his mark in the Michigan record books, becoming the third Wolverine to cross 100 rushing yards in their first game.
Redshirt junior linebacker Shaquem Griffin, who registered a team-high six tackles and recorded a sack and forced fumble, anchors UCF's linebacker corps, which will be tasked with supplying pressure to help contain Michigan's rushing attack.
The Knights defense allowed just 2.6 yards per carry last week, but for them to spring an upset in Ann Arbor, they'll also need to replicate their three-takeaway performance, convert turnovers into points and protect the ball.
"Everything starts with winning up front," Frost added. "They're sound on both sides of the ball. They know what they're doing, they have an identity, and they got some future [National Football League] players. It's going to be a good experience for our guys."
The secondary's assignment is to shut down Wolverines sophomore quarterback Wilton Speight, who began his outing versus Hawaii with an interception in the team's first play but recovered to complete 10 of 13 passes for 145 yards and three touchdowns.
"Our plan is to just start fast, end fast. [We're not planning] on trying to get scored on, but you've got to play the game and [know] mistakes are going to happen," said senior cornerback Shaquill Griffin, who recorded an interception in Week 1.
The Wolverines' high-powered offense converted on all seven third downs and scored 38 points by halftime, which is exactly how much UCF scored all game against SCSU.
If the Knights want to surpass their season-opening performance, they'll need to reverse their sputters they had during the first half against SCSU that saw them end their first four scoring drives with field-goal attempts.
Senior quarterback Justin Holman seemed to have found his rhythm, as he showed improvement after the first half against the Bulldogs. He exploded for 165 yards and two touchdowns on 8-for-11 passing and finished with his first three-touchdown performance since the Bitcoin St. Petersburg Bowl in 2014.
"The quarterback needs to be the most confident guy on the field, probably the most relaxed guy on the field," Frost said. "I think he was so excited for that game; he was a little over-amped. I don't think that'll happen again."
UCF's rapid spread offense will have a challenge on its hands when it matches up with Michigan's aggressive defense, which gave up 232 total yards and forced five three-and-outs against the Rainbow Warriors. Expect Holman to distribute the ball a lot quicker in order to avoid facing pressure. Michigan will likely counter with their pressed man coverage that allowed senior defensive backs Delano Hill and Channing Stribling to each return pick-sixes last week.
"We don't listen to the critics saying what we're going to lose by or what the [point spread] is… I want to do things that are going to silence their crowd. That's why I like playing away games," Shaquem said. "Coming into a big game like this—on national TV, a huge crowd—there's nothing better. That's what you live for… We want to give someone a big surprise."
Kickoff is scheduled for noon on Saturday at Michigan Stadium The game will be nationally televised on ABC.
(Featured photo by Christopher Bobo / New Day Review)