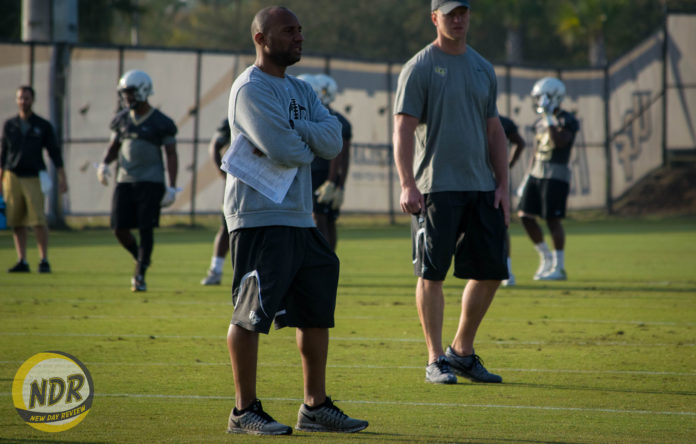 (Photo by Victor Tan / New Day Review)
A perfect season for the UCF Knights will be capped by the perfect opportunity. For the undefeated No. 12 Knights, a chance against the No. 7 Auburn Tigers in the 2018 Chick-fil-A Peach Bowl is the perfect game for both Orlando's hometown team and the American Athletic Conference. Since the AAC's preseason media day, the conference has pushed a campaign to include itself among the traditional Power Five conferences, promoting the term "Power Six."
Knights athletic director Danny White most recently used the term when addressing the media about interest from Power Five schools for the Knights' vacant head-coach job.
"I have gotten interest from non-conference Power Six coaches, yes," White said chuckling during a presser regarding former head coach Scott Frost's departure on Dec. 2.
Definitely one of my favorite parts from @UCFKnights athletic director Danny White's (@UCFDannyWhite) presser tonight.#UCF #UCFast #UCFierce #AmericanPow6r #AmericanFB #AAC #CFB pic.twitter.com/VIbkyXQlXN

— New Day Review (@NewDayReview) December 3, 2017
Against Auburn, UCF will have a chance to show it can compete with perennial top-tier teams. The Tigers are one of the best teams in the country, besting the Georgia Bulldogs and Alabama Crimson Tide when they were each ranked No. 1 in Week 10 and Week 12, respectively. Both the Bulldogs and Crimson Tide will play in the upcoming College Football Playoff.
"We'll be just fine. You know, we treat every game like it's the same game," UCF interim head coach Troy Walters said after the announcement Sunday afternoon. "And we go out and prepare the same way and focus and practice, and we know we gotta execute, and I think they're gonna cherish being on the big stage, and I can't wait for the guys to get on the field and show the country, against a good football team, what we're really about."
Said junior Pat Jasinski on facing Auburn in the 2018 Peach Bowl: "Obviously, you know, they're a top team, knocking off two No. 1s. You know, no one else in the country can say they've done that this year. So, you know, they're a high-quality team out of the SEC. But, you know, whoever it was going to be, we were just excited, you know, [to] give 'em our best shot and get to play in that New Year's Six bowl in front of tons people."
By winning its third AAC title in a 62-55, double-overtime thriller against the Memphis Tigers, the Knights have also done something no other program has done this year: stay undefeated. The Knights are 12-0 just two seasons after going 0-12, the fastest turnaround from winless to undefeated in FBS history.
"[Winning the AAC] was amazing," Jasinski said. "You know, it was hard to even see that as a possibility. You know, after my first year (the 2015 season), it was really tough. Just to see what the players have done that were here through it all, in [addition to] the staff, all the time they've put in, all the work—it's just amazing to see that pay off, and, you know, everyone was happier than you can imagine."
White said Frost could potentially coach the Knights in the Peach Bowl, but both parties are unsure of the details.
"Scott and his staff are committed to this team through the bowl game," White said on Dec. 2. "So, we'll figure out what the means later this week and get into the details of that."
---
For more on the Knights, as they prepare for the Peach Bowl, follow Victor Tan on Twitter at @NDR_VictorTan.