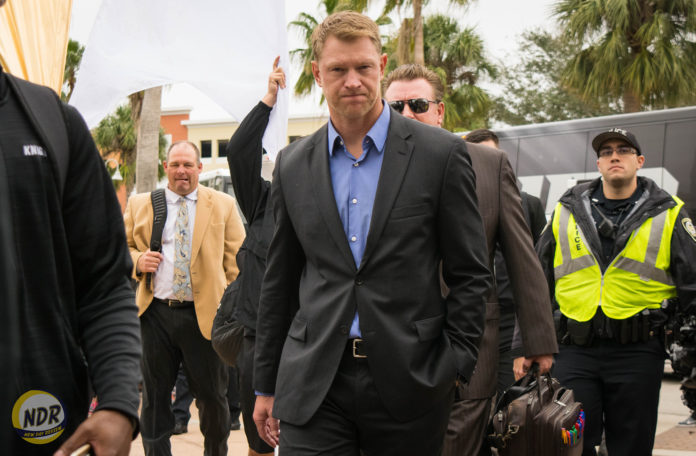 (Photo by Victor Tan / New Day Review)
ORLANDO, Fla. – The University of Central Florida went through a roller coaster of emotions Saturday. After winning their third American Athletic Conference title in a double-overtime thriller with the Memphis Tigers, Knights players and fans alike were made aware of an announcement they all were hoping to avoid: Head coach Scott Frost is homeward-bound and will coach his alma mater, the Nebraska Cornhuskers, next season.
That doesn't mean Frost won't represent the black and gold for at least one more game, though. UCF athletic director Danny White announced at a press conference Saturday evening that Frost could potentially coach the team's bowl game.
"Scott and his staff are committed to this team through the bowl game," White said Saturday evening. "So, we'll figure out what that means later this week and get into the details of that. But we kinda got two things happening: We're looking for a new coach for the new direction of 2018 and beyond and for recruiting.
"But our current football staff and Scott are committed, as they should be, and they understand these kids deserve their commitment 'cause we got a really special opportunity to make this season even more historic by winning the New Year's Day bowl game that we're expected to be invited to tomorrow."
Though details are still unsettled, White said Frost is "very focused" on preparing the team for the New Year's Six bowl. UCF is projected by many outlets to play in the Chick-fil-A Peach Bowl in Atlanta, Georgia, on New Year's Day.
"We gotta figure out exactly how that plays out, but his mind is very focused on preparing this team—and this whole staff is preparing our team—to compete in the bowl, and they're gonna coach 'em in the bowl," White said. "There's nobody else that can do it. You can't bring in new coaches and expect to be as competitive as we wanna be."
While Frost undergoes formalities with his new job, offensive coordinator and wide-receivers coach Troy Walters will serve as the interim head coach.
"We're gonna work on the details on what happens on game day of the bowl game," White said. "But Troy will be—Scott is not gonna be in the state for some of this time period, obviously, so the team needs a leader, day to day—that'll be Troy Walters—and we'll figure out exactly how the day of the bowl game unfolds.
"But Scott is committed to do whatever the right thing to do is to give us the best chance to win the bowl game."
UCF just capped off a perfect 12-0 season with another conference title and now waits to hear where it will play its ninth bowl game.
---
For more on the Knights, as they prepare for their bowl game, follow Victor Tan on Twitter at @NDR_VictorTan.