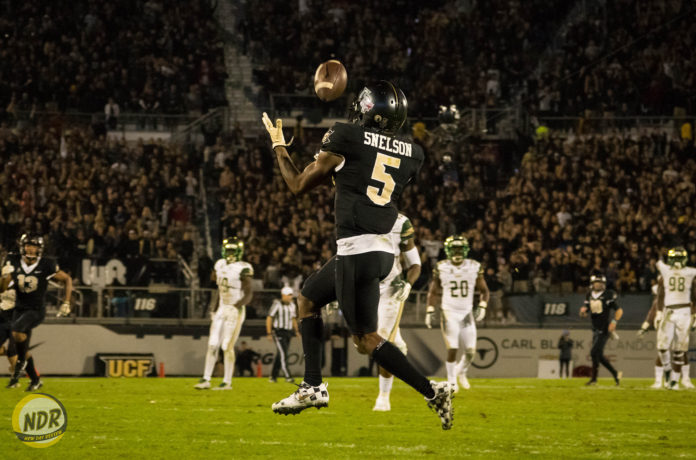 (Photo by Victor Tan / New Day Review)
ORLANDO, Fla. – College football was treated with one of its best games this season on Nov. 24. The "War on I-4" matchup between the undefeated UCF Knights and their rivals, the one-loss USF Bulls, lived up to the hype. No. 15 UCF (11-0, 8-0 in American Athletic Conference) defeated the Bulls (9-2, 6-2 in AAC) 49-42 in front of a raucous, sold-out Spectrum Stadium to earn the right to go to the conference championship game.
A back-and-forth contest from the start, the Knights outlasted the Bulls with some fourth-quarter magic. The fourth quarter featured two lead changes and a tie, including three touchdowns in 53 seconds in the final 2:30 of the game.
Here are the takeaways from UCF's memorable win over USF in 2017's "War On I-4."
1st-year Knight Mike Hughes Is 1 of UCF's Most Valuable Players
On Aug. 18, cornerback Mike Hughes arrived at UCF after transferring from Garden City Community College. Training camp for the Knights had already been in session for several weeks, yet, despite his late start, Hughes has become one of the most impactful players for UCF this season.
Hughes finished the regular season 38 tackles, one forced fumble, 13 passes defensed and four interceptions. On special teams, Hughes finished with a punt return for a touchdown and two kickoff returns for scores. Hughes' most significant kickoff return for a touchdown came against the Bulls, a go-ahead score that proved to be the difference in the final two minutes of the game.
"I said on the headset, 'I hope [Hughes] can get a decent return here.' I was thinking if he could get it out close to midfield, we'd only need a first down or two to be in field goal range for Matt [Wright]," UCF head coach Scott Frost said after the game. "And, man, he hit that full speed. He has been a difference-maker on our football team all year. A good teammate, and we're happy he's here."
UCF Secondary Struggled Mightily
USF quarterback Quinton Flowers threw for 503 yards in the loss to UCF. Tyre McCants caught nine passes for 227 yards, 210 in the first half, setting the USF single-game receiving record. The previous record was 191 yards.
The Bulls also completed nine passes of 20 yards or more. Linebacker Chequan Burkett said Flowers extending plays was an issue for the secondary.
"It's hard. The quarterback ran around in the backfield for like 15 seconds," Burkett said after the win. "They were covering a guy for…what 40 yards across, back and forth. That's 50 by 100 yards across the field. So, it's hard on those guys."
Knights' Offense Sputtered but Scored When Needed
UCF's offense experienced a threatening scoring drought through the middle part of the win over USF. After UCF took a 21-7 lead entering the second quarter, USF came within one point by halftime, as the Knights went scoreless the entire second period. The Knights then took an eight-point lead midway through the third quarter before not scoring again for three-consecutive possessions.
After nearly 16 minutes of game time, the Knights took back the lead with 7:33 left in the fourth quarter on a Dredrick Snelson 45-yard touchdown catch. Overall, the UCF offense put up 533 yards, about 10 more yards than its season average. Going scoreless for over a combined 33 minutes of game time, however, nearly cost UCF the game.
The scoreless second quarter was only the third time all year the Knights failed to score in a quarter.
"A couple team leaders like Tre'Quan [Smith] and Wyatt [Miller] stepped up and told us that we had to get it going," freshman Otis Anderson said after the game. "We really wanted this. So, it wasn't too much that had to be said.
"Coach Frost just called plays, and we had to go out there and execute. I believe we started to execute better as we realized what was really at hand and that we could possibly lose. So, that kind of gave as an extra drive to get what we need to get."
McKenzie Milton, Quinton Flowers Exchange Touchdowns in 'War on I-4' Matchup
Milton threw for 373 yards, four touchdowns and an interception on 29-for-44 passing and added 56 rushing yards and a running score. His performance was dwarfed, however, by Flowers' 503 passing yards, four touchdowns and an interception on 24-for-45 passing. He also added 102 rushing yards and a rushing touchdown.
"You can't try and press [and make big plays] in a game like this," Milton said after the win. "You just have to take what the defense gives you and stuff like that. [Flowers] is a heck of a player, man. God-given talent, and he's been making plays like that since he's been at USF."
Knights' Turnaround under Scott Frost Is Complete
The story is well-known by now. After winning conference titles in 2013 in 2014, UCF had a disastrous 2015 campaign, going 0-12. Then-head coach George O'Leary, who had been in charge since 2004, resigned after eight games. Replacing O'Leary in 2016 was Frost.
Under Frost, UCF went from a winless regular season in 2015 to an undefeated regular season in 2017, the fastest turnaround of its kind in Football Bowl Subdivision history. Redshirt senior Shaquem Griffin credits the turnaround to veterans and newcomers alike working together.
"Being able to share our experience [of losing] with [the young players] and for them to buy in, that's important," Griffin said after the win. "'Cause they could've been blowing us over, like, 'You know what, I don't know what the guys talking about. They just wasn't good.' But they bought in; they listened; they felt the feelings from us, and they took an initiative to say, 'You know what? Let's make sure we be great for not only ourselves but the older guys. Because they've been here when times was hard, and they don't wanna go back to that.' And the young guys bought into that."
---
For more on the Knights, as they prepare for the Memphis Tigers for the second time in 2017, follow Ryan Weiss on Twitter at @NDR_RyanWeiss.