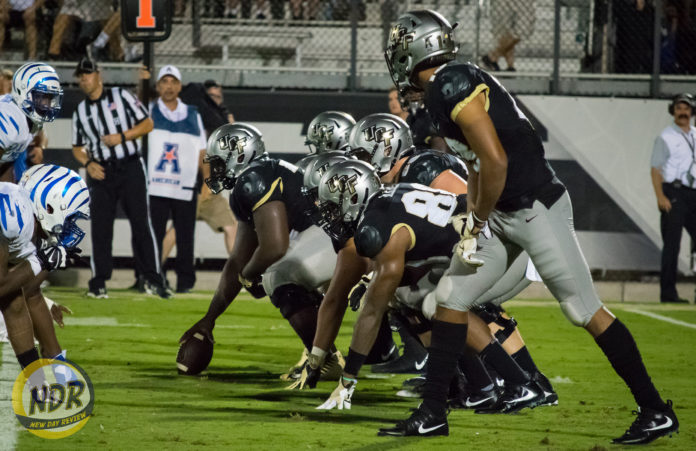 (Photo by Adrian J. Hernandez / New Day Review)
ORLANDO, Fla. – As the week wears on, University of Central Florida students will attend a concert and a stand-up comedy show, run into the Reflecting Pond and alumni from decades of UCF classes will reconvene in Central Florida. The week is ultimately concluded by the homecoming football game.
This year for Homecoming, the No. 22 Knights (4-0, 2-0 in American Athletic Conference) will take on East Carolina University (1-5, 1-0 AAC).
Last season, the two teams met in Greenville, North Carolina, for the Knights' first AAC game of 2016, a 47-29 win.
ECU has struggled so far this season, earning its lone victory at the University of Connecticut. Two of the Pirates' losses have come against ranked teams in the then-No. 16 Virginia Tech Hokies and the No. 18 University of South Florida. Another heavy loss came at the hands of West Virginia University. In total, ECU has lost games to Virginia tech, USF and West Virginia by a combined score of 181-68.
While the Pirates have faced some difficult opponents, they have not lost any close games. The smallest margin of defeat for ECU this season has been a 20-point loss to FCS school James Madison University. Even then, ECU's last touchdown came in the last 23 seconds of the game.
Here is what to expect when East Carolina comes to Orlando to face off against UCF on Saturday at Spectrum Stadium.
Like UCF, ECU Has a 2nd-year Head Coach
Scottie Montgomery is in his second year as head coach of East Carolina. While UCF has improved under its second-year head coach Scott Frost, the results don't say the same for ECU. Last season after its first six games, ECU was 2-4 overall. This season, the Pirates are 1-5.
Before coming to Greenville, Montgomery coached at Duke University from 2013 to 2015. Along with being associate head coach for all three seasons, Montgomery was also offensive coordinator and quarterbacks coach in his final two years with the Blue Devils. Since he arrived at ECU, the Pirates have struggled. Montgomery's record as the Pirates head coach is 4-14 overall, going 3-9 his first season. That underwhelming success is not normal for the program. From 2006 to 2015, the Pirates made a bowl in eight out of 10 seasons.
UCF Defense Could Continue to Show Out
Coming into the game, the Knights boast the 11th-ranked scoring defense (15.8 points per game allowed) and the 27th-ranked defense is yards allowed (329.8 yards allowed per game). Compare that to the ECU offense, which ranks 107th in scoring (22.2 points per game) and 75th in total yards (402.5 yards per game). After giving up a season-high 23 points to the University of Cincinnati last week, UCF has a chance to get back on track, as East Carolina has only scored over 21 points in two of its games.
East Carolina gets the majority of its yards through the air. The Pirates average 307.7 passing yards per game, which is good enough for 20th in the nation. On the flipside, the Pirates only average 94.8 yards rushing, which is 124th in the country. That means that ECU's strength on offense will be going up against UCF's weakness on defense. The Knights give up an average of 238.8 passing yards for 89th in the nation. However, the Knights do rank eighth against the run, allowing only 91.0 yards per game.
Pirates Present Another Opportunity for UCF's Offense to Shine
UCF's offense is on fire. The Knights rank No. 1 in scoring offense, putting up 47.5 points per game. They're also No. 8 in yards, recording 533.3 yards per game. There is reason to believe that those numbers won't be going down after Saturday's game.
Of the 130 teams in the FBS, the ECU defense ranks dead last in both points and yards. The Pirates are allowing more points per game, 47.8, than the Knights score on offense. The No. 1 yardage offense in America is Oklahoma State University, who averages 591.2 yards per game, but East Carolina allows even more. The Pirates' defense is giving up a whopping 600.3 yards per game. The lowest total they have given up all year is 523 yards in a 34-10 loss to Temple University. ECU also had 3 opponents amass over 600 yards. The pass defense is allowing 319.7 yards per game, giving UCF quarterback McKenzie Milton, who had a career game with five touchdowns against Cincinnati, a chance to pad his stats.
The ECU rush defense isn't much better. The Pirates allow 280.7 yards on the ground. UCF is averaging 224.5 yards on the ground.
Knights' Defense Has Potential to Force Many Turnovers
East Carolina has a turnover-prone offense. The Pirates are tied for 110th in turnovers, coughing the ball up 12 times in six games. Starting senior quarterback Thomas Sirk, a Duke transfer, has as many touchdowns as he does interceptions with seven. Backup junior quarterback Gardner Minshew has two interceptions as well.
ECU has put the ball on the ground and lost it three times this season. Of the 12 turnovers, one interception has been returned for a touchdown. ECU's turnover-prone offense combined with UCF's turnover-forcing defense spells a difficult night for the Pirates. UCF is tied for second in the country in turnover margin, as the Knights have only lost the ball three times all season. Overall, the Knights have caused 11 turnovers in four games, seven coming from interceptions, and four coming from fumble recoveries. If both teams maintain the status quo, then UCF should have a chance at some takeaways.
Davon Grayson is East Carolina's Playmaker
East Carolina's most dynamic player is senior wide receiver Davon Grayson. Grayson is Sirk's favorite target in the passing game. The senior leads the team with 31 catches on the season, making him tied for No. 37 in the country. On those 31 catches, Grayson already has a career-high 535 yards, good enough for 13th in the nation. He's also gotten into the end zone a career-high five times this season.
The responsibility of keeping Grayson in check will fall on starting corners Mike Hughes and Brandon Moore. Hughes may end up covering Grayson for most of the game, as the junior has had a stellar season so far, recording two interceptions and leads the country in passes defended per game with 2.0.
Grayson has the ability to be explosive. His longest catch this season is a 75-yard touchdown, and, while he hasn't been a major factor in the run game, the team has given him three carries for 24 yards to get the ball in his hands. If there is anyone to watch on the Pirates offense, it is Grayson.
­–
Kickoff between No. 22 UCF and East Carolina will be at 7 p.m. The game will be broadcast on CBS Sports Network.
---
For more on the Knights, as they prepare for homecoming and their third conference game of the season, follow Ryan Weiss on Twitter at @NDR_RyanWeiss.