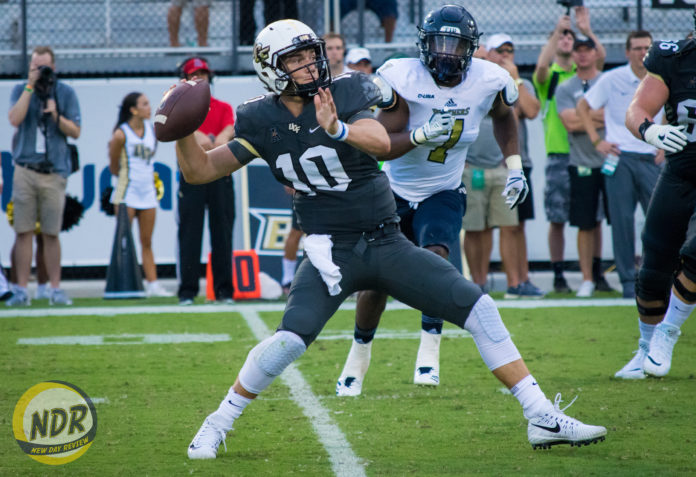 (Photo by Adrian J. Hernandez / New Day Review)
ORLANDO, Fla. – When University of Central Florida quarterback McKenzie Milton takes a snap from the center, he is confident the play will play out exactly as it was drawn up. The sophomore firmly believes that all of his teammates will be in the right position, exactly where they need to be. But there is one player Milton knows he can rely on for almost any play. That player is redshirt junior wide receiver Tre'Quan Smith. It is the relationship the two have that makes the two such a prolific pairing.
"Tre'Quan's my guy, man, he knows that," Milton said after the team's 40-13 victory over the University of Memphis on Sept. 30. "He's one of my best friends on the team and it's a blessing to have a target like that on the outside. It makes it easy on me. So, definitely blessed to have him."
This season, Milton and Smith have been an electrifying duo. Both players helped each other to career nights in a win over the University of Cincinnati, as Milton threw for a career-high five touchdowns, and Smith caught a career-high three touchdowns and ran for his first-career rushing score.
Through four games, Smith is tied for the team lead in receptions at 15, has amassed 337 yards and is tied for second in all of college football for touchdown catches with seven. Last season, Smith caught 51 passes for 760 yards and four touchdowns in 10 games with Milton.
While the two had good chemistry last season in Milton's true-freshman season, the two have developed even better chemistry in 2017. That's something Milton said is a product of diligently working together in the offseason.
"I've always felt that me and Tre'Quan have always connected well on the field," Milton said after practice on Oct. 10. "And I would say the same for a number of other receivers. But I think it just comes from working in the offseason. Getting that timing down. When you don't actually have practice, after lift stuff like that, stuff you don't really want to do. But it's necessary to get the production you want on the field."
The dynamic between Milton and Smith isn't one that goes unnoticed. UCF offensive coordinator and wide receivers coach Troy Walters can see the trust between the two players.
"It really goes back to the summertime and fall camp," Walters said after practice on Oct. 10. "You know, those guys have really set up a connection, and I think—you know, I tell the receivers all the time, 'If the quarterback can't trust you, then he's not gonna throw it to you.' And I think he trusts Tre'Quan [that] when the ball's in the air, he's gonna go make a play. I think he has that trust with all the receivers. But, most of the times, quarterbacks have that one guy."
In the preseason, Smith was named to the Fred Biletnikoff Award watch list. The award is given annually to the best receiver in college football. Walters, himself, won the award in 1999 while playing for Stanford University and went on to play in the National Football League for eight seasons.
"Big games. Consistency," said Walters about what's necessary to win the Biletnikoff Award. "It's not having, you know, four touchdowns in one game and then not doing anything the next three games. It's about every game, being the best out there. And that's what I challenge him. Every day, be the best receiver out there. And if you do that, you'll give yourself a chance."
Milton wants to see Smith get that recognition as well. However, Milton thinks that Smith has always been this good.
"Tre'Quan's been doing that since he's been here," Milton said. "For the past three years, he's probably been the best receiver in this conference. He's long, he's rangy, he's got deceptive speed, and he's a very special player and a very reliable target."
Milton, Smith and the Knights will take on East Carolina University at 7 p.m. on Saturday at Spectrum Stadium for homecoming. ECU is 1-5 overall and 1-2 in the American Athletic Conference, as the Pirates are coming off a 34-10 loss to Temple University.
---
For more on the Knights, as they prepare for their third conference game of the season and homecoming, follow Ryan Weiss on Twitter at @NDR_RyanWeiss.