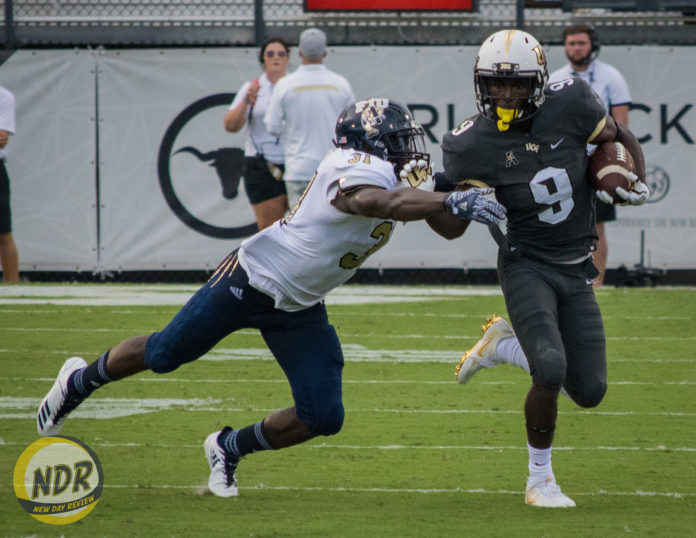 (Photo by Adrian J. Hernandez / New Day Review)
ORLANDO, Fla. – The University of Central Florida will face an early-season challenge on Friday night when they take on the University of Memphis in both teams' first American Athletic Conference game of the season.
"With the conference play beginning so early, we got to buckle down and really be serious and pay attention to details," UCF redshirt junior wide receiver Tre'Quan Smith said at the team's weekly game-week press conference on Sept. 4. "Because we don't want to miss any opportunities to get better and to prove people wrong. So the conference game being so early, I feel like all of the guys know what's at stake. And, you know, we're doing our best to prepare, and we're ready for it."
Smith and other players may feel like this game against Memphis is an opportunity to prove themselves and show people how good of a team they can be, but, for second-year Knights head coach Scott Frost, he feels this game is just as important as every other, even with it being a conference opponent.
"Every game's a measuring-stick game," Frost said at the team's weekly game-week press conference on Sept. 4. "Last week was a measuring-stick game to see where we were. Now we get a chance to see where we are compared to one of the better teams in our conference. Then we'll get a chance to see where we are against an ACC team and a Big Ten team. Every week's important, and this one's no different."
It is an unusually early conference game for UCF. The Knights have not played a conference game as early as Week 2 since the 2009 season. In fact, UCF has only played one conference game before Week 5 since then, and that was Week 4 of the 2014 season. However, Frost does not believe that an early conference game changes his team's demeanor.
"I don't think it changes our approach," Frost said. "You know, we try to treat every game the same. Every game's important. For the sake of the conference standings and where you are in the league, it's more important. But our guys are gonna be ready to play every game, and it's a little unusual to play a conference game this early, but we have to be just as ready in Week 2 as we would be Week 6."
After going 8-5 and finishing third in the AAC West last season, Memphis was picked to win the West this season, according to an AAC media poll. The Tigers performed well in their season-opener on Aug. 31, beating the University of Louisiana-Monroe 37-29 behind 319 rushing yards and four rushing touchdowns. Now, with the Knights putting up 61 points in their season-opener against the FIU Panthers, Smith is expecting a battle of high-powered offenses.
"[Memphis is] a good team," Smith said. "You know, a very high-powered offense. You know, it's going to be a shootout. You know, we can't leave missed plays on the field. We've got to do everything we can to take advantage of every opportunity because we know their offense is gonna put up points."
With it only being the second game of the season, the Knights are still looking to improve many aspects of their game. One main focus is their running attack, which only generated 148 yards on 45 carries for a less-than-satisfactory 3.3 yards per attempt in the win over FIU.
"We gotta run the ball better," UCF offensive coordinator and wide receivers coach Troy Walters said after practice on Sept. 5. "You know, we're close. We're close. We just have to finish our blocks. You know, I think, across the board, we got on our blocks. We got on our man, but we just didn't finish, and so there was a hole initially, and then the hole closed, and, you know, the backs have to trust that we're gonna get our blocks and trust the hole and trust where the opening's gonna be and hit it, and I think if we can do that, then we'll be much better this weekend."
On the defensive side of the ball, and particularly the secondary, redshirt junior safety Tre Neal wants to improve communication.
"Communication. I think we need to communicate," Neal said after practice on Sept. 4. "You can never have perfect communication, I think. But that's what you work for. I think alignments and assignments can be a little bit more crisper. But, as far as that, that's pretty much it. As long as we communicate, I think we'll be fine as a group."
The Knights were originally scheduled to host the game Saturday at 8 p.m., but with Hurricane Irma making its way toward Florida, the game was moved to Friday at 6:30 p.m. UCF holds a 9-1 all-time record against Memphis with the last meeting being a 24-17 win for the Knights in 2013.
---
For more on the Knights, as they take on Tigers in both teams' conference openers, follow Ryan Weiss on Twitter at @NDR_RyanWeiss.