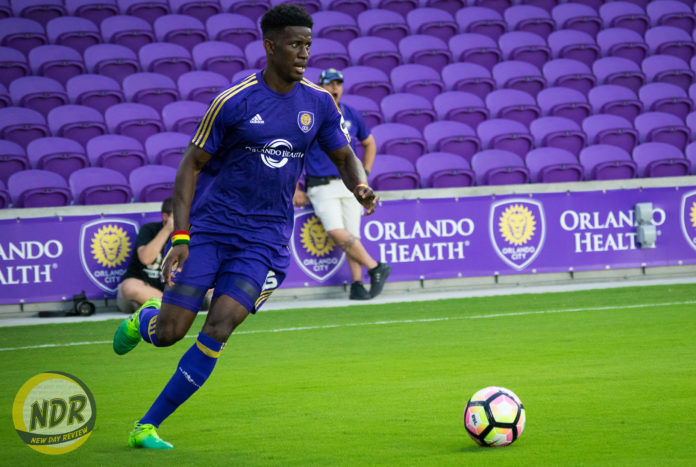 (Photo by Victor Tan / New Day Review)
ORLANDO, Fla. – Orlando City B forward Hadji Barry has taken advantage of more playing time in the United Soccer League this season.
With already as many total games as he played in 2016 but with 200 more minutes, the second-year Lion has had a standout 2017 campaign. Barry has so far started 10 of his 11 appearances, recording five goals and an assist. In 2016, he recorded four goals and two assists in 670 minutes with 11 appearances and nine starts.
The 24-year-old attributes his success to simply being a professional another year.
"Getting older, you know, and just getting used to playing with these guys and being here," Barry said before training on Aug. 10. "You know, I'm comfortable now, so I'm trying to get better every time I come on this field."
For second-year OCB head coach Anthony Pulis, Barry's potential has been revealed through a realization of what he does best: getting behind defenses.
"Well, he's been excellent… He's a threat, and he's got goals in him," Pulis said before training on Aug. 10. "I end up sounding like a broken record a little bit with Hadji 'cause it's him understanding what his strengths are. And his strengths are running in behind opposition's defense and facing the opposition's goal. And if you watch any of the highlights and any of those clips from that game at Cincinnati last weekend, that's probably why he was so effective."
Barry has shown progress in recognizing his strengths. Whereas last season Barry scored all four of his goals outside the box, this season, all five of his scores have been inside it.
"Don't get me wrong, it helps when he's got players around him that create space for him, but when he runs in behind, and he stretches, and he exploits defenses, then he's a really, really dangerous forward."
For Barry, he's seen his most productive part of the season in OCB's recent eight-game unbeaten streak. He most recently scored in back-to-back games, first in a 2-2 draw with FC Cincinnati on Aug. 5 and then in a 1-0 win over the Richmond Kickers on Aug. 12.
Unfortunately for Barry, though, he has also seen significantly less time with the club's Major League Soccer team. Barry, who was selected by Orlando City with the 13th-overall pick in the 2016 MLS SuperDraft, started four of his eight appearances and notched an assist in 293 minutes in his rookie campaign.
This season, he's notched just 11 minutes in three appearances and no starts for the first team.
He's remaining optimistic, however, as he knows every game with OCB is an opportunity to prove to first-team boss Jason Kreis he belongs in MLS.
"This is my chance to show him that he can count on me," Barry said. "So, every time I come to an OCB game, I'm trying to give my all so that any time he needs me, I'm ready to play."
---
For more on Barry and his pursuit of regular playing time in MLS, follow Victor Tan on Twitter at @NDR_VictorTan.