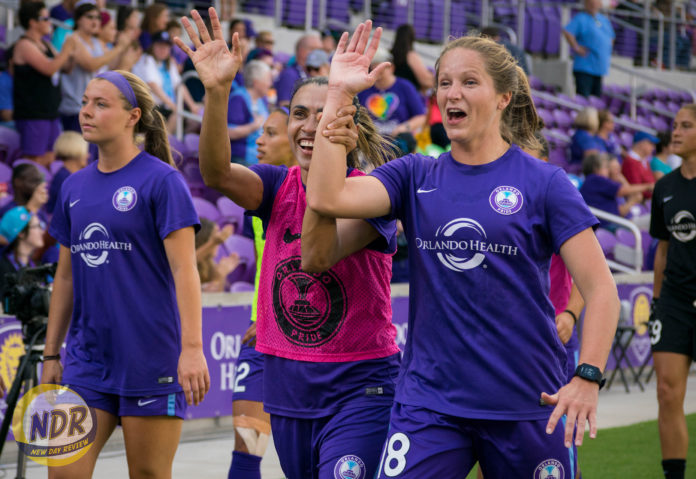 (Photo by Victor Tan / New Day Review)
Orlando Pride midfielder Maddy Evans made her 11th appearance of the season in a 3-0 win over the Washington Spirit on Aug. 8. It would also be one of her final appearances for the Pride, as the second-year Pride midfielder announced her retirement from the National Women's Soccer League, according to a team announcement released Thursday morning.
"My decision to walk away happened very fast, but I've accepted a job back home in Pennsylvania," Evans said, per the release. "It wasn't an easy decision, but, for me personally and big picture, it's the perfect fit and best option at this time. I want to thank all of Orlando City, especially my teammates, the fans and the entire organization for providing me a chance to really feel what it means to be a professional soccer player. These two years have been an experience I'll always remember."
Evans was a member of the Pride's inaugural season in 2016. She was selected with the Pride's No. 9 pick in the 2015 NWSL Expansion Draft after she spent three seasons with the Boston Breakers. In Boston, she played 2,250 minutes on 46 appearances and 23 starts and recorded three assists and two goals. For the Pride in 2016, she recorded an assist in 1,108 minutes on 16 appearances and 12 starts.
Since then, though, she has seen her role diminished, as she has played just 456 minutes in 11 appearances and four starts with no assists or goals and just two shots (none on goal).
"It's with very mixed feelings that we see Maddy go," Pride head coach Tom Sermanni said, per the release. "The first is obviously sadness that we are losing a player with such influence on the team, both on and off the field, and with such a great relationship with our supporters. Maddy has been an unbelievable team character, irreplaceable in that sense.
"So, it's with a lot of sadness we say goodbye. But, at the same time, it's exciting for her to look at this opportunity that's cropped up. Having five years as a professional in the league, she feels the time is right to move to the next stage in her life and career, and we share her excitement for that. We wish her every success for the future."
Evans is a graduate of Penn State University, where she played four seasons with the Nittany Lions. She also played for the Brisbane Roar in Australia's Westfield W-League during the 2016-17 season.
The Pride return to action on Saturday when they conclude a three-game home stand with matchup with sixth-place Sky Blue FC. Both teams are tied with 23 points, but Orlando narrowly edges Sky Blue for the fifth-place spot by goal differential.
---
For more on the Pride and Evans, as she moves into her post-soccer life, follow Victor Tan on Twitter at @NDR_VictorTan.