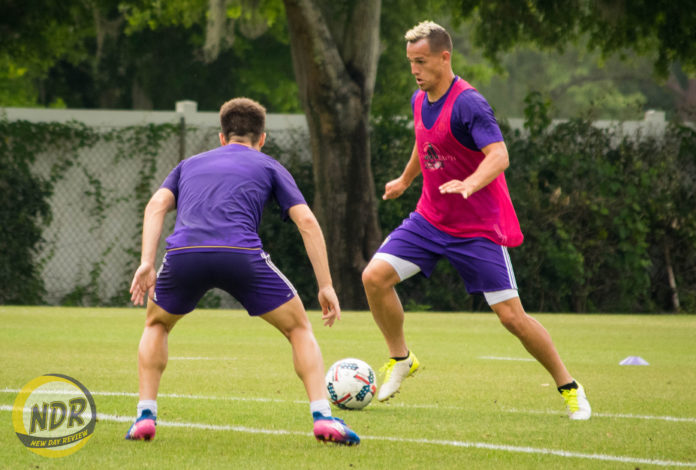 (Photo by Victor Tan / New Day Review)
ORLANDO, Fla. – Orlando City SC beat the clock by executing a last-minute trade before the transfer window closed. In a deal with the Colorado Rapids, Orlando City will acquire midfielder Dillon Powers and send midfielder Luis Gil and $100,000 in targeted-allocation money to the Rapids, according to a team press release on Thursday.
Though Gil departs Central Florida, City still retain Gil's 2017 budget charge while the Rapids retain Powers'. Colorado will also commit to sending $100,000 in targeted-allocaiton money to Real Salt Lake in 2018 and assume City's position in the agreement with RSL for rights of first refusal to Gil.
"Dillon is a creative midfielder who has proven himself in this league over the past four seasons," City general manager Niki Budalic said. "We are pleased to add more depth to our midfield with this trade and look forward to integrating Dillon into the team."
Powers joins the Lions after spending his first four and a half MLS seasons with the Rapids. Since 2013, Powers has amassed 10,106 minutes, recording 14 goals and 26 assists in 136 appearances and 116 starts.
After being selected with the 11th-overall pick in the 2013 draft, Powers was named the league's Rookie of the Year and was also given the Rapids' team MVP honors. That year, Powers tallied six assists and a career-high five goals in 30 appearances and 29 starts.
As for his performance so far this season, Powers has so far started 11 of his 15 appearances, tallying one assist in 964 minutes. He has taken just four shots (one on goal) and does not have a goal yet.
Midfielder Will Johnson regularly played against Powers when he was with the Portland Timbers from 2013 to 2015. He sees the 26-year-old as an impactful player because of his youth.
"Yeah, played against him a bunch of times," Johnson said after training Thursday. "Obviously, I played in the Western Conference for a few years against him. You know, another good, young player. Works very hard. Can hit a really clean, nice ball. Has the engine to get from box to box. I think he makes us a little bit younger, which is also good. And adds some depth.
"It's just another guy who's played in the league, who's had some success, who's grown a bit stale in his environment in Colorado and is looking for a change, it looks like. And so I think he'll be refreshed and excited to come in here for a new challenge and hit the ground running. I've heard positive things, but I hope he comes in and makes a difference for us."
The Lions return to action on Saturday when they travel to New Jersey to face the fourth-place New York Red Bulls at 7:30 p.m. City are looking for a win, as they've won just two of their last 16.
---
For more on City and their new addition, follow Victor Tan on Twitter at @NDR_VictorTan.