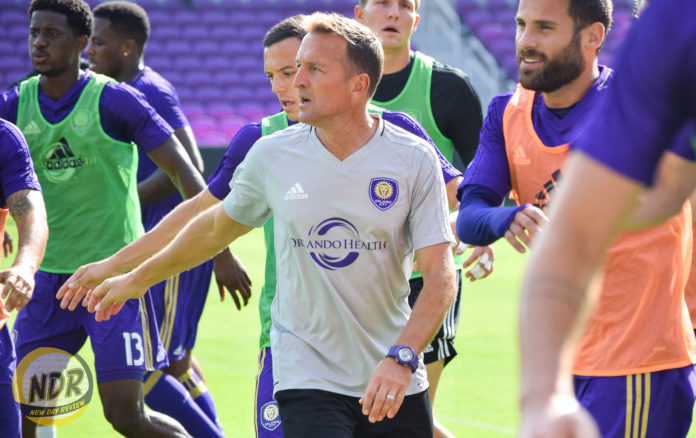 (Photo by Victor Tan / New Day Review)
Aug. 9, 2017 at Sylvan Lake Park
Availability: HC Jason Kreis, MF Yoshimar Yotún
HC Jason Kreis
Kreis was pleased with Yotún's performances in his first two trainings with Orlando City SC.
Two training sessions down and two really good ones from him. He shows that he's very, very capable with the ball, excellent passer, knows where it needs to go and versatile. We looked at him in two positions, so really nice to have an additional player like that, and the more players we have like that in our squad, the happier we feel.
Pending paperwork, Yotún will be available for selection for this weekend's match against the New York Red Bulls.
Yeah, we think so. It's paperwork issue right now, but we believe that we'll get all those documents sorted out, and he'll be ready for the game.
Kreis and his staff will try to use Yotún in an attacking role first.
I think that's first and foremost. His best position is where he plays in Peru as a box-to-box-type midfielder with some real-good attacking ideas in the final third and in the attacking half of the field. So, that's what we're gonna be looking at him first.
For Kreis, there are no expectations for Yotún.
It's an impossible job to manage expectations, and so I don't try to be part of that job. I would just tell you that he's a quality player. My experience is that it does take players time to adjust to our league, but, from the physical capabilities that he has and from a volume and capacity as for work and for running and from a fitness level where he's at right now 'cause he's in the middle of the season as well, all those things lend to what I think should be a quick transition. But I don't want to put any expectations out there either.
Kreis said he saw forwards Cyle Larin and Dom Dwyer connect in the second half of the 2-1 loss to the Montreal Impact on Aug. 5.
I think he's coming along really well. I felt like in the second half of the Montreal game [you] started to really see some decent combination play. They linked up with each other for a breakaway chance for Cyle, and so I think that that situation is improving, in my opinion.
From Kreis' perspective, he didn't see any struggle from Yotún in the heat.
I think we're all having difficulty with the heat. I think if you're not having difficulty with this heat, you're not human. But he's handled it really well. I mean, yesterday was his first training session out here, and, talking to him afterwards, he said it was very hot. But he managed it well. It didn't look like he was gassed or look like he was struggling in the session at all.
Kreis said having Yotún gives his team the option to play midfielder Ricardo Kaká more centrally.
[Having Yotún] gives us the option [to play Kaká more centrally], yeah.
Kreis is not in favor of an indoor training facility for his sport because the field would inherently be artificial surface.
The biggest problem that I would have an indoor practice facility is then you'd have to go to artificial surface. And the wear and tear on the players and the joints, in our league and in our sport, with the way we have to move, makes that an impossible situation. (jokingly) So, again I say we're looking for a shaded field. A big, huge, big tarp.
In the New York Red Bulls' shape, Kreis sees a vulnerability in his opponent's risk-taking style.
First and foremost, with the tactical shape they've been playing, it's very, very different. Very aggressive-minded shape that puts them with some really good numbers in their attacking phases, but they're also taking a lot of risk, and I think that they've been fortunate in the past few games, or the games before the New York City game, not to give up more goals than they had. And then in the New York City game, I think they got punished a little bit. So, that's what we will be looking to exploit.
In City's inaugural season in 2015, the Lions beat the eventual-No.1 seed New York Red Bulls 5-2 in a late-season match with playoff implications in New Jersey.
Tough for me to look back on something I wasn't a part of. But I do believe that there are a few players here that remember that. And I do believe that there was a few players here that have a lot of fond memories playing in New York and against New York teams. And so we head into this knowing, certainly, that we've had a difficult stretch. But we head into this with a really positive frame of mind because we believe that with what this schedule we have remaining, we truly believe that we still have a chance to reach our objective.
I really do. I really do. I really feel like we've been really close to some things in the last three games. You can look at the last three games and say if we had been better in the final 10 minutes of the last three games, we have four more points right now than we do. And I think we'd all be feeling quite a bit differently. And the other thing that I have to look to is to say that at the beginning of the season, our team showed what we're capable of. And so it's not like I have some grand notion in my mind of what we can do. No, I have real visions and real memories of what we're capable of, and I think we're very close to getting back to that.
The Orlando Sentinel's Mike Bianchi asked Kreis how he handles struggle because "you don't seem like the type of guy that would handle struggling very well."
You know me better than I thought you knew me. I don't. I don't handle [struggle] too well. I don't handle the losing part too well. I don't handle poor performances well. I take a ton of responsibility for 'em. I honestly do. In a lot of ways, I feel like, first and foremost, it's my fault if the team doesn't play, and it's my fault if we lose. And that's the way I've always been, and I was the same way as a player, actually. And it does. It makes life a little difficult at times, and you need some people around you to remind you that there's more to life than that as well. You still have a family, and you still have a lot of things that should matter a whole lot to you.
Kreis no longer frequents social media.
I used to [go on social media], and I stopped. Because it's another influence that doesn't matter to me. Everybody's gonna have an opinion, and social media gives too many people too big of an outlet to have those opinions. That's my thinking. And a lot of that stuff just can't—I cannot let that affect the way I think.
While he couldn't give a formal opinion, Kreis said other American sports have similar pressures on winning.
Again, difficult for me to say. I haven't been a part of other ones. Does seem like there's an inordinate amount of pressure and impatience and pressure on winning in the other American sports as well. So, difficult.
MF Yoshimar Yotún
(translated from Spanish)
Yotún is used to living in a country where 75 percent of the year is cold.
Yeah, it's totally different. Sweden is nine months of cold and now struggling a little bit here in Florida with the heat. But I'm very happy to be here with the club. I'm just trying to adapt right now as quick as I can to be able to contribute on the field.
City had been pursuing Yotún for about a year.
Yeah, very happy. I think the interest from the club was always there. It was a year of a lot of work between my agent and the club. But luckily I was able to join in the end. Very happy because I believe in this project. I'm happy to be a part of this project, and Orlando is a great city and a great club.
While he has already discussed with Kreis about his playing style, Yotún also said he is open to playing wherever.
I'm an offensive midfielder, attacking midfielder. The head coach knows it. He wants me there. I can play from the outside. I can play in the inside. But I'm always willing to help wherever the coaching staff needs me.
Yotún only had kind words to say about his new club.
It's been the best. It's a great group, a great organization. The people the work here in the club, the front office, has been treating me amazing. The training facility, this stadium is top-notch, and I'm very happy because they've been treating me very well.
Yotún isn't entering the final stretch of City's games blindfolded. He's watched some games of his new team already.
Yeah, I was able to watch some games. It's a very good team. Obviously, they haven't been able to get the results lately, but I know that—and it's obvious that a team like that one is anxious on getting results and getting wins. But, for me, it's the moment that we get that good result—we're gonna get the confidence, and we're gonna get back into a good rhythm.
For Yotún, there's pressure on players of all ages.
The pressure is always there. From the youngest player to the most experience player, the pressure's always there. Throughout my career, been managing this pressure with the national team, professional clubs, and, for me, just have to make sure I manage it and perform on the field.
In Sweden, Yotún left his wife and daughter. They'll soon be reunited.
My wife and my daughter. They're there in Sweden, but they're coming two days, and they're gonna be here with me, and that's important for me to have my family here supporting me.
[My daughter is] two years, nine months.
Yeah, she's at that age where she asks many questions. She asks about everything, and when I'm about to go to training, she's like, "Oh, but, you know, let's play a little bit more." Said, "No, I can't. I have to go to train." But, yeah, she's a blessing for me. It's the best thing that's ever happened to me, and I'm very happy with her.
---
For more on City, as they enters the final 11 games of the season, follow Victor Tan on Twitter at @NDR_VictorTan.