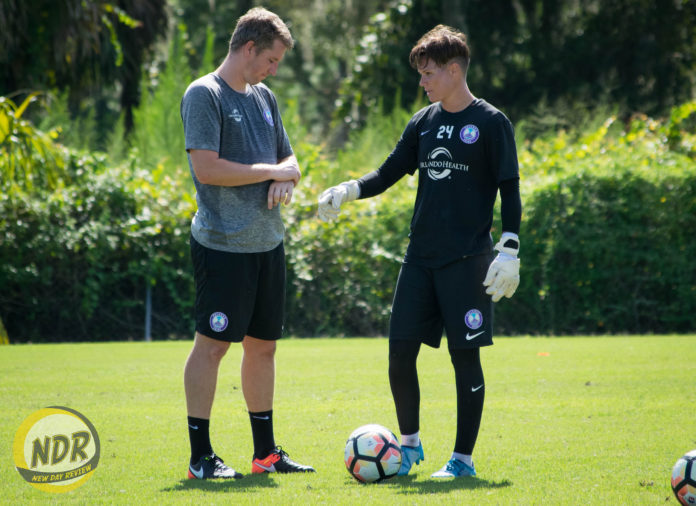 (Photo by Victor Tan / New Day Review)
ORLANDO, Fla. – Goalkeepers coach Lloyd Yaxley is in his first season with the Orlando Pride, but a prior relationship with one of the team's most integral players has allowed him to seamlessly ease into the relatively new role. Yaxley and goalkeeper Ashlyn Harris have worked together in the National Women's Soccer League since the 2013 season with the Washington Spirit. Over time, that relationship has fostered a trust and developed into a dynamic that showcases both leaders jointly operating the goalkeepers group in training sessions.
"We've been together now for almost five years, and I think there's an element of trust that goes into that," Harris told the New Day Review after training on Aug. 4. "Developing a good relationship with your coach, and I just think that at this point in my career, he knows my body."
Yaxley's attention to Harris' physical status is something the second-year Pride goalie appreciates. The 31-year-old said her 2016 season, an NWSL Goalkeeper of the Year effort, was marred by a grueling cycle of physical tole, recovery and repeat.
"I trust that he's gonna prepare me well enough to be at my best when it comes game time, and that's doing the right things during the week, and I think, last year, my body was in shambles, and it was very uncomfortable," Harris said. "I actually didn't train as much as I wanted to, and it was always just trying to maintain an uncomfortable, like, trying to heal and then push on and heal and push on. It wasn't a good cycle for me."
But it's not just his attention to detail that made Yaxley such a sought-after personnel acquisition. Harris said she admires Yaxley's humility and open-mindedness to drawing coaching ideas from other coaches in the club.
"Obviously I worked for four years with Ash, and it's—you know, we have a great relationship," Yaxley told the New Day Review after training on July 27. "We have a great partnership, and, you know, to get to work with her again was obviously a key reason behind me coming here.
"But then the organization, as a whole, like, just as far as being in the environment here there's other professional coaches that I can bounce ideas off of. I regularly speak to Tim [Mulqueen], the [Major League Soccer] goalkeeper coach, and I speak to Chris, the [Orlando City B] goalkeeper coach. I feel like the three of us, we share ideas; we, you know—it helps me develop as a coach, just being around guys like that."
In Washington, Yaxley didn't find the same environment. Apart from connections he personally made, Yaxley was alone.
"I mean, for instance, at the Washington Spirit, it was myself, and then that was pretty much it," Yaxley said. "Like, so, there wasn't, you know, that daily—like, I see the other two goalkeeper coaches every day in the office. So if I need something, it's just easy for me to start up a conversation with them."
As for how the rest of the squad responds to the Yaxley-Harris duo, second-year Pride goalkeeper Aubrey Bledsoe embraces the opportunity to work behind the successful pair. Even though those two lead, Bledsoe said she still has an opportunity to contribute.
"I would say that our goalkeeper trainings are a good team effort," Bledsoe told the New Day Review after training on July 27. "Lloyd and Ash have developed a relationship, being on the Washington Spirit together. So, Lloyd will kinda set up the drill, and then Ash provides a little feedback, and we all kinda work together to make sure that it's realistic…
"Ash is a lot more experienced, so I'm certainly happy to learn from her. The rest of us, we do contribute, obviously, but, you know, when you've got an incredible leader with international experience—she's a world-class keeper, so we're more than happy to learn from her and just let her kind of take charge, and we just soak that in."
Ultimately, Harris cherishes the opportunity to work with Yaxley again. When he first arrived to Orlando, Yaxley stayed in Harris' house for the first two weeks. It is perhaps the least she owes him, as Harris credits Yaxley with lengthening her career.
"I'm happy he was able to do this. I'm thankful," Harris said. "I think he's a large part of my success over the past few years, and it's only gonna get better from here, you know? And with him here, my length, my life—whatever you want to call it in terms of my soccer length and life—will be prolonged because he gets me."
The Pride return to action on Tuesday against the Washington Spirit, continuing their three-game home stand. That matchup is set for a 7:30 p.m. kickoff.
---
For more on the Pride's goalkeepers and their coach, follow Victor Tan on Twitter at @NDR_VictorTan.