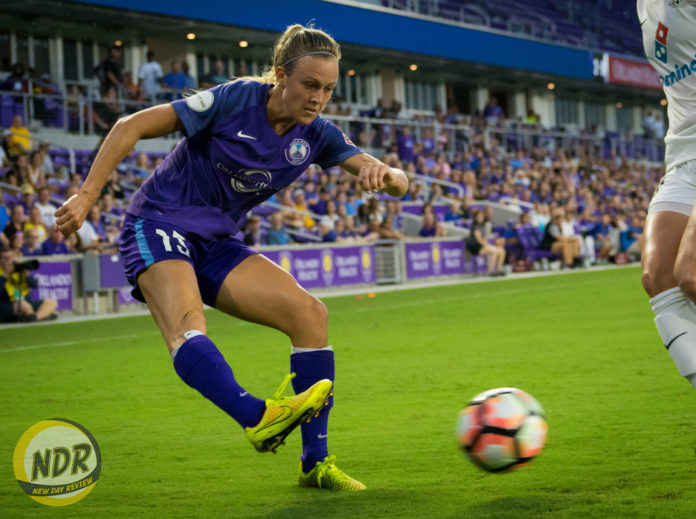 (Photo by Victor Tan / New Day Review)
ORLANDO, Fla. – Seven national-team players, the most from any National Women's Soccer League team, left Central Florida and the Orlando Pride to play with their countries in the inaugural Tournament of Nations. On Friday night, a little more than 24 hours before the Pride's next match against the Chicago Red Stars, those seven players returned.
However, that doesn't do anything for Pride boss Tom Sermanni. During the four-nation, three-game tournament, Sermanni managed a beleaguered roster that was missing seven of its veterans. After Thursday's training, Sermanni said he had "no idea" if those players would be available for selection on Saturday.
"No idea. I've got absolutely no idea at this stage [if our international players will play Saturday]," Sermanni said. "They've all got games [Thursday]. I don't know—we've had probably five of the seven have played significant game time up to now. If they play full games [Thursday] on the West Coast and then have to travel back on the red eye tonight or tomorrow and get in tomorrow morning, I think it's gonna be very difficult to play on Saturday night."
For Sermanni, that uncertainty when ultimately selecting his team for Saturday is frustrating. The second-year Pride head coach is surprised the league still has these logistical difficulties.
"It's really interesting when you look at these days when the processes are so much better, organizations are so much better, and things are much smoother that a simple thing like this actually happens," he said. "You know, if we go back 20 years, the game would've simply been postponed and fixed at a time when both teams are at full strength or have a chance to be at full strength.
"So…the situation we're in right now, from our club's perspective, is quite ridiculous and puts us in a difficult situation at a critical [moment] in the season."
Of the international players returning for the Pride, though, team captain and defender Ali Krieger is the only player that didn't record a cap in the tournament. She is an anomaly, however, and the Pride have been focused on the players that have been in Orlando in preparation for Chicago.
"We tried to do some longer stuff, but we've got, you know, basically 12 outfield players training," Sermanni said. "So you can't do a full-field thing. The best we've been able to do is like a 7-v-7… But there's some pros and cons, as I say, of having that smaller group.
"And, you know, over halfway into the season now, so it's not like we're trying to get familiarity with the players. The players have all been here for four months. So, you know, I can't go back and say, 'Well, you know, this impacted this, or this didn't impact this.' So…there's no kind of excuses for our selection or the strength of our squad or any of that.
"The main complaint or difficulty we have this weekend is the fact that we've got 40 percent of our players not here and…playing in an international match on the West Coast less than 48 hours before we've got a home game."
As for center-back Toni Pressley, she has opted for an always-prepared mentality. With the uncertainty of which players will be available or not for Saturday, Pressley said every player needs to be ready to play.
"I think that, you know, having them get significant minutes [in the Tournament of Nations], it might be an issue; it might not," Pressley said after training Tuesday. "So I think, you know, we just need to be ready for anything, ready for people to step up on our side and those minutes and play as well as they can for us."
Orlando's upcoming matchup with the Red Stars will be the second of a back-to-back with the Windy City side. Chicago took the first game in a 2-1 winning effort on July 22. For Pressley, playing a team in a back-to-back situation can be an advantage for the Pride.
"I think it could be an advantage because, like I said, we know what we didn't do so well in the previous match, and, you know, we know who their players are, the personnel," she said. "So, you know, maybe their national-team players will be a bit tired, too. So that might be to our advantage."
The Pride host the Red Stars on Saturday at 7:30 p.m. It is a pivotal match for both teams, as Orlando looks to break into a playoff spot, and Chicago looks to further distance itself from the rest of the league.
---
For more on the Pride, as they battle through a dilapidated roster, follow Victor Tan on Twitter at @NDR_VictorTan.