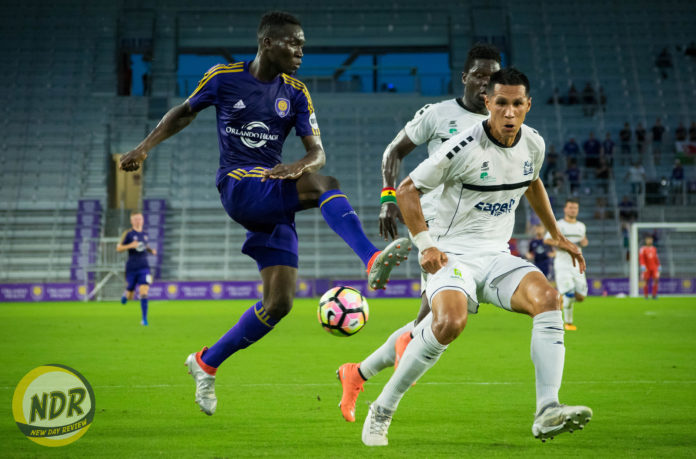 (Photo by Victor Tan / New Day Review)
Match Recap
ORLANDO, Fla. – It's been a while since Orlando City B have won, but the United Soccer League Lions also haven't lost lately. Orlando City B (5-6-9, 24 points) drew 0-0 with the Harrisburg City Islanders (6-9-6, 24 points) Wednesday night at Orlando City Stadium in front of an announced crowd of 1,061.
For head coach Anthony Pulis, it's the same story all over again for a team that has drawn their last five games.
"Frustrating night again. I feel like it's déjà vu of the last probably four home games now," Pulis said after the game. "Probably gonna say exactly the same thing where we had the majority of the ball, some really good passages of play—just the end product again. Creating some good chances. Just couldn't finish them off again."
Although OCB are on an unbeaten run of five games, they haven't won any of those games largely due in part to their lack of scoring. Since the team's 1-1 draw with FC Cincinnati on July 1, OCB has three goals. Pulis believes that his team is performing well enough to win.
"I think we could have easily won all four of those last home games that we tied." Pulis said. "It's not going for us at the moment. It's not dropping"
The Harrisburg City Islanders were more clinical in the initial stages of the game but could not take advantage of some early chances on goal.
OCB escaped unscathed from an early mistake in the fourth minute when an errant pass from Jules Youmeni found the feet of City Islanders midfielder Paul Wilson just outside the box. Wilson's shot found its way past OCB keeper Earl Edwards Jr., but it ricocheted off the post and out.
OCB also hit the post in the 27th minute after Michael Cox won a free kick near the right side of the City Islanders' box. The cross sent in by OCB's assist leader Pierre da Silva found Léo Pereira's head, but the attempt gonged off the top of the bar and out.
Seven minutes later, former USL Lion Jonny Mendoza had a chance to score on his old team when a through ball found him with space in the right side of the box. His shot went just wide, hitting the side netting. Mendoza made 30 appearances for OCB, notching two goals and an assist in his tenure with the club.
The game started to open up in the second half with several chances for both teams. What looked to be a breakaway for OCB turned into a chance for the City Islanders when a last-second tackle on the edge of OCB's box gave Wilson an opening to take a shot in the 59th minute. The effort was thwarted by an outstretched Edwards Jr.
OCB responded with the best chance of the night in the 63rd minute when da Silva sliced through the defense into the six-yard box. City Islanders goalkeeper Brandon Miller rushed out of position to meet da Silva, who sent it across to Scott Thomsen staring at an empty net. Thomsen rocketed it over the post and into the wall.
"It was a little bit scary at the end. It was like a basketball match." Pulis said. "For the last 10 to 15 minutes, it was back and forth. We left ourselves a little bit open in the defensive transition."
Thomsen was given one last chance to redeem himself in the fourth minute of stoppage time when he once again found space in the penalty box off a cross from da Silva. This time his shot was on target, but it was saved by an outstretched Miller to seal the draw.
Man of the Match: Pierre da Silva
da Silva, who returned from a three-game suspension, regained his feet in the second half, finishing the game completing 75.9 percent of his 29 passes. The second-year OCB midfielder gave his team the best two chances of the night with perfect crosses that could have easily resulted in two goals. Pulis praised his effort in a match that took a toll on the 19-year-old.
"He was tired at the end, which was to be expected, because he obviously hasn't played for three or four weeks now. I thought he looked rusty first half, if I'm being completely honest." Pulis said. "Second half, he came alive, especially towards the end. You saw what he's got and what he's about… He's got a fantastic delivery with his left foot, and he did well to get through the 90 minutes. He was throwing up at halftime; he had a bit of a stomach bug, but he got through it."
What's Next?
OCB travel to Ohio to face FC Cincinnati, who have won three of their last five matches, on Saturday at 7 p.m.
OCB Defense Undergoes Drastic Change for Another Shutout
OCB, who held one of the most potent offenses in the league scoreless on July 29 in a 1-1 draw with the Charleston Battery, made a dramatic alteration to the back four against the City Islanders. Not one player from the game against the Charlotte Battery returned to the starting lineup on defense. Zach Ellis-Hayden, OCB's usual choice at left-back, did not appear due to a one-game suspension from yellow-card accumulation.
Victor "PC" Giro, who has only appeared for the USL side three times this season, filled Ellis-Hayden's slot alongside his usual partner on the left side, Léo Pereira. Pereira and PC have made multiple appearances alongside each other for the Major League Soccer squad. Conor Donovan, who hasn't started for the USL Lions in the past three games, replaced PC at halftime.
The USL Lions adapted to a drastically changed back-line admirably by allowing only three shots on goal and recording their second-straight clean sheet. For Pulis, a changing lineup is just part of this OCB team.
"I thought they were all good tonight… It's not easy, but it's something we're used to now with this team." Pulis said. "I don't think we've ever had an unchanged lineup in the 18 months we've had this team."
Highlights
27′ | Pierre almost catches Harrisburg off guard on the free kick! 😲

0-0 | #ORLvHAR pic.twitter.com/UrH5RdqBqM

— Orlando City B (@OrlandoCityB) August 3, 2017
60′ | Zach Carroll almost puts away a loose ball in the box off a free kick!

0-0 | #ORLvHAR pic.twitter.com/lCE6jDrWv0

— Orlando City B (@OrlandoCityB) August 3, 2017
NDR Notes
PC made his fourth appearance for OCB this year.
da Silva, who was serving a three-game suspension, returned to the starting lineup for his 15th appearance this year.
OCB have recorded clean sheets in four of their last six games.
Scoring
| | | | |
| --- | --- | --- | --- |
| Time | Team | Goal-scorer | Assisted by |
| n/a | n/a | n/a | n/a |
 Statistics and Starting Lineups
| | | | | | |
| --- | --- | --- | --- | --- | --- |
|   | Goals | Assists | Shots | Shots on Goal | Possession % |
| Orlando City B | 0 | 0 | 13 | 2 | 52 |
| Harrisburg City Islanders | 0 | 0 | 8 | 3 | 48 |
Orlando City B Starting XI (4-4-1-1): Earl Edwards Jr. (GK); Victor "PC" Giro, Léo Pereira, Zach Carroll (C), Jules Youmeni; Ryley Kraft, Jordan Schweitzer, Scott Thomsen, Pierre da Silva; Albert Dikwa; Michael Cox
Harrisburg City Islanders Starting XI (4-1-4-1): Brandon Miller (GK); Shawn McLaws, Tiago Calvano (C), Lee Nishanian, Abass Mohammed; Rasheed Olabiyi; Jonathan Mendoza, Danny DiPrima, Paul Wilson, James Thomas; Ropapa Mensah