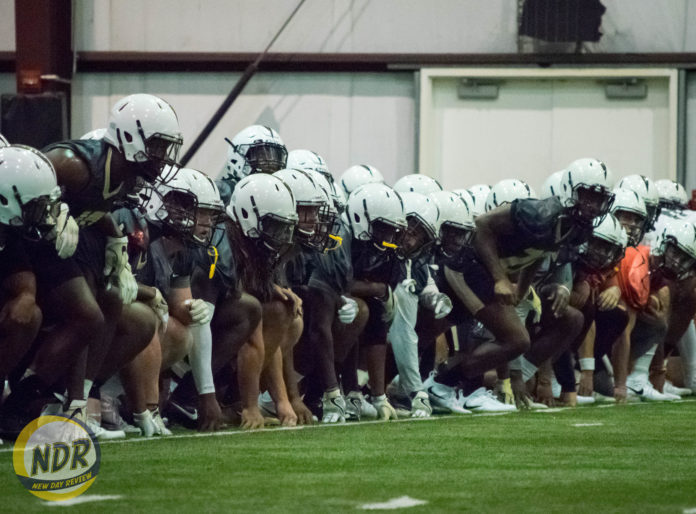 (Photo by Adrian J. Hernandez / New Day Review)
ORLANDO, Fla. – University of Alabama transfer and redshirt sophomore Shawn Burgess-Becker is making a position change, and he's getting a little help from a teammate who has had success with position changes.
Burgess-Becker, a Miami, Florida, native who transferred from the Crimson Tide after his freshman season, played in the secondary and special teams for Alabama. For the second-year Knight, making the move to linebacker is a new experience.
"It's a new experience. I've never done it before in making the transition over to linebacker," Burgess-Becker said after practice Friday. "It's different, but I feel like it'll be [a] pretty easy place for me because I'm learning behind Shaquem [Griffin]."
Griffin knows the position that Burgess-Becker is in at the moment. When head coach Scott Frost and his staff took over at the start of the 2016 season, Griffin also made the move from defensive back to linebacker. Griffin turned that change in position into an American Athletic Conference Defensive Player of the Year season. That same experience is why Griffin is making an effort to help Burgess-Becker make that transition.
"It's good because, like, he's showing me the exact same things he went through from making that transition from DB to outside linebacker," Burgess-Becuker said. "I feel like it's coming pretty quicker than it was when I was at safety."
For Griffin, he's noticed Burgess-Becker's eagerness to learn his new role and responsibilities. He said the new linebacker is someone to keep an eye on.
"That's a guy we can look out for. That's a guy who I think is gonna come up and step up a lot for the team," Griffin said. "Being able to switch there, and he actually come in at night and ask for help and do different pass rush and go over plays and stuff.
"That shows a lot when you can have a position change and not think about the negative part of it at all. 'Why they left me? Why they took me from DB and move me to linebacker?'" Griffin said. "Instead, he just hopped in like, 'Hey, what can I learn, and how can I get on the field as fast as possible?' That's a guy that's really stepping up, and I'm proud of him for that."
As a four-star recruit and former Under Armour All-American from Monarch High School in Coconut Creek, Florida, Burgess-Becker is not short on talent. For defensive coordinator Erik Chinander, the position change will help Burgess-Becker get on the field.
"My job, as you guys know, is to get the best 11, best 22, best 12, 13—whatever that personnel package is—the best guys on the field," Chinander said. "And in order for us to do that, [Burgess-Becker's] gonna have to play a couple different roles along with some other guys. He has a lot of tools in his toolbox. But where is the best place to use him? We're gonna find out here in Week 1."
While the move to outside linebacker is something new for him, Burgess-Becker feels he is picking up what his responsibilities and role are, especially with the help of Griffin.
"I'm picking it up pretty quick," Burgess-Becker said. "And like [Griffin] said, I come in here with him late nights, and we watch film, and we'll do a couple of technique things so I can just get this thing down."
---
For more on Burgess-Becker and his transition from defensive back to linebacker, follow Ryan Weiss on Twitter at @NDR_RyanWeiss.