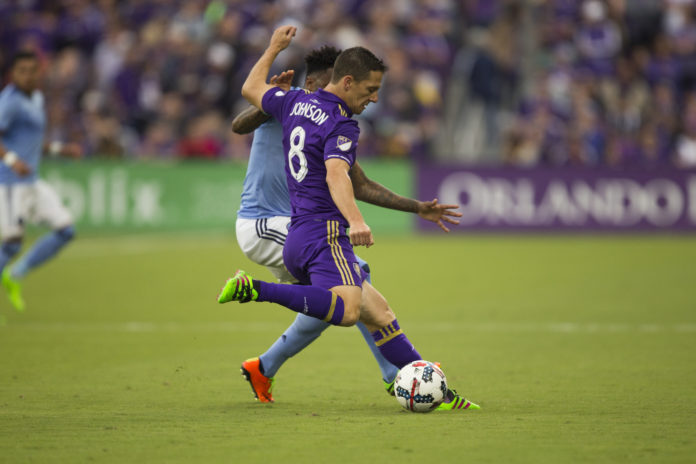 (Photo by Mark Thor / Orlando City SC)
ORLANDO, Fla. – A hotly anticipated matchup between Orlando City SC and Atlanta United FC had all the makings of a rivalry. The social-media banter before the match and even an Atlanta billboard placed near downtown Orlando that read, "Orlando, we're coming to conquer," only added to the flames.
Ultimately, it was the expansion side just north of Orlando that took the first-ever meeting with a 1-0 decision, courtesy of a long-range golazo by Héctor Villalba in the 86th minute. In the match's entirety, there were 23 total fouls and five yellow cards. For midfielder Will Johnson, who yielded one of those yellows in the 60th minute, his team's loss was the start of a new rivalry.
"I think the proximity—I think both teams [are] relatively new to Major League Soccer. I think that this will turn into a nice rivalry," Johnson said after the loss Friday. "You know, they had a good traveling supporters' section, so it was fun to see that. Hopefully we have an equally good, if not better, section next week. I mean, we go up there and play them. I think this is the start of something for sure."
As for City head coach Jason Kreis, who has downplayed the matchup being rivalry leading up to the meeting, he still hasn't placed the "rivalry" label on the two clubs' relationship yet. Instead, the loss to Atlanta was just another competitive match.
"I thought it was a competitive match," Kreis said after the loss. "I honestly think that majority of the MLS games this year, especially in our stadium, the atmosphere's been terrific… The play has been up-tempo, and tonight was no different. So it wasn't—to me, it didn't warrant any rivalry talk. It was just a good, competitive match."
Kreis said earlier in the week that matches are born of meaningful matches and experiences, harkening back to his days as head coach of Real Salt Lake and the battles that side had with the Colorado Rapids. The second-year City boss also said he would know if it was a rivalry within the first 15 minutes of the match.
Orlando City, which has now fallen out of a playoff spot and into the No. 7 spot in the Eastern Conference standings, will have a chance at redemption on Saturday at 4:30 p.m. when the Lions travel to face Atlanta for the second time this season.
---
For more on Orlando City as the Lions travel north to face Atlanta in the finale of a back-to-back, follow Victor Tan on Twitter at @NDR_VictorTan.