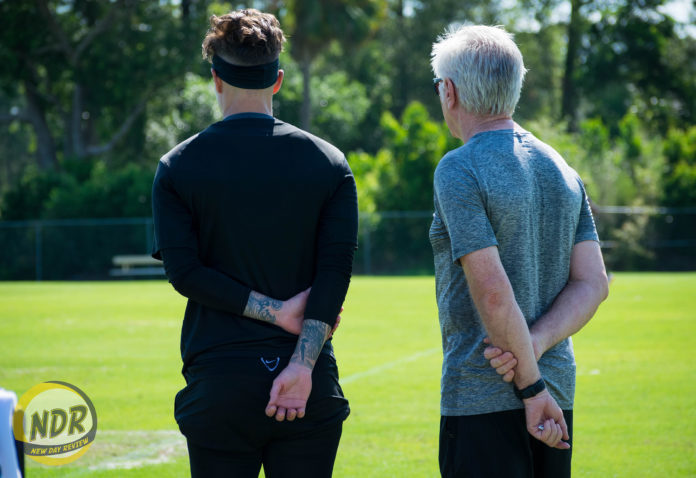 July 20, 2017 at Seminole Soccer Complex
HC Tom Sermanni
The Orlando Pride defeated FC Kansas City 4-1 on July 15. That was the most goals the Pride have ever scored at home.
Well hopefully [the win'll] affect it in a positive way. You know, we've talked during the season about getting on a run and keeping in touch with the top four, so if you have one good performance, it's really important that you try to follow that up with another good performance and result. So obviously confidence is high in the camp. We've got a fully fit squad, and hopefully we can take last week's form into this week's game.
After the Pride's win over Kansas City, Sermanni said that would be foundation for his team to build on as it enters the latter half of the season.
I don't know if it is different. We keep hoping it's different, and the key thing—I think perhaps the difference now is that there's—the beginning, you get a bit more cohesion about the team. I think the players are now getting their chemistry around the team. It's getting better. The confidence is getting higher. So, hopefully, that in itself will lend itself to better performances. But the issue in this league—and it's been here since Day 1—is that there are no easy games. Every game is as tough as the next game, and you can see that in results. So, it's not that easy to get on a winning run. But, as I say, hopefully last week's result will give us the confidence to be able to go out, play the kind of football we want to play and get the result against a very tough Chicago team.
The Chicago Red Stars defeated the Pride 1-0 on July 1 in the two teams' only matchup of the season so far.
What came to my mind in that one, as in quite a few games this season, is that we were close. And we keep saying this. You know, as a coach, you've gotta try and take a step back and look at performance and results. So it's not just one or the other. And we felt we've been close at times this season, and that Chicago game is a great example of that where, you know, I think we [had] better possession, better chances. Hit the crossbar, hit the post—all that kind of thing. So we've gotta take those positives away, but what we've now got to do is balance that by getting a result when we've got that dominance.
Crosses and switching the field of play were essential for the Pride's effort in the loss against Chicago.
You know, we just had a look at some video highlighting that, and, as I say, I thought we actually did that well against Chicago. What we then didn't do is that finishing bit at the end of that, so we got the switch of play. We got an overload in numbers. We got up around their penalty there, and then we never quite had the incisiveness to finish things off. But, you know, I think now we've progressed even in that short period of time. You know, Alex [Morgan] is back playing a full 90 minutes. Her and Marta [Vieira da Silva] are beginning to gel. We've got real goal threats now, and we've had one-game experience against them where we've managed to get that switch of play. So hopefully we've learned from stuff from that and that we now get the end product from that buildup that we've had.
Red Stars forward Christen Press has so far scored six goals and tallied three assists in 14 games started this season.
You know, the key thing there is firstly defenders need to be on the metal from Minute 1 to Minute 90. We need to make sure we've always got a spare player at the back, and I think the key thing—and, again, say this to the players often—is that our defenders need to be marking when we're actually in possession. So we need to be aware of what's going to happen next, and that's the key for them because when we turn over possession, they're going to get it forward very quickly to Press or [Sofia] Huerta. And they're gonna go straight in attack as either in behind or up to feet, and we are going to have to deal with [that] in this game. And, you know, one of the problems that we have as a team is because of the open style of football that we play, we're probably a little bit more vulnerable to those kind of counterattacks. So, going away from home, we just need to make sure that defensive discipline is there with our center-backs and either a full-back or one of our central midfield players.
In the Pride's one and a half years of existence, Orlando has lost to Chicago 1-0 in all three matchups so far.
Don't know. When you look at all three games, it's interesting. We look at all three games against Chicago. We could've won all three of them. Not just this year's game, but at Chicago last year was actually one of our best performances away from home, and we had a couple of really great chances and missed them and get caught cold on a free kick, and it was 1-0. And even the game at home, they scored, you know, the goal, I think, midway during the first half from memory. And, you know, even with a depleted team at that time, we gave a real account of ourselves in that game. So, I don't know what it is, but hopefully it'll finish this weekend. Hopefully that drought will finish this weekend.
It does [sometimes come down to luck]. I mean, sometimes—you know, it's interesting. There's no logic to it, but sometimes if you end up having teams that you get a record against, teams that you get a bad record against and grounds that you go and win at and grounds that you go in and never win at. And it's just one of these vagrancies in the game that just sometimes it's unexplainable. But, as I say, I think we've got the team this year. Nine different goal-scorers in our team. So we've got goal threats from everywhere. And I think we're going to create chances, and it's just now a question of finishing them off.
Camila played at right-back in the win over Kansas City, the first time she started at that position this season. Previously, she had played in the midfield.
No, I don't think we'll be moving much around at all. You know, I think she—and particularly against a Chicago team, where we talk about that switch of play—you know, if we can get that to her in that kind of space, then I think we've got a real attacking threat.
So far this season, Ubogagu has scored two goals and tallied an assist.
A constant improvement. She's chipped away and improved and improved. She had a little bit of setback with injury, and that got her out the team for a few weeks. I think she's now back. She's back fully fit. I think she's got her confidence back…and when she has that confidence, she's really dangerous. You know, she can dribble at players. She's got pace. Got a great work rate. So the key thing now is putting that all together probably in a more consistent basis where at the end of the game, there's a necessity for a goal, or there's a goal itself.
I mean, [her consistency is] one of these things with players that play on the flanks play often. They can tend to float in and out of games. I mean, if you look at the very highest level in goal-scorers at the very highest level, there's times when you actually don't know they're on the football field. They're that insignificant, and then suddenly a ball will come into the box, and they'll score the winning goal. So, it's probably the more games she gets, the more game time she gets, then what you'll start to see is a more consistency in the amount of times she has the ball and what she does with it.
Pride goalkeeper Ashlyn Harris began Week 9 of her recovery on Monday.
Ashlyn, you know, if she needed to play, Ashlyn, tomorrow, she could probably play. The only thing she's got limitations on is kicking the ball. So, you know, short-stopping, throwing the ball, coming for crosses—all that stuff's good. Her hip is great. It's just there's still a little bit to go in actually being able to strike the ball full out.
Hopefully after this break [we expect her to be fully back].
DF Camila Martins Pereira
(translated from Portuguese)
For Camila, it's a matter of taking the momentum from the Kansas City win into Chicago to get a result.
I think our last game was great. We had a good control of the ball. We had great finishing, and it was great every goal that we had. And we scored. So I feel like if we do what we did last game, we are gonna get a good result against Chicago.
Camila has played in the midfield and on the back-line so far this season. She said she prefers attacking positions but is happy to help wherever she's needed.
I prefer the attacking positions, but I'm here to help the team. So, whatever they need me, I'll do my best to help the team, and I did have a lot of experience playing in the back, so it's not a problem for me. So what they need from me, I'll be happy to help.
As a natural full-back, Camila said it just took some time to readjust her body and positioning to play in the back again.
I think it's more of positioning your body is a little different from the midfield to the back. I got some balls behind me in this last game, so I was trying to that, go back to that position. But I'll just do my best that I can if Tom wants me in that position. But I think I had a good game last time, so I'm just here to help.
Fellow Brazilian Marta has been a help both on and off the field for Camila.
I think [Marta's help is] great on the field. She helps me a lot, and she's really strict, so she always tells me, give me suggestions and everything. If I don't do something right, she tells me. And sometimes it's even in excess, you know, extra, but I do understand that. It's just to help the team and to help me be better.
I think off the field, it's also amazing. We have a great relationship, and sometimes when, you know, I'm getting out of the path, she's just putting me back in and telling me stuff that I should be doing better and just putting me on the right track. So it's great to have her to helping that way. And also, of course, I'm gonna listen to the best player in the world, five times. You know, so, it's just awesome for me on the field and off the field.
Before playing for the Pride in the National Women's Soccer League, Camila played one season with the Houston Dash in 2015.
I think it's totally different [playing in Orlando compared to Houston]. Now I'm like more mature. I have more my goals set, and I'm on the right track, so I think it's been better for me. When I was Dash, I had like probably two good games, and then I was on the bench. So I think now it's totally different for me.
About when I was playing at Dash, I don't have anything to say about [former Dash head coach Randy Waldrum]. Randy was a great coach, and he helped me a lot when I was there. But here it's been kinda different. So I loved it when I got here. I have more freedom. I feel more at home when I'm here. With the teammates, they're all welcoming really well. Coach Tom is an awesome coach, and he's been helping me a lot and giving me a lot of freedom when I'm playing. So, I don't have any complaints about here. I love being here, and I'm really happy.
I feel like when we are happy in the place that we are playing, you know, counting the club and everything off the field, I think it just helps on the field as well. So it helps with goals, assists and me being happy and doing really well on the field. So then that makes me happy on the field and also makes me happy off the field. So it's just, you know, everything making a great time for me. So I don't have to complain about. I'm really happy to be here.
F Chioma Ubogagu
For Ubogagu, she saw the Pride keep control of the ball in the game against Kansas City.
I think the last game we did a really good job of keeping our shape and playing possession. So we just want to keep doing that and keep staying true to our game. Chicago likes to play a little bit more direct, so it's really important defensively that we're all in good positions and stuff. And then I think from there, we can attack and play the way we like to play.
Ubogagu suffered an injury to her left hamstring that kept her out for some time. She now feels fully fit.
I think last game, for sure, I felt fully like myself, which was awesome, 'cause, you know, hamstrings are a little naggy, and they tend to linger. So, it's really nice for us to just come out there and play really good brand of football and get three points.
For Ubogagu, the key to her improving her game is simply producing in training and building chemistry with teammates.
I think I just have to go out every training and just keep trying to do the little things right, and that's how you build consistency. Playing with the group that's consistently starting also helps 'cause then you build chemistry, so, you know, I think I've played a good chunk of minutes with Alex, and I think we connected a good amount last game. So, hopefully we can keep building relationships with her, Rachel [Hill], [Jasmyne Spencer], anyone, [Jamia Fields], anyone up top and just keep building.
Ubogagu said Sermanni gave her and the rest of the team an opportunity from the first day she arrived.
I think it's a little different. I'm definitely grateful that, you know, Tom's giving me the opportunity. I think the opportunities in Houston lacked a little bit. I think personnel—maybe he was just trying different people last year, but, here, you know, in preseason, Tom made a point to say everyone was gonna get a fair chance, and he just wanted to see who could compete and who could, you know, fight for minutes. So, hearing that is really nice 'cause coaches aren't set in their ways, and it's fair game, so I was really trying to embrace opportunity there. Unfortunately, I got hurt midseason, or whatever you wanna call it but just trying to work every day and keep proving that I hopefully can get rewarded minutes.
For Ubogagu, the club's community contributes to the atmosphere.
I think every club's gonna operate a little different. I think here it's been nice 'cause it's definitely got a community feel. The fans are super loving, and they're super supportive, and that helps. It's such a little thing, but it's a big thing when it all adds up 'cause, you know, you wanna have that stadium loud. You wanna have that stadium—you feel off of that kind of energy, so I think that's a big point. I think, in terms of the facilities here, it's top-notch and what we get for breakfast, lunch and stuff—so there's really no excuse not to perform. So, I think that was probably the biggest difference.
Ubogagu sees similarities between how Sermanni runs his team and how teams operate in the English Premier League.
Yeah, I think everyone just wants to perform. Everyone wants to get after it, and Tom doesn't—like I said, he's not set in his ways of, "Oh, like I expect this player to do this thing." If someone who maybe wasn't in the starting 11 had a really good performance in practice, he's gonna give you an opportunity, you know? And that's really cool, and I think it kinda mirrors how the EPL is. You see lineups totally different from the FA Cup to an English Premier League game. And I think when we had three games in one week, the lineup was different every time, but we were getting points, and it was working. So I think the coaches did a really good job of managing the players and playing who they think can succeed against the opponent we're playing.
One factor Ubogagu remembers the most from the loss to Chicago is her team's ability to maintain possession.
What do I remember most? I remember we kept the ball a lot. We were unfortunate not to get a goal. And then obviously we gave away a penalty, but I think the way we played was really positive, and it's tough 'cause when you lose three points at home, you wanna always think all the negatives, and it wasn't good enough, etcetera, etcetera. But we looked at the film, [and] there were some positives to take out of it, and we just gotta make sure we stop giving away penalties, which we did last game, which was awesome, and just keep trying to create more opportunities and keep scoring goals.
For Ubogagu, crosses and switching the field of play are "super important" against Chicago.
Super important 'cause the way they like to press is kinda they wanna bate you into one side, and then they try to trap you, so it's really important for our midfield to be positioned where to where they can switch it, and, like you said, find us on the wing. And I think we did a really good job against Kansas in that. So it's just carrying it to the next week and keep repetition and keep performing.
I think even though we're away, we gotta come out with the intensity right off the bat. And I think if we—I don't think we have to match their match tune. I think we kinda have to, like, one-up it. I think if we do that and just really keep control of the ball, goals will come.
---
For more on the Pride as they look to break their winless streak against Chicago, follow Victor Tan on Twitter at @NDR_VictorTan.