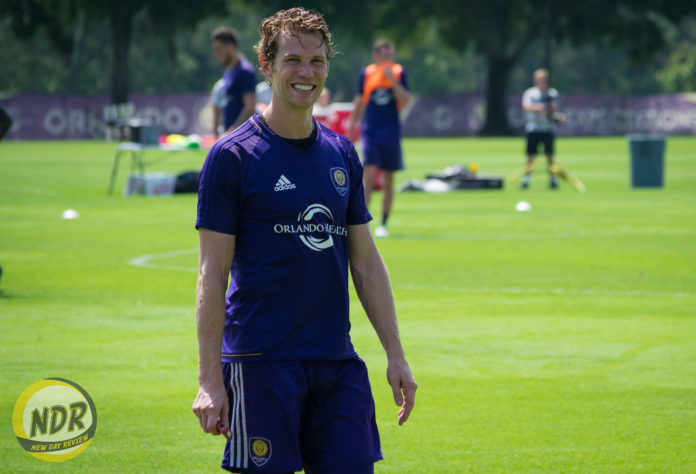 (Photo by Victor Tan / New Day Review)
July 19, 2017 at Sylvan Lake Park
HC Jason Kreis
On July 19, 2016, Kreis was announced as Orlando City SC's newest head coach.
Pleased. Really pleased and happy, both in my job capacity as the head coach of this team as well as a community member of this city. Really, really pleased to be here. My family has adjusted extremely well. We all just couldn't be happier with our lives outside of the job, and then inside of the job, it's been really good. Has it been great? No. Would I have liked it to have been a little bit better? Yes, if we're talking strictly about results. But I think that we still can say that we're in a positive place. I think we still can say we believe the team has improved, and we still have a lot in front of us this year. We have a possibility. We have a job, a challenge in front of us, and we believe very strongly inside of our group that we can attain our goals.
Kreis described Atlanta United FC as "dangerous" but also said they're "not perfect." Both teams will match up for the first time ever at Orlando City Stadium on Friday.
Atlanta's extremely dangerous, dynamic, attacking team. Some really, really good options in their players. The four players that play the highest up the field for them are very dangerous, very attack-oriented, very aggressive group. But they are not perfect. And they have some problems of their own, which we will be looking to exploit.
Ahead of Friday's matchup, Atlanta placed a billboard ad near downtown Orlando that said, "Orlando, we're coming to conquer."
Yeah, I hadn't seen the billboard. I had no idea about that. That seems a bit of an odd thing. Very, very odd thing.
For Kreis, the first 15 minutes of Friday's match will determine what kind of relationship Atlanta and Orlando City will have.
Again, I'm one that believes that rivalries are intrinsic, meaning that they happen through experiences. And so I would say that it would be premature to be talking about whether or not they're our rival. We shall see starting with the first 15 minutes of the match on Friday night, and we'll go from there to decide if they're our rivals or not.
After facing Atlanta at home on Friday, the Lions will travel to face Atlanta in Atlanta on July 30.
[Back-to-back games] doesn't at all [change how we prepare]. It doesn't at all. We're not holding anything back. We're not thinking that we have any secrets that we're gonna hold from them, and I'm pretty sure that they don't have any secrets they're gonna hold from us either. You know, we go into the first match. It's our home match, and we go after three points. That's our objective in every home match. We make no bones about it. And then we focus on the next match when we need to, which is after Friday night.
Kreis has felt the atmosphere in Orlando City Stadium has fallen off lately since the beginning of the season.
Yeah, no doubt about it. We hope that our fans come early, and we hope that our fans are loud, and we hope that our fans are very supportive of us. My honest opinion would be that we have dropped off a little bit in that in the past couple games. Our last home match, in particular, from my point of view, the crowd was much diminished, and the atmosphere was a little diminished as well. And so I guess I would repeat an urgent request to the fans that we need you. You're part of our family, and we need you there Friday night.
Looking back to his coaching days with Real Salt Lake and his playing days with FC Dallas, Kreis said his favorite rivalries were the RSL-Colorado Rapids and the Dallas-Chicago Fire ones, respectively.
The Salt Lake-Colorado rivalry was a pretty good one. Pretty real one. Meant a lot. It felt like it always meant a little bit extra to our players in those games. They were always tight affairs. The very first couple of years in Salt Lake, we actually clinched playoff spots in the last game against them. So it always felt like there was one—at least one—during the season that was really, really meaningful match and really important for either team to get a result. And then going past that, I would say the Dallas—when I was player—Dallas-Chicago rivalry was a real good one. And, again, it was born about because there were so many meaningful matches between the two teams.
City forward Cyle Larin will miss Friday's matchup against Atlanta because of a call-up to the Canadian men's national team for the Gold Cup.
Yeah, we had a little bit of a heads up as the tournament was going on, just kinda projecting their results and thinking about the fact that the tournament is so lenient about how many teams actually make the next round with two third-place finishers in the three groups advancing that we kinda figured we weren't gonna have Cyle for this game.
Regarding vitriolic comments referring to the Pulse night-club shooting and likeminded banter, Kreis said there needs to be a line.
Yeah, you know, it's difficult for me to make a comment about that. I don't know exactly what you're talking about, but I do think that it needs to be said by people like me that there's a line. And there should always be a line. And at the end of the day, this is a sport. This is not life or death. This is not war. So we need to treat it that way. We certainly give everything we can towards our jobs. There's absolutely zero doubt about that, and often times I feel like I would give my life for the job, but the truth of the matter is I wouldn't. And I hope that fans feel the same and can respect that.
For Kreis, his goal for the Lions is to be a perennial contender in the playoffs.
Well, the first and foremost goal we had as a staff and as a club was to develop a consistent performance level. And then the next one, obviously, is obvious that we want to be a team that makes the playoffs. But going past that, we want to be a team that consistently does that. So consistently performing, consistently winning, making playoffs, and I would say that we're headed in the right direction, but there's still a lot of time to show whether or not we've succeeded or fail.
Atlanta head coach Gerardo "Tata" Martino has led his 2017 expansion side to a 9-7-3 record so far in 2017. For Kreis, Martino is doing well, but the job isn't done.
I have an opinion that he's a, yeah, he's a very good coach. It's evidence by the way his team plays. For me, what's important than what he's done before is what he's doing right now, which I think he's doing a fantastic job. And so, for me, it's not about where you've coached before. I don't think it becomes more interesting or less interesting to go out and get coaches that have coached big clubs before. For me, it's just about having good coaches that can do the job in this league, and he seems to be one that can.
Guys, I think we're all playing a little bit victim to the way Atlanta has done so far. The job is not done. Our job is not done, and their job is not done. And so I don't think the judging should be now.
DF Jonathan Spector
By the time Orlando City plays Atlanta on Friday, it will have been 16 days since the Lions' last match on July 5, a 3-1 loss to Toronto FC.
It's just given us more time to prepare. You know, we've had kind of a crazy schedule as of late, last couple of months, and there hasn't been a lot of time in between games for, one, to recover, and, two, to prepare for the opposition. So we've had that this time around, and we should be well-rested and ready to go on Friday night.
Spector is aware of Atlanta's attacking prowess.
Yeah, they're good going forward. They've got a lot of attacking options. We know they like to press as well high up the pitch. Not sure how that'll play out. Obviously, here, it's just as hot as it is in [Atlanta], but, you know, we'll see how they approach the game from the start. But I think we have to concentrate on ourselves more than them. You know, we know we need to be solid defensively and better with the ball when we do win it back and make them work and defend for long stretches.
For Spector, the billboard ad Atlanta placed is "irrelevant."
I didn't notice that. They put something up? Yeah? Oh, alright. Yeah, I drive past it every day. Yeah, it's an important game not for what's going outside in the media, social media—whatever they want to do. I don't really care, to be honest. It's important for us because they're one point above us, and we're both fighting for a playoff spot. That's what it makes it important, not what they want to put up on I-4 on some stupid billboard. That's irrelevant to me.
Spector sees the passion of fans as essential for the sport.
I think they've got every right to. I'm not gonna get involved on one way or the other, whether it's been taken too far. I don't know. I've not really read those comments, and I don't pay much attention to 'em or put much weight behind them. Certainly, the fans are passionate, and that's great for the sport, and that's important. Exactly the content of it, I don't know. I couldn't possibly comment on [them]. But I think the healthy rivalry is good for the game here. But the rest of it, I couldn't possibly comment on.
For Spector, the rivalry experience brings a "great atmosphere."
I think it brings a great atmosphere, and that pushes the players on and certainly gets the adrenaline going even more so than on a normal day. So it'll be a great atmosphere. It'll be a fun occasion to play, and, with the hype surrounding the game, it'll be exciting. But, again, we got two games back-to-back against them, and they're massive games, not for that reason but more so because we want the points, and we want to make the playoffs.
Getting back to working on possession has been key for Spector and the Lions.
It's a process. It's not just been this past week. It's certainly been a focus this past week, but, from preseason onwards, we've been focusing on keeping the ball and having good possession, not just in our half but more importantly in the opposition's half. So, it's a process, and, no, we're not perfect yet. No team is. But it's about limiting mistakes and making them defend for long stretches of the game.
Yeah, I think it's a mindset more than anything else. It's gonna be down to focus and our concentration levels. You know, we know deep down what we're good at, and we need to emphasize that and concentrate on doing those things that make us a good team.
Spector has rarely encountered situations where his teams have played opponents on back-to-back occasions in league play.
Yeah, not certainly this season [have I played in back-to-back games like this]. Obviously in the past I have, but it's not been in the league. It's always been maybe play 'em in the league and then in a cup competition or something like that. A lot of times there's two completely different teams 'cause there's a lot of changes made for those competitions. So, this is a little bit unique in that sense. But there's still a week in between. It's not as if it's a mid-week game where we go and play them. So, it's a unique situation, and certainly by the second game the teams will know each other very well.
The focus for Spector and the Lions has been predominantly on themselves.
[We've been working on] predominantly us. And I think that's kinda the way to do it. I mean, we have to worry less about the opposition. We know what they're good at, what they're capable of, but we need to focus on what we can do to impose the way we want to play on them, and that's gonna be the biggest key for us.
MF Antonio Nocerino
Nocerino announced on Instagram he is welcoming his fourth child.
Thank you. Thank you very much. I'm very happy because my family is happy, and my wife stay good. It's important. I'm happy because of the son—it's happy when you have the possibility for have the baby because the baby's future is the life, and, in my house, I like whenever the baby because my baby is my life. I'm very happy. Thank you.
For Nocerino, playing on Friday is important because the Lions haven't played in two weeks.
Yeah, Friday is important game because it's two week no play, and it's important play very well with the boat, without the boat (??), especially when play in the home because it's very important. The team have the good opportunity because Atlanta have two point, or one point, in front, and it's important for—it's a win. It's a change, you know? And it's important play for win the game, especially when play in the home.
Friday's matchup against Atlanta is not a personal matter. For Nocerino, it's important to the whole group.
Now is important. It's not personal, no? But it's important to the group. The play with the group stay—everyone is compact but have the same idea. And play for everyone because the first six months is pass. Now it's another six months or four months maybe. It's important play well, play good and play with very angry because it's important arrive in the final in the playoff.
Nocerino's first few months with the team were "horrible" for him.
The first season for me is the—not the first season, but the first six months is horrible. It's very horrible because I no understand everything. And I no play in my position, but I like the soccer because is a change fast. Is a change very fast. The next months with Jason, it's better. It's very better because it's have the same idea the soccer, and now Jason—it's help, and when you have the coach with have the same idea, the same idea, it's simple because—I repeat every time—the soccer is the same in the world. It's no change. But it's important the confidence, no? And Jason is work, it's good, not only with me but with the everyone, with the confidence. For player, it's important. It's very important. For me, it's fundamental.
I repeat, for me, the start is second six months, no? The first league I don't know because the first time here, for me, it's horrible. But now I am very happy because the second time, and the now is here, I'm happy because physically stay better, mentality stay better, and especially the team. Now have the friendly, no? Now it's very group. But one play for whole. A whole play for one. This is important because when you have the objective, 25 player have the same objective. This is important for long time.
For Nocerino, it doesn't matter that this is Atlanta's first year in Major League Soccer.
Atlanta have the good team, have good player. Have a international coach. It's new. It's the first league, but it's no important because when you have the good organize, when you have the good coach, when you have good player, it's no important the first league or the second league. It's important the problem, no? With the longer time. Now, the Atlanta have the base for work for future, but Orlando is the same. But I no like look the Atlanta or look the Toronto. I prefer look the Orlando because I like the Orlando. I work with Orlando. It's important the Orlando play well, play good and win. After, it's no problem.
---
For more on Orlando City and their first-ever matchup with Atlanta, follow Victor Tan on Twitter at @NDR_VictorTan.