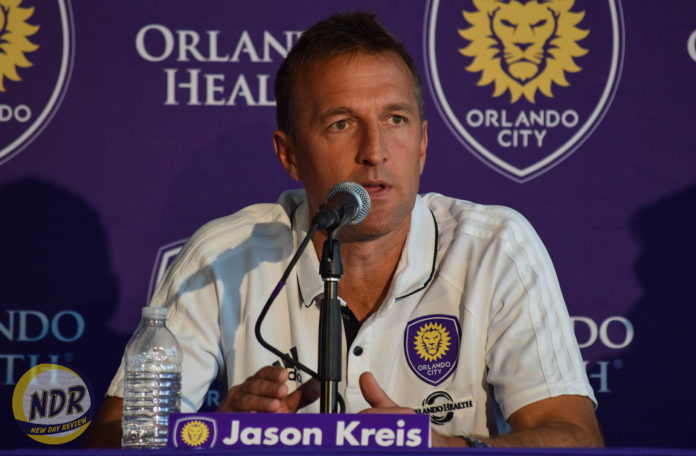 (Photo by Victor Tan / New Day Review)
ORLANDO, Fla. – To start the season, Orlando City SC enjoyed its best start in its young Major League Soccer history. By April 29, the 2017 Lions had already won their sixth match. For comparison, the 2015 team won its sixth match on June 24, and the 2016 squad won its sixth on Aug. 28.
But when Lions head coach Jason Kreis' team approached the month of May, the Lions' fortune began to turn. Since beating the Colorado Rapids 2-0 for a 6-1-0 record, the Lions have won just one game, going 1-5-5 over the past 11 matches. Not included in that record is a 3-1 U.S. Open Cup loss to Miami FC.
For Kreis, a lot of it comes down to league scheduling. The second-year City coach feels the way MLS has assembled the schedules puts some teams, like his, at a competitive disadvantage. This was most recently highlighted after his team's 4-0 dismantling to the Chicago Fire on June 24.
"It's about time that the league starts to pay attention to how they schedule teams because they put us at a competitive disadvantage, a massive competitive disadvantage," Kreis said after the loss. "And now this is the second time against the same team that we've had to play them coming off three days' rest when they get to come into the game entirely fresh."
Yes, it's true. In the only two meetings between Orlando City and Chicago in the regular season, the Fire came off at least seven days' worth of rest. Before both teams drew 0-0 at Orlando City Stadium on June 4, Chicago had 10 days of rest after a win over FC Dallas. The Fire also enjoyed seven days of rest before the recent blowout.
As for Orlando City, they had five days of rest before the draw and three before the loss.
"For us to play that same opponent on three days' rest when they're on seven days' rest, for me, twice in the season, that doesn't make any sense," Kreis said after training Tuesday. "It doesn't make any sense that really anybody should have to play a weekend game when they play a midweek game and their opponent does not.
"Those things, I think, are details that seemingly, to me anyway, as a pretty simple mind—but, to me, anyway, as you could sort through those details and make the schedule more balanced from that perspective."
The Lions haven't just had this problem with Chicago, though. At the beginning of May, City began seeing stretches of three games or more in a matter of 10 days or less. The Colorado win at the end of April was the beginning of City's first stretch of three games in just seven days. Beginning with Orlando City's draw with Sporting Kansas City on May 13, the Lions endured a stretch of three more games in eight days. Following six days' rest after a loss to New York City FC on May 21, the Lions had another stretch of three games in eight days.
City's draw with Chicago granted the team a temporary, 10-day reprieve before the Lions lost to Miami to start a stretch of four games in 10 days. Now, Orlando City will get six days of rest before finishing their three-game road trip with a visit to Real Salt Lake on Friday.
"It's very nice to catch a little bit of a breather here and get back to what I think is a more regular schedule," Kreis said. "For our players, I think there's probably no hiding from the fact, and not calling it a coincidence, that things were going very well for us when we were in a regular rhythm, and, as soon as we started to having play three matches in a week for a lot of weeks, we've struggled."
Compared to Orlando City, Chicago has so far played two stretches of three games in eight days. The Fire expect two more similar stretches, starting a stretch of three games in seven days with the Orlando City win. This stretch includes an Open Cup matchup against FC Cincinnati on Wednesday. Chicago's final quick-fire stretch isn't until Aug. 12.
As for City, the Lions have one more string of games in a short stretch. Orlando City will start their last five games of the regular season with a three-game stretch in seven days, battling the Portland Timbers on the road and then hosting the New England Revolution and FC Dallas.
City travels to Utah for a Friday matchup against 10th-place RSL at 9:30 p.m.
---
For more on Orlando City and their battle on the road, follow Victor Tan on Twitter at @NDR_VictorTan.