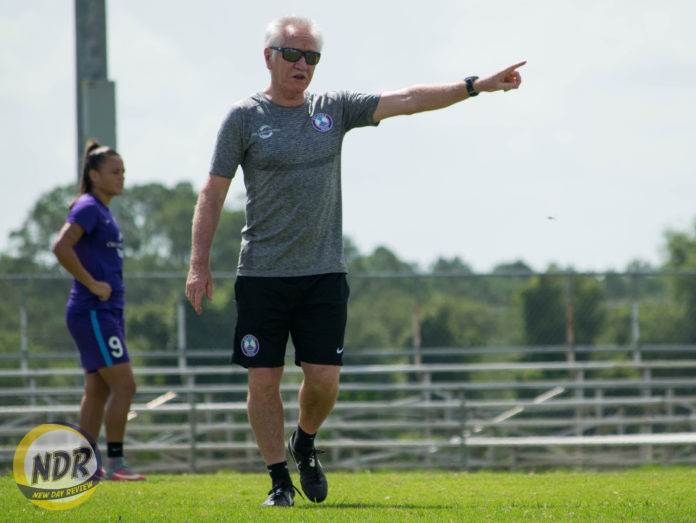 June 22, 2017 at Seminole Soccer Complex
HC Tom Sermanni
The Orlando Pride are on a two-game winning streak after defeating the Boston Breakers 2-0 at home and the Houston Dash 4-2 on the road.
We obviously changed the formation, and I think what's that done is made us a lot more solid defensively. I felt earlier we were playing well for lots of periods in games, but we kind of looked vulnerable, particularly in counterattacks. And I think, you know, for the last two or three games, and particularly with the change of formation, that we've managed to sort of stem that tide a little bit. And that has helped. The other thing that I think we've done really well is finish teams off, scored with our chances, whereas earlier in the season, we were probably creating more chances than other teams but not quite finishing 'em off.
Sermanni and his team return to action with another match against the Dash at Orlando City Stadium on Saturday at 3:30 p.m.
Personally, and I think everybody would prefer to face a different team every week… So, that would be the preference, but it is what it is. And we just need to prepare for this game the same way as we prepared for them last week and the same we prepare for every team.
The Pride have implemented a new formation, placing Kristen Edmonds at right-back and Alanna Kennedy in the midfield.
It depends. If we keep playing well and winning, yeah, then it probably will be—if everybody stays fit and healthy. But you never quite know. You know, we fiddled about a lot last year, and we're still doing that this year, as do most teams because you're obviously trying to find the right starting 11, the right formation, the right tactics. And, obviously, in the last couple of games, we've done that quite well. And hopefully that continues, but, you know, football's a funny game, and it can change quite quickly.
Forwards Jasmyne Spencer and Marta Vieira da Silva and Camila are all in the top 10 of goals scored and assists so far this season.
I don't know if expected. It's certainly what we've hoped for. You know, when you look at our team, we've got some very dynamic strikers in our team who have got skill and pace and, obviously, you know, a world-class player in amongst that. So, it's what you hope for, but you never quite know when you put a group of players together. You have an idea in your head how you think they should play, how you hope they're going to play, but you never quite know how that's going to happen until you get out in the training field and you get out in a game and watch it happen. And it's more difficult as you come in as a new team in the league, and I think if you look at the league, in general terms, the most successful teams are ones that have had stability for the last, you know, three or four years where the starting 11 is the nine players that played most of the season last year. So, we're still in the stage of our players getting to know each other. But, certainly, the cohesion is getting much better, and obviously winning games helps that.
Kennedy scored her first goal for Orlando with a header in the Pride's win over Houston on June 17.
Well the fact that we scored from a corner is a bonus. That's a first one for the season. May be the first one for last season as well. Look, Alanna has always been either a midfield player or a defender. So when—and going back in history a little bit—brought her into the Matildas when she was a 17-year-old, we actually put her in as a midfield player, but she was kind of a gangly 17-year-old at that stage, growing into her body. So, the game was a little bit quick for her in midfield. She's now very much matured into an outstanding player, an outstanding international. And she's got all of the skill sets to play in midfield. So, when we brought her in here, we weren't sure if we're going to play her at the back or play her in midfield. And I think with the formation we play and the role that we're asking her to play in midfield, it's a great fit for her and for us.
As part of officially adding Alex Morgan to the roster, the Pride also waived forward Christina Burkenroad.
You know, it's really important that we look after players. That's a No. 1 priority for me is that, you know, you can't always give good news to players. You've gotta make tough decisions in this game, but players—you know, Christina's a great example who is an inaugural player with us, who has given her heart and soul to the team and the club and the community. It would be remiss of me and us not to try and do our very best to trying our best to look after some things in her future. So, you know, she's been over to Norway. She's gone back there to sign a contract, and I'm sure she'll do very well there, and we're just pleased that she's got this opportunity.
Originally signing with the Pride as a defender, Camila has figured her way into being one of the Pride's biggest offensive threats. She earned the Week 9 National Women's Soccer League Goal of the Week.
[I'm not necessarily surprised by Camila's offensive production] because when you watch her as a defender, she was going forward more than she was going backwards. But, initially, yeah. Initially, we brought her in here after watching her play as a left-back for Brazil. But it was mainly her skill set that attracted us to her. You know, she liked mobile, she looked comfortable on the ball. She looked like she was just a good football player all around. So, once we got her in here, you know, fairly obvious early on that she's a kind of player apart from her perhaps goalkeeper, because of her height, and center-back—you know, she could play anywhere else on the team.
For Sermanni, he wants to make sure his team avoids any form of complacency when his team faces the Dash on Saturday.
The concern against with Houston we've played every time is they've got—they are, on paper, such a good team. Particularly from midfield forward, they've got so many weapons of players who have got skill and pace and ability to score goals. So, you know, the fact that we've had good results against them has been fantastic. But you're always concerned with the ability that they've got in their team and that one day, they're going to put the pieces together. Hopefully it's not this Saturday. We get them out the way twice. That's always a concern when you play against them. So we really need to get our tactics right and make sure we're focused 100 percent on this game. And I think, probably, it was a—I hate to say this—but maybe a good thing in that we coughed up two late goals in that game because we certainly know that we can't be going into this game with any complacency, going into this game saying, "Well we've won five out of six against Houston, so we should just need to walk on the field and win." This is going to be a very difficult game for us at the weekend.
After Saturday's game, the Pride will face a quick turnaround, traveling to face Sky Blue FC on Wednesday.
We look at Saturday, and then after Saturday, we'll worry about Wednesday. You can't win. Sometimes, I'd say, sometimes you can look at games ahead. At the moment, where we are in the league and how the league is set up and at this stage in the league, we just need to look after it game by game. So, you know, the key things that we want to get out the weekend is a positive result, and everybody comes through the game healthy. Then, on Saturday night, at 9:45, we start our heads looking at Wednesday's game.
Goalkeeper Ashlyn Harris went down with a non-contact injury in a 1-1 draw with the Seattle Reign on May 21. She is progressing in a manner that will see her return sooner than later.
Fantastic. She has come on probably quicker and further than we anticipated at this stage. I stress "at this stage" because we've gotta be very careful with these injuries, but, so far, she's coming on in leaps and bounds and hopefully will be back at the earlier point in the cycle…rather than the later point that we're looking at.
Ashlyn's injury, we're told, was six to eight weeks. I think we're probably at Week 5 now. Four or five? So, you know, I think, with Ashlyn, we're still another couple weeks away. So we're still another couple weeks away. And also I'm vague with that 'cause I'm not kinda counting down the times. And part of that is because, you know, having Aubrey [Bledsoe] in goal makes us feel just, you know, confident. So, yeah, I would say probably at least another couple weeks, I would say. But she's getting close.
Morgan suffered a hamstring injury in the Champions League final for Olympique Lyonnais.
Good. Again, it's another thing we need to be careful of. You know, we need to make sure that all of us are on the page that—you know, I said before, we want her back as quickly as possible, but more important than that, we want her back as safely as possible. So we don't want Alex walking out on the field for us, whether it's for 20 minutes, 60 minutes or 90 minutes and that hamstring is not right. We need to make sure that we do the best job we can to make sure that she's ready to go when we put her on the field.
Alex, again, you know, hoping that she'll be back in full training next week. But, again, you know, that's—we just need to make sure that she's ready to do that. Both of 'em have been doing an unbelievable job with their rehab. Great job.
When it comes to leadership, Sermanni doesn't see the captain's role as a position that warrants a lot of attention; rather, he feels leadership should be a team-wide responsibility. For Morgan, Sermanni sees her as someone who sets a high standard.
I envision her role just to be the same role as in—forget the captaincy bit because it's really not—her major issue, you know. We made Ash and Ali Krieger the captains at the start of the season, and that's the way that the status quo is. But Alex brings her own brand of leadership. She sets high standards for herself and high standards for the players. And she's got a, you know, significant involvement in this team on and off the field. And that's what she's already brought back, and hopefully that will continue.
MF Camila Martins Pereira
(translated from Portuguese)
Camils' Week 9 NWSL Goal of the Week was a long-distance shot from almost 40 yards away.
I'm happy to have scored the goal and for my goal to have been chosen the best of the week, the goal of the week. And I'm happier that we could get the win. That's one of the best things. To get the win and help my team to win. And also I'm saying I'm just really happy to have scored and to have our fans always supporting us the whole week, and I can't wait to be here.
While she is so far No. 3 in the league in assists (three) and No. 7 in goals scored (three), Camila doesn't feel she's playing the best soccer of her career.
I don't think this is the best I've been in my career. I love the team. Everyone welcomed really well when I got here. As I said before, Tom helped me a lot, and he gives me the freedom I have on the field. That's one of the reasons I've been doing really well. And I have a lot of, you know, big names in here. A lot of great players that help me out every day. And I'm their fan as well. I admire them a lot. And I just want to keep doing what I'm doing, score more goals and keep helping the team.
For Camila, she believes the Pride's recent success derives from the team's ability to come together.
In the beginning, we did not start really well. We had a lot of games also away. So, I think we got, like, "body" as a team, so we could put everyone stay together and actually play together. And we are like, together as a whole, understanding to [each] other, and Tom wants [to] really help us a lot with some things that we need to fix. So he tells us what we need to fix, and he solve everything, all the problems we have. And he's also really good on giving us feedback on how we did and everything. So, during that time, he was able to fix all the parts that were not good in our team, and we could make like a body, like a team—everyone together and playing their best. And so that's why I think that we have been having a lot of success on playing and winning with this whole body.
Heading into Saturday's finale of a home-and-home with Houston, Camila and the Pride are well aware of the dangers the Dash pose, despite the record-setting victory.
So, they have been watching us as well as we watch them to analyze how they play and everything. But I feel like we just play our own game. And, of course, we know they have—they're a great team, but they also have mistakes as well, and we're gonna try and play in their mistakes so we can have another successful game. And our advantage is playing home. We have our great fans. They're gonna be here supporting us, so that's another plus for us. But, of course, Tom's gonna tell us like what we did wrong and everything so we can fix our mistakes from the last game so we can implement in this next one. And also we have [Andressa Cavalari Machry], which came on last game and was important for their two goals, giving the assist. So we're gonna definitely look out for her and try to just not let her play. Just try to not have them score goals on us so we can have a clean sheet.
Camila has always had an offensive-minded mentality.
I did come as a defender, so whenever I got moved to be more offensive, I actually loved it. I love to be in the offense, to be able to score goals and be, you know, important for the scoring goals, like assists, goals and everything. I think it was great for me, and my teammates have been supporting me a lot as well and give me freedom to play my game and support me in any way. So I think it was great for me and for the team to move and be able to score a lot of goals and help the team.
For Camila, her shared experience with Marta on the Pride has made the two Brazilian teammates closer.
Yeah, so I played a lot with her in the national team, but I think whenever she came here, I was really happy to be able to play with her, and we played every day. So, that relationship increased a lot. We hang out off the field, and, like, we got closer. We already had the friendship, but we got closer when we got here. So, like, we just play around and like on the field the same way. And she also helps me a lot. So, like, whenever have some mistake or anything, she's just there, you know, to be like, "You can do it. Come on. You can do better." And just always push me to the best I can be. So, we always help each other on the field, and we have a great friendship out of the field as well. So it's just been great to—and with like knowing where she is, and she knows where I am, it's just going. It's just natural. We just, like—for the time we've been playing together, it's just goes naturally to know, like, where we are. I'm really happy to have her friendship and also be bale to do great on the field. And I also like to be among the best, and she's one of the best in the world. Five times already. So I just like to be with the best and learn from the best.
Camila attributes the team's success with a new formation to Sermanni.
So in the beginning, we had a lot of mistakes, and I think whenever [Sermanni] made that change, it literally helped us a lot. We played really well after that mistake and after that change. So, that was great for us. We kinda knew how to play, and, like, we got together, and, like, we made a body, like I was saying. So, it was great—that change that he made. He always tries to help us and fix every mistake and every problem that we do in the games. So, it was great, and I think everyone's here to help. It doesn't matter if you're playing defender, if you're playing as a midfielder, everyone's here to help in any way they can play and do well. It's just great, awesome for the team. I think that was great, and we have been having lot of success after that, and I think whenever team's winning, we shouldn't change.
---
For more on the Pride and their upcoming home match against the Dash, follow Victor Tan on Twitter at @NDR_VictorTan.