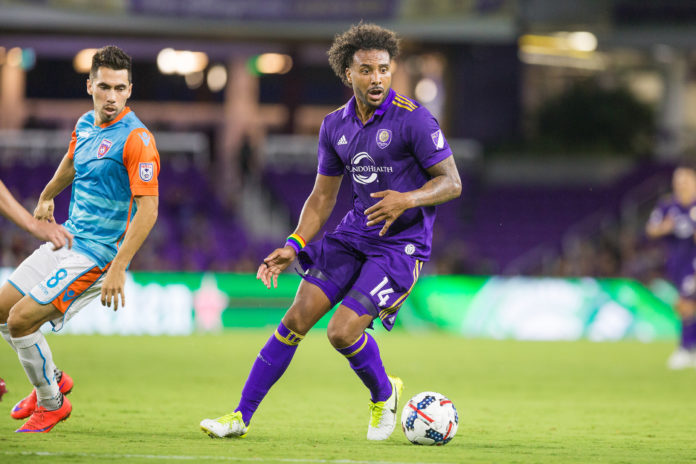 MPG, Spector with their 1st Orlando City goals.#ORLvMTL #MLS

— New Day Review (@NewDayReview) June 18, 2017
FINAL: @OrlandoCitySC 3, @impactmontreal 3. Barnes regains possession just as the ref blows the final whistle.#ORLvMTL #MLS

— New Day Review (@NewDayReview) June 18, 2017
90'+: Corner from the left. Kaka will take it.#ORLvMTL #MLS

— New Day Review (@NewDayReview) June 18, 2017
MPG with the assist.#ORLvMTL #MLS

— New Day Review (@NewDayReview) June 18, 2017
90'+: GOAL. @JSpector23 heads it in on the corner from the right.#ORLvMTL #MLS

— New Day Review (@NewDayReview) June 18, 2017
90'+: Another one.#ORLvMTL #MLS

— New Day Review (@NewDayReview) June 18, 2017
90'+: Corner from right coming after nice build-up by Higuita, Barnes.#ORLvMTL #MLS

— New Day Review (@NewDayReview) June 18, 2017
90'+: Rivas tries to curl one in. Bush tips it. Throw-in from near the right corner coming.#ORLvMTL #MLS

— New Day Review (@NewDayReview) June 18, 2017
6 minutes of added time.#ORLvMTL #MLS

— New Day Review (@NewDayReview) June 18, 2017
90'+: Free kick from Kaka goes too far.#ORLvMTL #MLS

— New Day Review (@NewDayReview) June 18, 2017
89': YELLOW. MPG is booked. MPG, PC from the sideline have words for Camara, who's working for an Oscar.#ORLvMTL #MLS

— New Day Review (@NewDayReview) June 18, 2017
88': SUBSTITUTION. Luis Gil comes on for Will Johnson.#ORLvMTL #MLS

— New Day Review (@NewDayReview) June 18, 2017
88': City, Johnson specifically, begging for a hand ball on Rivas' attempted cross.#ORLvMTL #MLS

— New Day Review (@NewDayReview) June 18, 2017
85': OUTSTANDING defense by @Tommy_Redding29, who stops a streaking Piatti down the middle with a quick stab.#ORLvMTL #MLS

— New Day Review (@NewDayReview) June 18, 2017
82': Barnes gets a good look from inside Montreal's box, but he strikes it too quickly and goes wide right.#ORLvMTL #MLS

— New Day Review (@NewDayReview) June 18, 2017
81': Sutter is down near the right edge of Montreal's box. He comes up a little weak but seems fine.#ORLvMTL #MLS

— New Day Review (@NewDayReview) June 18, 2017
79': Corner from right coming for City. Johnson will take it.#ORLvMTL #MLS

— New Day Review (@NewDayReview) June 18, 2017
Tonight's attendance: 25,527.#ORLvMTL #MLS

— New Day Review (@NewDayReview) June 18, 2017
77': HOW?? Bendik, the post, Spector defend the goal. Toia clears. Corner from left coming for Montreal.#ORLvMTL #MLS

— New Day Review (@NewDayReview) June 18, 2017
72′: SUBSTITUTION. @Tommy_Redding29 comes on for Aja. Redding is making his 1st app. since a 4-0 loss to Houston on May 6.#ORLvMTL #MLS

— New Day Review (@NewDayReview) June 18, 2017
70′: Redding is about to come into the game. Probably for Aja.#ORLvMTL #MLS

— New Day Review (@NewDayReview) June 18, 2017
64′: YELLOW. Aja was booked earlier. Announced just now.#ORLvMTL #MLS

— New Day Review (@NewDayReview) June 18, 2017
56' | Emergency defending from Donny Toia. Quality effort to poke it away.

2-1 | #ORLvMTL pic.twitter.com/aVIBW3CFPw

— Orlando City SC (@OrlandoCitySC) June 18, 2017
65′: Good defensive effort by Toia, Aja to stop Piatti inside the box.#ORLvMTL #MLS

— New Day Review (@NewDayReview) June 18, 2017
62′: SUBSTITUTION. Hernan Bernardello comes on for Patrice Bernier (C).#ORLvMTL #MLS

— New Day Review (@NewDayReview) June 18, 2017
59′: GOAL. Piatti scores no more than 1 minute later for his brace. Montreal leads 3-2.#ORLvMTL #MLS

— New Day Review (@NewDayReview) June 18, 2017
58′: GOAL. Piatti expertly controls the ball down for an equalizer that goes just past Bendik.#ORLvMTL #MLS

— New Day Review (@NewDayReview) June 18, 2017
56′: Toia comes up big to force the corner. Piatti gets the ball in the middle alone, but Toia breaks it up.#ORLvMTL #MLS

— New Day Review (@NewDayReview) June 18, 2017
54′: Corner from the left coming after Rivas tried to cross it in from the left.#ORLvMTL #MLS

— New Day Review (@NewDayReview) June 18, 2017
52′: YELLOW. Daniel Loviz is booked.#ORLvMTL #MLS

— New Day Review (@NewDayReview) June 18, 2017
47′: Early corner from the right after Barnes' battled down the right flank. Johnson takes it.#ORLvMTL #MLS

— New Day Review (@NewDayReview) June 18, 2017
46′: YELLOW. Halftime yellow issue to Blerim Dzemaili. 2nd half is underway.#ORLvMTL #MLS

— New Day Review (@NewDayReview) June 18, 2017
HALFTIME: @OrlandoCitySC 2, @impactmontreal 1. MPG scored his 1st City goal. Rivas has his 3rd of 2017.#ORLvMTL #MLS

— New Day Review (@NewDayReview) June 18, 2017
45'+: Free kick from just outside the right part of Montreal's box.#ORLvMTL #MLS

— New Day Review (@NewDayReview) June 18, 2017
1 minute of added time.#ORLvMTL #MLS

— New Day Review (@NewDayReview) June 18, 2017
45′: Higuita went down holding his face. But he gets up. Seems fine.#ORLvMTL #MLS

— New Day Review (@NewDayReview) June 18, 2017
44′ | All City right now. Pour it on boys.

2-1 | #ORLvMTL pic.twitter.com/CO4X39V1rF

— Orlando City SC (@OrlandoCitySC) June 18, 2017
44′: Toia tracks it down the left, who touches it to Barnes. His shot goes straight to Bush, though.#ORLvMTL #MLS

— New Day Review (@NewDayReview) June 18, 2017
43′ | A nice little give and go between Carlos and Giles puts Carlos in on goal. Saved…

2-1 | #ORLvMTL pic.twitter.com/6nCw53edYV

— Orlando City SC (@OrlandoCitySC) June 18, 2017
42′: Corner from left coming. Barnes' back-heel to Rivas, who one-times it just wide left.#ORLvMTL #MLS

— New Day Review (@NewDayReview) June 18, 2017
Skrt skrt. 👋 pic.twitter.com/38xWXqHCqp

— Orlando City SC (@OrlandoCitySC) June 18, 2017
40′: Kaka starts the slick effort with the turnaround move near midfield. Rivas tries to volley it from inside.#ORLvMTL #MLS

— New Day Review (@NewDayReview) June 18, 2017
38′: Rivas from the left unloads with his right. It's deflected by Montreal. Corner from right coming.#ORLvMTL #MLS

— New Day Review (@NewDayReview) June 18, 2017
37′: Lions try to find Barnes inside the box on the counterattack. Cleared for a throw-in for City.#ORLvMTL #MLS

— New Day Review (@NewDayReview) June 18, 2017
35′: Rivas goes down near the top of Montreal's box. He's holding his left hip, limping a little. Play stops.#ORLvMTL #MLS

— New Day Review (@NewDayReview) June 18, 2017
34′: Nothing comes of it, as it's cleared for a goal kick.#ORLvMTL #MLS

— New Day Review (@NewDayReview) June 18, 2017
33′: Corner from the left coming for Montreal.#ORLvMTL #MLS

— New Day Review (@NewDayReview) June 18, 2017
31′: Higuita pushes forward and takes a shot by himself that goes JUST wide left. MPG was open down right, Rivas in middle.#ORLvMTL #MLS

— New Day Review (@NewDayReview) June 18, 2017
30′: Orlando City DOMINATING possession with 65%. Also, dominating in shots, out-shooting Montreal 9-1 so far.#ORLvMTL #MLS

— New Day Review (@NewDayReview) June 18, 2017
26′: Corner from the right. Johnson will take it.#ORLvMTL #MLS

— New Day Review (@NewDayReview) June 18, 2017
25′: Barnes with pace down the right side. He gets pushed out of bounds to stop his attack. Free kick coming.#ORLvMTL #MLS

— New Day Review (@NewDayReview) June 18, 2017
Rocket, you are clear for takeoff. 🚀#VamosOrlando pic.twitter.com/yrly9tjmDX

— Orlando City SC (@OrlandoCitySC) June 18, 2017
23′: GOAL. Barnes crosses to MPG, who passes to Johnson for a shot. The rebound rolls to Rivas for a 2-1 lead.#ORLvMTL #MLS

— New Day Review (@NewDayReview) June 18, 2017
20′: Low cross to Toia at the top, who unloads a shot that JUST goes wide right. Corner again.#ORLvMTL #MLS

— New Day Review (@NewDayReview) June 17, 2017
19′: Corner from the right coming. Looked like Bush got his mitts on it.#ORLvMTL #MLS

— New Day Review (@NewDayReview) June 17, 2017
18′: YELLOW. Barnes draws the foul from just outside the left part of the box. Ciman is booked.#ORLvMTL #MLS

— New Day Review (@NewDayReview) June 17, 2017
16′: GOAL. Aja turns it over to Piatti, who gets an assist on the shot from inside the box that rooted Bendik to the spot.#ORLvMTL #MLS

— New Day Review (@NewDayReview) June 17, 2017
15′: Higuita finds space in the middle, unloads a shot, and Kaka is almost there on the rebound. Goal kick.#ORLvMTL #MLS

— New Day Review (@NewDayReview) June 17, 2017
13′: Orlando City dominating down the left side. Kaka, Barnes both very effective.#ORLvMTL #MLS

— New Day Review (@NewDayReview) June 17, 2017
11′: Pressure down the right now, after Aja delivered a deep ball to Rivas, who recovered to cross it in.#ORLvMTL #MLS

— New Day Review (@NewDayReview) June 17, 2017
The assist, the finish, the celebration. Gotta love it all. #VamosOrlando 😈 pic.twitter.com/BCJMy7fhnk

— Orlando City SC (@OrlandoCitySC) June 17, 2017
8′: GOAL. Barnes finds Kaka on the left end-line, who crosses it in behind to a cutting MPG for his 1st OCSC goal.#ORLvMTL #MLS

— New Day Review (@NewDayReview) June 17, 2017
5′: MPG to Rivas to Barnes, but the shot is deflected. Kaka gets one off too, but that's deflected, also.#ORLvMTL #MLS

— New Day Review (@NewDayReview) June 17, 2017
2′: Great early effort by the Lions. They find Kaka down the left flank for box penetration.#ORLvMTL #MLS

— New Day Review (@NewDayReview) June 17, 2017
1′: And we have begun. The Wall is hyped!#ORLvMTL #MLS

— New Day Review (@NewDayReview) June 17, 2017
No tifo today. Just a wall of #love.#ORLvMTL #OCSC #VamosOrlando #NeverHuntAlone #MLS pic.twitter.com/2tiuy27SJv

— New Day Review (@NewDayReview) June 17, 2017
Voici VOTRE XI partant contre Orlando City SC
Here's YOUR starting XI against @OrlandoCitySC!#IMFC #ORLvMTL #FIDÈLES pic.twitter.com/NotUXcXdII

— Impact de Montréal (@impactmontreal) June 17, 2017
No Larin, no Locerino. Back to 4-4-2. Barnes, Rivas up top.#ORLvMTL #MLS https://t.co/l5bFfUGPYf

— New Day Review (@NewDayReview) June 17, 2017
Alright. On my way to the stadium now. Let's see what happens tonight.
Kaká reiterated a similar sentiment, saying the Montreal match is a chance to show his team is together.
And, as I said, it's a great opportunity to help them and to say, to show them that we are together. Of course, we are not agree with the situation and with what Cyle did. And we know how serious is that. But, as I said, here, we are his teammates, and we are going to support him in this situation to get out of that the best way and with the best lessons for him. I think he's gonna pay a lot in all sense, and now, as a teammate, I think our behavior and what we need to do now it's be with him, saying that we are not agree with this situation, but we still love Cyle Larin.
It's a great opportunity to be together as well. So, we are gonna show how strong this group is. So, again, this is a great opportunity to show them that we are together, that we are going to face this situation together. And what a great opportunity we have tomorrow.
Tonight's match against Montreal is a chance for Kreis' Lions to show resolution in the face of adversity.
Again, part of the message this morning, for me, is that this is a little bit about life now. We all go through very difficult circumstances. We all make mistakes. We all have things that happen bad in our lives that we don't like and we don't want to deal with. And so now it's about how are we going to react to that. And from my point of view, I look at this and want to spin this immediately and say really, really difficult situation that we're in, both on the match and from Cyle's decision the night after the match. And it's on us to have a positive reaction to that. It's on us, now—I think we—this is a moment and an opportunity for us to come together tighter than we ever have before and show our fans and our people what we're made of and who we are.
Between the Lions' first-ever opening U.S. Open Cup loss and Larin's DUI, Kreis has had a personally trying week.
I have not [had a situation like Larin's DUI before]. I would say that that adds to a little bit of my disappointment because I intend to lead the group in a certain way. I intend to be clear in my communication of what is acceptable and what is not. We intended—we went into this offseason trying to do something a little different, to make sure that the players understood that how they act in this community and the decisions that they make when they were in public are really, really important things to us. So, to have this situation occur after we give that communication was difficult—very, very difficult. But, for me, on a personal level, I hope that that I lead a group based on my actions to show that this type of situation is also unacceptable. And I take it as a little bit of a mark on myself as well.
Despite his lack of a team-curfew policy, Kreis told his team during the offseason that excessive partying would no longer be acceptable.
You know, during the offseason, we had several occasions where we were with some of our most ardent fans, and we—I had heard directly from some of those fans that [a lot of partying was] happening a little bit too much. That's why we went into the preseason and were very clear with our messaging for the players that this was no longer gonna be acceptable.
Kreis isn't one to keep tabs on his players, with regard to curfews.
You know, it's a—from a philosophical-leadership point of view, it's not something that I try to keep tabs on. I think these are grown men, and so I'm not going to—we don't set curfews. We don't set strict rules about players not being able to go out or be out at a certain time. But at the same point, then, if we're gonna give players that much respect and that much leeway, they need to be held accountable for their decisions, as Cyle is now. And as I said before, this isn't just a Cyle Larin situation. When it comes to the discipline of this, it's now affecting the entire team and the entire club.
"Together" has been a common theme for Kreis in his first full season as the Lions' head coach.
It affects the entire team. But then we need to move on from that and say that we're family. And family members forgive. And we try to help each other in these times of need.
Here's Kreis with his statement to the media at training on Friday.
Cyle is obviously distraught and very, very disappointed, I think, in himself and his decision but is wanting to move forward as quickly as possible. And so—you know, at the moment, I think that the most important thing—are two things, really. I think from a leadership of this club and this team, this organization, it's important that we make it very clear that we're not happy with his decision. We disagree vehemently, and it goes against what we've tried to establish here in this club and how we want to comport ourselves publicly.
Not any specific storylines relating to tonight's game, but I will pull some significant quotes from Friday's training from head coach Jason Kreis and team captain Ricardo Kaká.
Orlando City SC will be without forward Cyle Larin because of a DUI charge that has him suspended from league play until he completes the Major League Soccer Substance Abuse and Behavioral Health program. The Lions will also miss midfielder Antonio
Nocerino after he earned a red card in a 0-0 draw with the Chicago Fire on June 4.