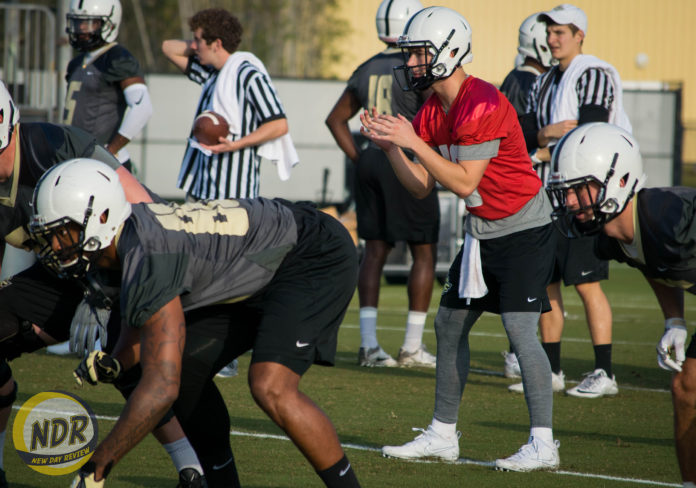 (Photo by Victor Tan / New Day Review)
Scheduling and timing for all of the University of Central Florida's schedule has not been completed, but there is at least one game that has already seen a scheduling change. The Knights' season- and home-opener against Florida International University has been moved from Saturday, Sept. 2, to Thursday, Aug. 31, according to a press release by UCF Athletics. CBS Sports Network will broadcast the game.
Thursday's bout with the Panthers will be a part of an American Athletic Conference double-header, as the University of Memphis and the University of Louisiana at Monroe will kick off directly after the conclusion of UCF's 6 p.m. matchup.
UCF's rescheduled opener now gives the Knights their second non-Saturday game. The other non-Saturday game is a bout against the University of South Florida on Friday, Nov. 24.
Per UCF Athletics, all game times that haven't been determined yet will likely be announced approximately 12 days prior to the game.
The Knights hold the overall record with a 3-2 edge. UCF pummeled the Panthers 53-14 last season but lost its season-opener to FIU in 2015 15-14 after a time-expiring, tipped field goal.
Here is the Knights' full schedule so far:
THURSDAY, Aug. 31
UCF Knights vs. FIU Panthers, 6 p.m. (CBSSN)
SATURDAY, Sept. 9
UCF Knights vs. Memphis Tigers, 8 p.m. (ESPNews)
SATURDAY, Sept. 16
UCF Knights vs. Georgia Tech Yellow Jackets, 7:30 p.m. (ESPNews)
SATURDAY, Sept. 23
UCF Knights at Maryland Terrapins, TBA
SATURDAY, Sept. 30
UCF Knights vs. Maine Black Bears, 6:30 p.m. (ESPN3)
SATURDAY, Oct. 7
UCF Knights at Cincinnati Bearcats, TBA
SATURDAY, Oct. 14
UCF Knights vs. East Carolina Pirates, TBA
SATURDAY, Oct. 21
UCF Knights at Navy Midshipmen, 3:30 p.m. (CBSSN)
SATURDAY, Nov. 4
UCF Knights at SMU Mustangs, TBA
SATURDAY, Nov. 11
UCF Knights vs. UConn Huskies, TBA
SATURDAY, Nov. 18
UCF Knights at Temple Owls, TBA
FRIDAY, Nov. 24
UCF Knights vs. USF Bulls, TBA (ABC/ESPN Networks)
---
For more on UCF football and its unsettled scheduling changes, follow Victor Tan on Twitter at @NDR_VictorTan.