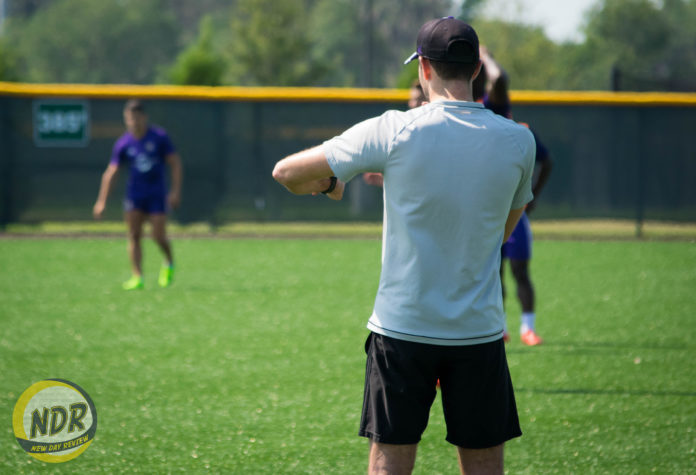 (Photo by Victor Tan / New Day Review)
ORLANDO, Fla. – Orlando City B is looking to bounce back from its first loss since April with a positive mindset when the United Soccer League side travels to Pittsburgh for a matchup on Saturday.
Before OCB's 3-1 loss to the Charlotte Independence on May 27, the Lions recorded three-straight clean sheets, winning two of those games and drawing in the other. Midfielder Paul Clowes looks at that loss as a wake-up call and learning experience.
"You learn more from a loss, and it's easy to sweep things under the rug when you're winning every game." Clowes said after training Thursday. "But, actually, a loss every now and again kind of makes you realize what, you know, a few things we need to work on. So, it does give you a bit of a wakeup call."
After the loss, head coach Anthony Pulis noted the first 40 minutes of play were the best he's seen his side play since he started coaching OCB. A two-goal loss at home might seem like a bad day at the office, but Pulis still saw lots of positives from his team on Saturday.
"Well I think that we've kinda reviewed and debriefed the Charlotte game, and there were lots of positives," Pulis said after training Thursday. "I thought our attacking play, at times, first half, was as good as it's been. So, more on the same of that. And, for the most part, as strange as it sounds, conceding three goals, we actually defended pretty well, and it was just kind of individual lapses for a couple of moments, and it really cost us dearly."
OCB now has a busy stretch ahead of them, as they prepare to play three games in 11 days, traveling to Pittsburgh, back to Orlando and then to Toronto to finish the stretch. Pulis' side's first stop in Pittsburgh is against a team that has only allowed one goal in the past five matches. The Lions have mustered six goals in the same stretch.
For Pulis, he's been pleased with his team's attack.
"Well I think we do a good job of getting the ball into the final third, and then it's making sure that that final cross is of good quality and our runs in the box are good quality," Pulis said. "And that when we're shooting, we're hitting the target, and we're making goalkeeper work. It's not rocket science, but it's something that—and listen, football—scoring goals in football is the most difficult thing to do, and it comes from hard work on the training ground."
The USL Lions travel north to face the Pittsburgh Riverhounds on Saturday at 7 p.m.
---
For more on Orlando City B and its bounce back after a loss to Charlotte, follow Tommy Cardinal on Twitter at @NDR_TomCardinal.