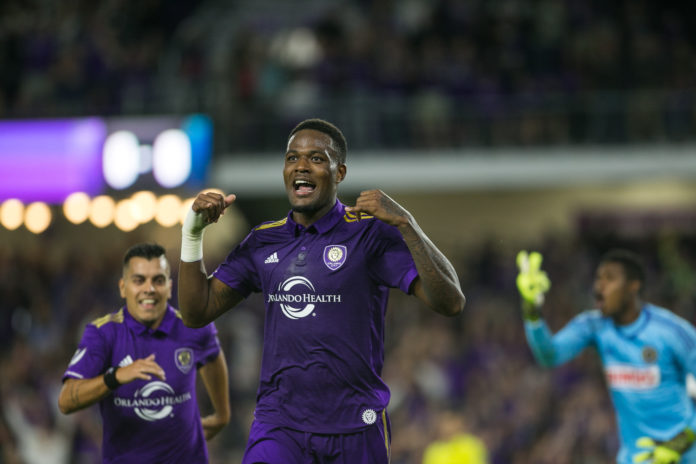 FINAL: @OrlandoCitySC 2, @dcunited 0. This is City's 1st win in May. Previously was 0-4-2. Larin, Barnes w/ goals.#ORLvDC #OCSC

— New Day Review (@NewDayReview) June 1, 2017
Tonight's attendance at Orlando City Stadium is 24,112.

Amazing support from the City fam on a rainy night in O-Town. pic.twitter.com/GHr4VqPcwW

— Orlando City SC (@OrlandoCitySC) June 1, 2017
3 minutes of added time.#ORLvDC #OCSC

— New Day Review (@NewDayReview) June 1, 2017
You can't score if you don't shoot, kids. 😈 pic.twitter.com/fdWy4eD37f

— Orlando City SC (@OrlandoCitySC) June 1, 2017
88′: GOAL. @GilesBarnesReal takes it from about the same spot he took it last time. This time it goes out of Hamid's mitts.#ORLvDC #OCSC

— New Day Review (@NewDayReview) June 1, 2017
86′: Corner from the right for DC coming.#ORLvDC #OCSC

— New Day Review (@NewDayReview) June 1, 2017
85′: Barnes with pace down the middle of the field. He takes a shot from just outside the box that goes into the stands.#ORLvDC #OCSC

— New Day Review (@NewDayReview) June 1, 2017
82′: SUBSTITUTION. Nocerino comes on for Rivas. Hell of a game by Rivas.#ORLvDC #OCSC

— New Day Review (@NewDayReview) June 1, 2017
77′: Corner from the left. Johnson will take it.#ORLvDC #OCSC

— New Day Review (@NewDayReview) June 1, 2017
🎶I got hustle though, ambition, flow, inside my DNA🎶 😈

Insane stuff from @Jtbendik… pic.twitter.com/fZZRLZMpZP

— Orlando City SC (@OrlandoCitySC) June 1, 2017
75′: @JSpector23 defends the empty net enough for @Jtbendik to fly back into the goal for a tipped save. That was incredible.#ORLvDC #OCSC

— New Day Review (@NewDayReview) June 1, 2017
75′: @JSpector23, @Jtbendik… TAKE A BOW!#ORLvDC #OCSC

— New Day Review (@NewDayReview) June 1, 2017
73′: SUBSTITUTION. Rocha comes on for MPG. Rocha has played just 3 minutes for City's MLS side so far this season.#ORLvDC #OCSC

— New Day Review (@NewDayReview) June 1, 2017
71′: HOW IS IT NOT 2-0?? Barnes to Rivas into the box. He gets taken down, but MPG whiffs on the rebound. SO CLOSE.#ORLvDC #OCSC

— New Day Review (@NewDayReview) June 1, 2017
68′: Almost a 2nd goal. Rivas from the left into the box, past Barnes. Larin, MPG get mixed up, collide. Larin down, gets up.#ORLvDC #OCSC

— New Day Review (@NewDayReview) June 1, 2017
The finish that has us on top and Cyle back finding the net. 👌 pic.twitter.com/0UHlgffOTs

— Orlando City SC (@OrlandoCitySC) June 1, 2017
67′: GOAL. Larin gets back to his scoring ways. Will Johnson on the assist. Barnes drew the foul to set it up.#ORLvDC #OCSC

— New Day Review (@NewDayReview) June 1, 2017
66′: SWEET move by @GilesBarnesReal. Draws a foul just outside the left part of DC's box.#ORLvDC #OCSC

— New Day Review (@NewDayReview) June 1, 2017
65′: YELLOW. Bendik gets booked.#ORLvDC #OCSC

— New Day Review (@NewDayReview) June 1, 2017
65′: Shot on Bendik's goal goes high over the net. Bendik is not happy. Comes out to the ref to voice his concerns.#ORLvDC #OCSC

— New Day Review (@NewDayReview) June 1, 2017
63′ | A raging run from Giles ends up producing a dangerous cross and Donny turns on one… but high.

0-0 | #ORLvDC pic.twitter.com/cNtHTuWLPH

— Orlando City SC (@OrlandoCitySC) June 1, 2017
63′: @GilesBarnesReal flies down the right side and crosses it from right to left. Toia gets a shot off, but it sails high.#ORLvDC #OCSC

— New Day Review (@NewDayReview) June 1, 2017
59′: SUBSTITUTION. Giles Barnes comes on for Luis Gil.#ORLvDC #OCSC

— New Day Review (@NewDayReview) June 1, 2017
56′: City is fortunate. An open shot goes over the top of the net.#ORLvDC #OCSC

— New Day Review (@NewDayReview) June 1, 2017
50′ | Lively start from City. Best chance so far coming via a low cross off the foot of Donny. Can't find anybody.

0-0 | #ORLvDC pic.twitter.com/S8tDSEzJzl

— Orlando City SC (@OrlandoCitySC) June 1, 2017
50′: MPG sends it to Toia on the left, who grounds it into the box. Hamid gathers it. Larin was waiting on the back post.#ORLvDC #OCSC

— New Day Review (@NewDayReview) June 1, 2017
46′: SUBSTITUTION. Le Toux on for Luciano Acosta for DC.#ORLvDC #OCSC

— New Day Review (@NewDayReview) June 1, 2017
Halftime stats (ORL-DC):

Shots (on goal): 9-3 (3-2)
Corners: 4-2
Fouls: 5-10
Possession: 58.6%-41.4%#ORLvDC #OCSC

— New Day Review (@NewDayReview) June 1, 2017
HALFTIME: @OrlandoCitySC 0, @dcunited 0. City w/ great chances, a lot of possession early. DC matching that w/ physicality.#ORLvDC #OCSC

— New Day Review (@NewDayReview) June 1, 2017
45'+: Rivas sends Sutter into the box. Sutter goes down and wants the PK, but he's given nothing.#ORLvDC #OCSC

— New Day Review (@NewDayReview) June 1, 2017
45′ | Another shot on target…

0-0 | #ORLvDC pic.twitter.com/MJEBkXc6Lp

— Orlando City SC (@OrlandoCitySC) June 1, 2017
45'+: Spector finds Larin down the left side for a good look. His shot goes into Hamid's mitts, though.#ORLvDC #OCSC

— New Day Review (@NewDayReview) June 1, 2017
2 minutes of added time.#ORLvDC #OCSC

— New Day Review (@NewDayReview) June 1, 2017
45′: Ball into the box is deflected. Larin tracks it down and takes a shot with his left. Corner coming from the left.#ORLvDC #OCSC

— New Day Review (@NewDayReview) June 1, 2017
44′: MPG draws another foul. Set piece coming for City about 20 yards from midfield.#ORLvDC #OCSC

— New Day Review (@NewDayReview) June 1, 2017
42′ | Joe showing off some ⚡️ reflexes.

0-0 | #ORLvDC pic.twitter.com/UBKxreCgNu

— Orlando City SC (@OrlandoCitySC) June 1, 2017
43′: Corner from left coming. SAVE by Bendik's outstretched right arm. Fantastic save.#ORLvDC #OCSC

— New Day Review (@NewDayReview) June 1, 2017
41′: Higuita is down and the referee immediately calls for trainers to come. Nocerino is warming up.#ORLvDC #OCSC

— New Day Review (@NewDayReview) June 1, 2017
40′: MPG from the top of the box gets a shot on target, but it gently rolls to him.#ORLvDC #OCSC

— New Day Review (@NewDayReview) June 1, 2017
39′ | Gil finds a glimmer of space but the shot doesn't quite connect for him. Plenty of shots coming for City.

0-0 | #ORLvDC pic.twitter.com/0bgQAkKQSr

— Orlando City SC (@OrlandoCitySC) June 1, 2017
39′: Gil takes a shot from near the top of the box, but it goes wide right. Nothing Hamid needed to bother with.#ORLvDC #OCSC

— New Day Review (@NewDayReview) June 1, 2017
38′: Nice passing on that last build-up. But the cross by Gil from the right finds no one.#ORLvDC #OCSC

— New Day Review (@NewDayReview) June 1, 2017
37′: Rivas finds space near midfield and immediately tries to play Larin over the top. Larin is tripped up. DC w/ possession.#ORLvDC #OCSC

— New Day Review (@NewDayReview) June 1, 2017
35′: YELLOW. No more than a minute later does Toia get his booking.#ORLvDC #OCSC

— New Day Review (@NewDayReview) June 1, 2017
34′: YELLOW. MPG draws another foul, and Kemp gets the 1st booking of the game.#ORLvDC #OCSC

— New Day Review (@NewDayReview) June 1, 2017
32′: Rivas spins to his right and sends a through ball into Larin, but it goes JUST too far.#ORLvDC #OCSC

— New Day Review (@NewDayReview) June 1, 2017
31′: Sutter fended off the attack down the left flank. Bendik has a goal kick coming.#ORLvDC #OCSC

— New Day Review (@NewDayReview) June 1, 2017
27′: Big save by Bendik. Keeps the score level at 0-0.#ORLvDC #OCSC

— New Day Review (@NewDayReview) June 1, 2017
26′: Sutter crosses it in from the right, and it nearly finds Rivas' foot. Corner from right coming.#ORLvDC #OCSC

— New Day Review (@NewDayReview) June 1, 2017
25′ | Add that one to the save total. #JoeKnows

0-0 | #ORLvDC pic.twitter.com/wBGxZlFSj5

— Orlando City SC (@OrlandoCitySC) June 1, 2017
25′: Jeffrey unloads from the top of the box. Bendik falls to right for the save.#ORLvDC #OCSC

— New Day Review (@NewDayReview) June 1, 2017
23′: Corner from the right is cleared back to the same corner. Gil inserts it back in. Larin hustles for it.#ORLvDC #OCSC

— New Day Review (@NewDayReview) June 1, 2017
21′: Right after that Rivas found it at the top of the box again and tries to curl it in. Goes wide left.#ORLvDC #OCSC

— New Day Review (@NewDayReview) June 1, 2017
21′ | A ball into the box from MPG finds Rivas and he almost picks out Cyle but just behind.

0-0 | #ORLvDC pic.twitter.com/BaoRl3dWMJ

— Orlando City SC (@OrlandoCitySC) June 1, 2017
21′: From inside the box, Rivas lays it off to Larin, who whiffs. Wet ball?#ORLvDC #OCSC

— New Day Review (@NewDayReview) June 1, 2017
DC is playing a lot of physical defense, not afraid to foul. City has had a lot of possession and good chances.#ORLvDC #OCSC

— New Day Review (@NewDayReview) June 1, 2017
18′: Higuita gets tripped up near his sideline. Another foul by DC.#ORLvDC #OCSC

— New Day Review (@NewDayReview) June 1, 2017
18′: Aja gets bodied on the pass in front of his own bench. Foul drawn.#ORLvDC #OCSC

— New Day Review (@NewDayReview) June 1, 2017
16′: MPG draws a foul near midfield. Holds his lower back as he gets up. Seems fine.#ORLvDC #OCSC

— New Day Review (@NewDayReview) June 1, 2017
15′: @CyleLarin just made some great defensive plays in the box. Heads 1 away.#ORLvDC #OCSC

— New Day Review (@NewDayReview) June 1, 2017
14′: Higuita tumbles over a DC player. He's still down. No foul called.#ORLvDC #OCSC

— New Day Review (@NewDayReview) June 1, 2017
13′ | Joe gets his first taste of action on the day on a low cross in an awkward spot. Safe clearance.

0-0 | #ORLvDC pic.twitter.com/ckDiQWEqu2

— Orlando City SC (@OrlandoCitySC) June 1, 2017
13′: Bendik deflects the cross into the box.#ORLvDC #OCSC

— New Day Review (@NewDayReview) June 1, 2017
9′: Ball into the box. Spector and Aja both get heads on it. Throw-in coming for DC.#ORLvDC #OCSC

— New Day Review (@NewDayReview) June 1, 2017
8′: Set piece for DC early. Just about 15 yards from midfield.#ORLvDC #OCSC

— New Day Review (@NewDayReview) June 1, 2017
7′ | MPG finds acres of room and has a crack. Crosses the face of goal and out.

0-0 | #ORLvDC pic.twitter.com/roXw4lp23f

— Orlando City SC (@OrlandoCitySC) June 1, 2017
7′: MPG gets a shot off, but it goes wide right.#ORLvDC #OCSC

— New Day Review (@NewDayReview) June 1, 2017
7′: Toia sends it to Larin down the left flank. Corner coming from left.#ORLvDC #OCSC

— New Day Review (@NewDayReview) June 1, 2017
5′ | Carlos makes a turn in the box after a little flick from Gil and gets a shot on target. Active start.

0-0 | #ORLvDC pic.twitter.com/IWy3L2weIX

— Orlando City SC (@OrlandoCitySC) June 1, 2017
5′: Johnson plays it to Rivas, who gets a shot on goal. Hamid falls to his right for the save.#ORLvDC #OCSC

— New Day Review (@NewDayReview) June 1, 2017
1′: Corner from the right coming for DC…already.#ORLvDC #OCSC

— New Day Review (@NewDayReview) June 1, 2017

Tonight's starting lineup. Rafael Ramos is on the bench. Tony Rocha is on the bench, too. He's played three minutes for City so far this season.
How the boys are rolling out tonight versus the visitors from D.C. #ORLvDC pic.twitter.com/bOQ3SDq6DI

— Orlando City SC (@OrlandoCitySC) May 31, 2017
Kickoff for #ORLvDC has been delayed until 8:08. Gates are open if you wish to seek shelter.

— Orlando City SC (@OrlandoCitySC) May 31, 2017
Forecast for tonight's game.

(Going to get ready to leave for the stadium now. See everyone at the game!)
In terms of goal-scoring, City's leader in that category, Cyle Larin, has only scored one goal in the past seven games. Kreis was quick to make sure fans and media alike don't fret over this.
When you score seven goals in seven games, we don't bring him to the side and put him up on a pedestal and tell him how great he is. So when he goes one goal in seven games, we don't put him down and tell him what a nasty, little boy he is. We say, "Continue to work the way you have, and the goals will come." He's getting chances. We're getting lots of goal-scoring chances. We're doing a lot of things right. At the moment, we're a little unfortunate to not make the plays at the most critical moments.
Here's our full story with quotes from Ramos himself (and a cool graphic one of our guys made).
As for the good news, right-back Rafael Ramos is healthy. He posted a tweet last night which hinted at him being with the first team for tonight's match.
Ready for tomorrow 💪⚽🙏 #RR27 #OCSC pic.twitter.com/Dj2kPWtUki

— Rafael Ramos (@rafaelramos_27) May 30, 2017
With regard to injury news, there's good news and bad news. Let's start with the bad: Team captain Ricardo Kaká is out with an injury for tonight's match, per Kreis. Here's Orlando Sentinel beat writer Alicia DelGallo with the details.
Kaká injury – right calf due to hard hit in NYC game. Nothing visible on scans, but continues to be a bother. He is training solo w/Silas

— Alicia Rose DelGallo (@OSAliciaD) May 30, 2017
Let's get started with our latest edition of Notes & Quotes. Media had access to head coach Jason Kreis and midfielders Will Johnson and Servando Carrasco.
Here's what Carrasco had to say about turning around City's misfortune as of late.
I think we're very hungry. I think we're ready to kinda change this script. And look, these two games at home are gonna be huge.
I'm going to start the live blog a little early today. We're about three hours from kickoff. Check out some of the storylines entering this midweek matchup against D.C. United.