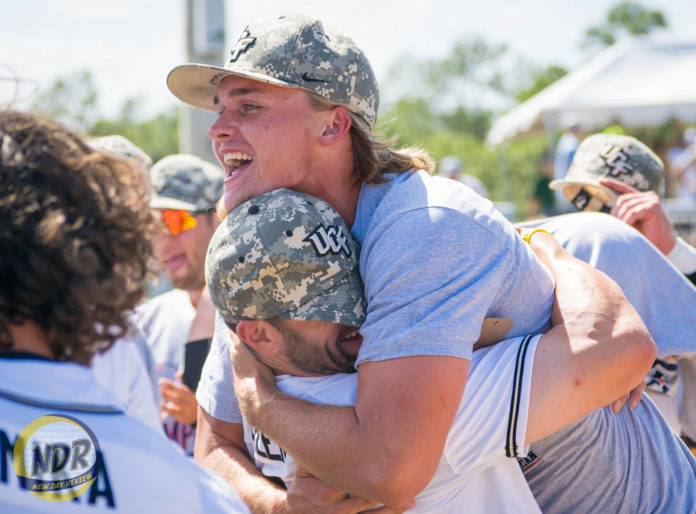 (Photo by Victor Tan / New Day Review)
University of Central Florida head coach Greg Lovelady has helped the Knights turn around their fortune in just one season. After posting a 40-20 record and claiming a share of the American Athletic Conference regular-season title, the Knights will now head to Tallahassee for their first NCAA regional tournament since 2012.
Included with the Knights will be No. 1 Florida State University, No. 3 Auburn University and No. 4 Tennessee Tech University.
"I'm really proud of these guys for all the hard work they've put in," the 2017 AAC Coach of the Year said, per a UCF press release. "For these seniors, some of them who have never been to a regional. One of my big goals as a coach is to make sure that every single player that comes through our program gets this opportunity. These are the things that they're going to talk about for the rest of their lives."
The No. 2-seeded Knights are coming off an AAC Tournament semifinals loss to the last-seeded East Carolina Pirates, who UCF also lost its first-round game in the tournament to. The Knights' success in 2017 is reminiscent of their 2012 season, the last time UCF won 40 games, posting a 45-17 record. Back-to-back 12-5 and 10-6 losses to Stony Brook University in the NCAA regional final in Coral Gables ended UCF's season.
UCF's trip to Tallahassee will be the 12th time the Knights have made it to an NCAA regional tournament. The Knights have played regionals in Tallahassee seven times, twice in Gainesville and once in Miami.
Some of the AAC's best will be featured in Tallahassee, too, as senior pitcher Robby Howell was named co-AAC Pitcher of the Year. Freshman first baseman Rylan Thomas was also named AAC Position Player of the Year.
UCF will play Auburn on June 2 at noon to start its run. Whoever wins the double-elimination regional tournament will be one of 16 teams to advance to the NCAA super-regional tournament from June 9 to June 12.
---
For more on UCF sports, follow Victor Tan on Twitter at @NDR_VictorTan.