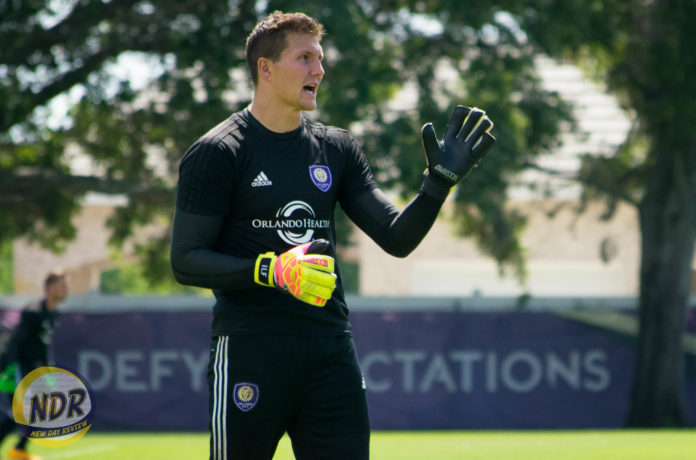 May 25, 2017 at Sylvan Lake Park
HC Jason Kreis
Orlando City SC is 0-3-2 in its last five matches. That record includes a 3-0 loss to New York City FC on May 21, the Lions' first loss at home this season.
At the moment, everybody knows we're going through a really difficult patch, and so, for me, it's about clawing our way out of that. And that comes through just effort and commitment and togetherness. So I'm looking for another game where I feel like everybody's on the same page and everybody understands kind of what we're trying to do.
For Kreis, his team has been focused on the defense.
Mostly just trying to get a re-sort of commitment to the defensive side of things. Any time you're allowing goals at the rate that we have over the last four games, we need to stop, I think, take a breath and remember what we talked about in the offseason, what we worked so hard in the preseason for which was not to be a team that allowed a lot of goals against us. So, for me, any time you go away, it also affords you an opportunity to be really singularly focused on that. And that's what we're gonna attempt to do.
Kreis sees Minnesota United FC's top four players, including former Lion Kevin Molino, as gifted threats.
We're quite familiar with one of their players, Mr. Molino. And I would say apart from him, there's another three guys up top. Their group in their top four is very, very gifted. They're creating a ton of goal-scoring chances in their games. They probably haven't taken as many as they ought to have in those games, and so we know, again, that it's a team that we have to be really, really committed to defending well if we have a chance to get a result.
When asked about his familiarity with Molino, Kreis said it's typical to be familiar with everybody in the league.
I think that typically you're familiar with everybody in the league. All the players in the league, pretty well familiar with. Obviously the fact that he was teammates with a lot of these guys. Maybe there's a little more familiarity there.
For Kreis, it was difficult to play against former clubs when he was a player.
I know for my career, when I was a player, it was difficult. It was very, very difficult to play against a team that I had played for, especially for long stretches. My first trip back to Dallas was really difficult for me. And so I think there can be—it's dependent on each individual, but, for me, it was—I'm an emotional person, so I think emotionally, it was difficult for me to deal with.
Kreis knows the emotions of playing a club you were formerly affiliated with.
I can speak to that because, you know, my first game against New York City was a very emotionally charged game for me. So I'm certain that it'll be the same for him. But from my point of view, there's no extra emotion. I wasn't part of any of that decision. But I certainly understand that he will be charged for it, and I don't think there's anything wrong with that.
Kreis was nominated to the National Soccer Hall of Fame as a player in his last year of eligibility.
Yeah, I mean, it's interesting that it kinda gets brought up this year because I think I've been nominated for every year for the past nine years. I think you have 10 years, I guess, is what i just read this morning where you're eligible for that, so hopefully this one doesn't pass me by. (jokingly) But I would suspect that the chances are it will.
For Kreis, his playing career is an empathetic experience that is helpful in his coaching career.
I think it's an important thing to have that experience as a professional player in this league—to understand what it means to be an [Major League Soccer] player is. I think it's different than it is in a lot of other places, and the challenges that we face are different. From a physical standpoint, there's no doubt about it. So, having an understanding of that, and I have a ton of respect for what these guys do day in and day out. And I think often times people watch professional athletes, and they think that's just the easiest job in the world. And it's not. I mean, it's difficult to put yourself in those pressure situations and to be having to pay attention to what you're putting in your body all the time and to be at your top for the matches and to play under that pressure and perform under that pressure day in and day out and week in and week out is a difficult thing. So, I hope that I show some understanding and respect for that.
Though Larin hasn't scored in his last two matches, Kreis doesn't pay much attention to that. The No. 6 all-time goal-scorer in MLS history knows that sometimes there will be scoring droughts.
I mean, the fact that you just brought it up and I didn't know, well, I guess tells you a lot. It's typical. It's so, so typical. That's a life of a goal-scorer. Any given moment in the season, you're gonna go through four or five or six games where everything you touch ends up at the back of the net, and then you're gonna go through a rut where it doesn't seem like it's working out. So, obviously with the missed penalty kick this weekend, I'm sure that he's feeling a little bit of angst about that, but he doesn't need to. The chances are gonna come, and he's gonna one, and when he scores one, he's gonna score three more behind it. So, he just needs to keep working the same way he is, and he is.
GK Joe Bendik
Bendik will play against his former teammate in Molino on Saturday.
He's a good player. He's playing the No. 10 for them, so he's a guy that will pick up the ball deep and drive at defenses and get on the end of things.
They got 10 other guys, so I don't want to get too carried away with just one player. Obviously he's very popular with our team, but knowing his tendencies is key, but, just as well, he knows that I know his tendencies, so that's not really something you can plan too much.
Bendik sees Minnesota as a better team than what they appear to be.
They had some early-season difficulties being a new team, I think, and just being together, but they've seemed to have made things come together a lot more, and I thought they put up a good fight against L.A. They were beating Toronto, and they end up losing. So, they're better than what I think people think they are. So that can be difficult for us.
For Bendik, early goals against the Lions have forced City to "chase games."
We need to play better. That's pretty obvious. And I think just these early goals kinda killin' us. You know, when you go away from home, you give up an early goal, you're having to chase the game. Or when you're at home, you know, give the PK against New York, you're having to chase the game. Same thing against Kansas. They all have a certain pattern to them, so, for us, it's, "Can we get to half 1-0? 0-0?" And then build on that 'cus I think we're a very strong team in the second half.
Bendik hopes Minnesota is emotionally charged for Saturday's bout.
Yeah, maybe for Minnesota. Hopefully they do come emotionally charged because I don't think playing on emotion is very stable. So, for us, it's playing clear. Just go there and get three points, and we're gonna have to defend well. They're pretty good in the attack, and they got a couple guys who can score. So I think if we defend, we can walk away with a result.
Before joining Orlando City, Bendik was with Toronto FC for three seasons. No matter how a player leaves his former team, Bendik knows it's an emotional matter playing that team again.
It's emotionally charged. You know, you get traded from a team, whether it's you wanted to or you didn't. It's still your old team. It's a lot of guys that you were with for a while, and it's almost like you're trying to prove that you're still here and you're still good or whatever it is exactly that you make up in your head. So, I expect Kevin to play pretty well.
For Bendik, he doesn't see the Minnesota match as a must-win or an expected win. Bendik knows any team can beat any team at any time.
No, this is the MLS. I don't think there's any expected wins. Anybody can go anywhere and get three points. That's why I say it's one game at a time, and you have to be focused every single game. 'Cus if you're not, then, you know, bottom of the table can beat top of the table. So, we have to be focused, and we have to be ready, and, you know, put together a good game plan and execute it.
F Cyle Larin
For Larin, the defensive side is where the Lions will need to play well to get a positive result.
I think they have very good players. I think Kevin, and they have a striker that's scored a couple goals, and I think they can play. We're gonna have to be defensively sound. We go on the road and get some points out there.
Larin the impact both his former coach Adrian Heath and former teammate Molino had on Orlando City.
It's gonna be different. I know Kevin was here for a long time and Adrian. And they were a big thing at this club when they were here. And I think they're gonna try very hard, and we're gonna try very hard to win the game too. I think it's gonna be a great match for both teams.
For Larin, there are ups and downs in a season. Right now, the Lions are going through the latter.
I think you go up and down through the season. And I think we did very well beginning of the season and went through kind of a drop, but I think we go to Minnesota and get points and get back right on track.
Just training very hard and keep doing what we're doing and just go to Minnesota and get points. And I think this next game is a big game for us to get right back on track.
Larin scores on empty nets and occupied ones alike to get back into scoring shape in actual matches.
Just keep getting in the spots. I know the ball will come. And just go out here in training and then keep hitting the back of the net. And I think that helps a lot when you just keep—doesn't matter what it is. There's no goalie. There's a goalie. You just keep putting the ball in the back of the net in training, and you just get that feeling back.
Against NYCFC, Larin missed a penalty kick in the second half.
I don't think I missed—I think that's my first penalty in MLS, but I don't think I missed one when I took it in college or when I was younger, but, no, I just wanted to score and get the ball and get the game going again. And I think I just rushed it. And usually I score it, then just wanted to go. And I think I just rushed it, and the ball just didn't want to go in.
I'm just thinking to put the ball in the back of the net. I don't think I was nervous. Took it too fast, and the ball just didn't go in.
Despite not having won in the month of May, Larin said the mood in the locker room and in training has been positive.
It's been positive. You have to put the game that we lost behind us and move on. Training's been good and started off the week well, and I think that's important to work hard in training, and it'll translate to the field.
City embarks on another stretch of three games in eight days, starting with Minnesota on Saturday. Afterward, the Lions will play D.C. United on May 31 and the Chicago Fire on June 4.
We just have to take care of our bodies, and hopefully players that come in the lineup will do their job, and I think if everyone does their job, we will win these games.
Larin can relate to Minnesota's early-season woes, as he remembers when Orlando City first entered MLS.
I think Minnesota's a great team, and it's just their first year in the league, and when our first year in the league, same thing happened. But I think they turned it around a bit, and we have to go up there and make sure we get points.
Lineup rotations are necessities to Larin because of the amount of games the team has played in short span of time.
I think all the amount of games we've played, you have to rotate lineups. People get fatigued, and there's a lot of games throughout the year, and I think it's just getting used to the players that come in the lineup, and I think if everyone does their job, we'll win these games.
MF Cristian Higuita
(translated from Spanish)
Higuita has been with Orlando City since its first year in MLS. He played under Heath and with Molino.
Adrian is a great person, and Kevin is a great player, and now we hope to go to Minnesota and face them since they're our rivals now.
For Higuita, it's about staying positive to break the Lions' non-winning streak.
What I think is that when we won, we weren't the best team. When we lost, we're not the worst team. We just have to keep our head high and work hard to get the results.
Higuita is talking to Larin, trying to keep him positive during his two-game scoring drought.
Yes, me personally, I speak with him and make sure he keeps his head high. I know this is how football is that sometimes you don't convert your chances, but he has also saved us a lot of times and scored a lot of goals for us, so I remind him that this is how soccer is.
For Higuita, winning is a motivator for both teams on Saturday.
They're gonna want to win. They're playing at home. They haven't won lately, so they're gonna focus and give it their all to win. But we also haven't won, so we're gonna give it all to get our three points, which is what we want this weekend.
Higuita sees there's an expectation for his team to win every game.
We expect to win every game. For us, every game is a must-win. They're gonna want to win this game, but they haven't done well. They have allowed a lot of goals, but every game is different. So, they're gonna face it and embrace it differently this game, and we're gonna go ahead and try to get the three points.