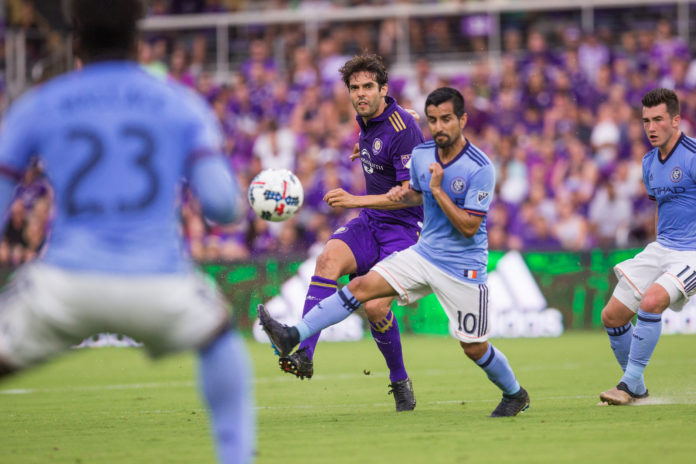 (Photo by Mark Thor / Orlando City SC)
Match Recap
ORLANDO, Fla. – For all of the 2017 Major League Soccer Season, Orlando City Stadium had been an indominable fortress. That was until Sunday night, when Orlando City SC (6-4-2, 20 points) lost 3-0 to New York City FC (6-4-2, 20 points) behind a brace by David Villa in front of 25,527 people.
"Gutted," Orlando City head coach Jason Kreis said on his team's mood after the game. "It's silence in there. Absolute silence and complete and utter disappointment on the players' faces. And that's important that we have the collective mentality that we don't like to lose."
A defensive effort from Orlando City captain Ricardo Kaká granted New York City its first goal of the match. In the 13th minute, Kaká went to contest a dead ball inside the Lions' box. On the ensuing short-cross attempt, the ball made contact with the Brazilian's right hand. Villa buried the PK in the bottom-right corner of the net for an early 1-0 lead.
"Energy level, everything was good," Kreis said. "I think in the beginning of the game, I really felt like things were going to go in a really positive direction for us, and then the penalty decision was made. I think that took some air out of us."
New York City converted on its second goal in the 35th minute. Before NYCFC right-back Ethan White subbed off, he assisted on a goal that put the Lions down by two goals for the first time at home this season. After White was led into Orlando City's box out of the reach of Lions left-back Donny Toia, he slid the ball across the front of goalkeeper Joe Bendik's net to where midfielder Rodney Wallace was waiting on the back-post for the second goal of the match.
"I thought we were doing okay, and then the second goal comes, and I think they take some more air out of us," Kreis said. "And so it's one of those games where I feel like, as stupid as this is to say, goals, for me, change games. And it's very cliché-ish, but I really felt like that was kinda where we were at tonight."
Orlando had a chance to cut New York City's 2-0 lead in half when right-back Scott Sutter drew a penalty inside the box. The effort began with forward Carlos Rivas, who slid a ball into the box for Sutter. With Kaká substituting off in the 60th minute, forward Cyle Larin was called upon to take the penalty kick. Larin's ensuing attempt ricocheted off the crossbar.
"We had an opportunity to score our goal, which I think could've changed the game in our direction, and we didn't take it," Kreis said. "All in all, it wasn't our night. I'm not gonna stand here and say anything crass or disrespectful as if we were the better team because we weren't.
"New York City was very good tonight and deserved to win."
Villa completed his brace in the 83rd minute in a one-on-one effort against Bendik. Villa initiated the effort with a back-heel pass to Maximiliano Morález. His ensuing move saw the Spaniard dive in behind Orlando City's back-line where Morález chipped the ball over the top to Villa, who took a touch around Bendik before striking it home for the third and final goal of the match.
Man of the Match: David Villa
Villa scored his seventh and eighth goals of the season in 85 minutes of play. He finished with five shots (two on goal), completed 65.6 percent of his 32 passes, created three chances and drew five fouls.
What's next?
Orlando City will take to the road and visit Minnesota United on Saturday. That game is at 8 p.m.
Carlos Rivas as Positive in Orlando City's 1st Loss at Home
Despite not recording an assist or a goal, Kreis saw an admirable performance in Rivas. The Colombian striker played all 90 minutes, completing 64.3 percent of his 14 passes. He also tallied four shots (one on goal) and was a constant pressuring presence throughout the entire match.
"Carlos, again, worked really, really hard. Tireless effort by Carlos," Kreis said. "I thought he worked extremely hard to pressure defenders. Wasn't able to make the play tonight, putting a couple of really dangerous balls, and, on a different night, Cyle would score, or somebody else would score. So, all in all, it's difficult to be pleased with somebody's performance, but I thought Carlos gave us everything that he could.
"I think, in general, all the players gave us everything they could. It wasn't our night, and I do think that there was a little bit of fatigue out there."
Highlights
How @Guaje7Villa scored #NYCFC's first-ever goal at @OrlandoCitySC Stadium… pic.twitter.com/Ue8u4lkiMo

— New York City FC (@NYCFC) May 21, 2017
@rodwallace22 @EthanWhite15 Doubling up! @rodwallace22 slides in at the back post to score his fourth goal for #NYCFC… pic.twitter.com/MFtIzOlBJS

— New York City FC (@NYCFC) May 21, 2017
Close! @mmoralezoficial almost makes it 3-0 as #NYCFC keep up the momentum after halftime… pic.twitter.com/pNKP4XUPLo

— New York City FC (@NYCFC) May 22, 2017
49 and counting… pic.twitter.com/oCci46Bl3V

— New York City FC (@NYCFC) May 22, 2017
NDR Notes
Kaká started his third match in the past six games since returning in a 2-0 win over the Colorado Rapids.
Sunday's loss to NYCFC saw Orlando City suffer its first multi-goal deficit at home this season.
This is the third time Orlando City has been shut out this season. The Lions suffered a 2-0 loss to the Columbus Crew on April 1 and a 4-0 loss to the Houston Dynamo on May 6.
Orlando City is so far 0-3-2 in the month of May. Sunday's loss is the third loss for the Lions this month.
Scoring
| | | | |
| --- | --- | --- | --- |
| Time | Team | Goal-scorer | Assisted by |
| 14' | New York City FC | David Villa | Penalty |
| 35' | New York City FC | Rodney Wallace | Ethan White |
| 83' | New York City FC | David Villa | Maximiliano Morález |
Statistics and Starting Lineups
| | | | | | |
| --- | --- | --- | --- | --- | --- |
| | Goals | Assists | Shots | Shots on Goal | Possession % |
| Orlando City SC | 0 | 0 | 10 | 2 | 48.2% |
| New York City FC | 3 | 2 | 13 | 5 | 51.8% |
Orlando City SC starting XI (4-3-1-2): Joe Bendik (GK); Donny Toia, Jonathan Spector, Léo Pereira, Scott Sutter; Cristian Higuita, Antonio Nocerino, Will Johnson; Ricardo Kaká (C); Cyle Larin, Carlos Rivas
New York City FC starting XI (4-3-3): Sean Johnson (GK); Ben Sweat, Alexander Callens, Maxime Chanot, Ethan White; Alexander Ring, Mikey Lopez, Maximiliano Morález