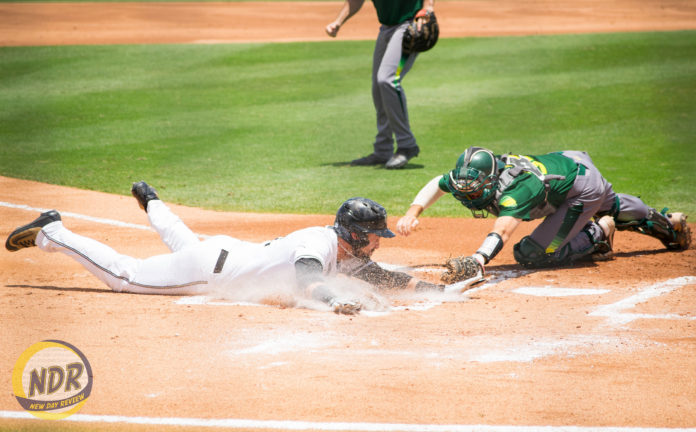 (Photo by Victor Tan / New Day Review)
Game Recap
ORLANDO, Fla. – It wasn't until the final two games of the season did the University of Central Florida find success against its rival, the University of South Florida. Heading into the final two games of the series, the Knights were swept by USF and lost the series-opener in extra innings on May 18.
But after a 9-1 blowout win on Friday, the Knights (38-18, 15-9 in American Athletic Conference) defeated the Bulls (40-15, 14-10 in AAC) 3-2 to claim a share of the AAC regular-season title with the University of Houston. This is the first conference championship the Knights have won since 2004.
"The guys knew that they were a really good team, but they weren't better than us," first-year UCF head coach Greg Lovelady said after the game. "They weren't like head and shoulders, like, 'Whoah, USF swept UCF.' That wasn't the case. They never felt that way. They felt like they belonged. They felt like they let games get out of their hands, and I feel like that helped a little bit this weekend, even after Thursday, knowing that, 'Hey, we've given these guys way too many games. We gotta come out today and really take these last two.'"
Freshman Joe Sheridan (10-4) got the start and the win on the mound, pitching 7.0 innings with eight strikeouts and allowed just two runs (one earned) on six hits and a walk. Redshirt junior Jason Bahr pitched the last two innings to earn the save, striking out two and allowing one hit. For USF, starter Peter Strzelecki (3-3) got the loss in 4.2 innings of work. He allowed three runs (three earned) on five hits and five walks with three strikeouts.
"We've talked about it all year, and, every time I've talked about Joe, I talk about the moxie and the composure that he has," Lovelady said. "We talk a lot about managing situations when you get in those and not trying to say, 'Okay, I gotta get out of here with no runs.' Just worry about executing pitches, manage the game. If you give up one run, that's a lot better than giving up four runs."
After Sheridan surrendered three-consecutive hits and an RBI to the top of the order to start the game, the Knights quickly responded. In its half of the first, UCF took a 2-1 lead, courtesy of first baseman Rylan Thomas' double to left field that drove in shortstop Brennan Bozeman and left fielder Kyle Marsh. The effort began with a two-out double by Bozeman and a two-out walk by Marsh.
"I think they [just] came out ready to play today," Sheridan said after the game. "So, they really jumped on it quick, and I don't think I was ready for that, but then I got into a groove, and it all was going well after that."
Said Lovelady on Sheridan's response after the first: "[F]or a freshman to be able to do that and show the moxie that he did, I mean, it really set the tone. I mean, he was masterful after that. And, again, we should've made the first out, and then they get two ground balls up the middle. He easily could've got flustered, but not Joe Sheridan. He's just too composed and just has too much moxie."
Marsh added to the lead on third baseman Kam Gellinger's base hit in the third. Gellinger advanced to second on the folly throw home, where Marsh narrowly side-stepped USF catcher Tyler Dietrich for a 3-1 lead.
The redshirt sophomore said he was "super nervous" in the final half-inning of the game.
"Personally, me, I was super nervous. My heart was racing," Marsh said after the game. "And the only thing I could think of was get outs one by one. But, yeah, my heart was racing. I've never been so nervous in a while."
USF began its rally late after being held scoreless from the second to sixth inning. The Bulls' second and final run was scored largely due in part to defensive miscues by UCF, as the Knights committed their only two errors in the sixth. After center fielder Garrett Zech reached first on a throwing error by Gellinger, a throwing error by Thomas let lead-off man Kevin Merrell reach first and allowed right fielder Camer Montgomery score from third.
Player of the Game: Kyle Marsh
Marsh finished the game 2-for-2 with two runs, a double and a walk. In the sixth inning, Marsh made a diving effort in left field for the first out of the inning. That helped keep the Bulls stay scoreless for five straight innings to that point.
"I thought I could get to it," Marsh said. "I saw it off the bat pretty well, and I got a pretty good jump off of it. So I knew, like, off the bat that I was gonna have to dive for it, so, I'm just glad that I could catch it."
The Port Orange, Florida, native also made two great plays at the plate, evading the catcher on a slide into home for his first run and side-stepping around the catcher for his second.
"He caught the ball basically in front of the plate, and I knew if I slid right into the bag I was gonna be out," Marsh said. "So I basically just dove and tried to touch the back of the corner. So, it was a pretty good slide. So, glad I could help."
What's next?
The No.1-seeded Knights venture off to the AAC Tournament in Clearwater, Florida, starting on Tuesday. UCF will play the No. 8 East Carolina University at 7 p.m. at Spectrum Field.
Emotional Greg Lovelady Tries to Stay 'Subdued' in Midst of Winning
Before winning on Saturday, Lovelady told WFTV that his emotions would be subdued if his team won the regular-season title because of the kind of success he's had as a player. Lovelady is a two-time national champion with the University of Miami.
When asked about his emotions after the game, Lovelady had an emotional response.
"I mean, I was emotional," Lovelady said. "It's tough. I think I try to be a little more subdued because of the respect I have for [USF head coach] Mark Kingston and our relationship. But, at the same time, I was choking back tears, at times, just because I was so happy to see those guys be able to celebrate. And all the hard work that we've put in.
"You know, making the move with my family and telling them it was gonna be worth it. You know, just—it doesn't truly validate it, but, in some sense, it does. It just—maybe not in my eyes but just for my family and stuff. And for the people that I left in Ohio just to come here and do this. Just, you know, maybe makes the transition a little bit easier for me, so, it's been an awesome day. I'll never forget it. I'm just proud of these kids."
Highlights
As we head to the 2nd inning, here's how we took a 2-1 lead on a nice piece of hitting by the ROOK! #ChargeOn pic.twitter.com/nMvgBhxsSc

— UCF Baseball (@UCF_Baseball) May 20, 2017
3️⃣-1 lead
3️⃣rd inning is a wrap
3️⃣ Kam Gellinger = clutch#ChargeOn pic.twitter.com/uqDdfAv39v

— UCF Baseball (@UCF_Baseball) May 20, 2017
Looking for a nice catch? @UCF_Baseball has you covered. pic.twitter.com/gIKpafTpa0

— CBS Sports Network (@CBSSportsNet) May 20, 2017
No change after 6 full. Here's a look back at the 5th when the Sheriff fanned the side.

USF 1 UCF 3 #ChargeOn pic.twitter.com/WxRc1G9LnV

— UCF Baseball (@UCF_Baseball) May 20, 2017
DOGPILE!!!! https://t.co/xRclWkK1Cn

— UCF Baseball (@UCF_Baseball) May 20, 2017
Scoring
| | | |
| --- | --- | --- |
| | University of Central Florida | University of South Florida |
| Runs | 3 | 2 |
| Hits | 8 | 7 |
| Errors | 2 | 0 |
| Left on Base | 8 | 7 |
| | | | |
| --- | --- | --- | --- |
| Inning | Team | Play | Score |
| T1 | University of South Florida | Luke Borders singled up the middle, RBI; Duke Stunkel advanced o second; Kevin Merrell scored | 1-0, USF |
| B1 | University of Central Florida | Rylan Thomas doubled down left-field line, 2 RBIs; Kyle Marsh scored; Brennan Bozeman scored | 2-1 UCF |
| B3 | University of Central Florida | Kam Gellinger singled through left side, advanced to second on throw, RBI; Kyle Marshscored | 3-1, UCF |
| T7 | University of South Florida | Kevin Merrell reached on error by first baseman, RBI; Garrett Zech advanced to second; Camer Montgomery scored, unearned | 3-2, UCF |
Statistics and Starting Lineups
Pitching
| | | | | | | | |
| --- | --- | --- | --- | --- | --- | --- | --- |
| Player | Team | IP | R | ER | H | BB | SO |
| Joe Sheridan (10-4) | University of Central Florida | 7.0 | 2 | 1 | 6 | 1 | 8 |
| Jason Bahr | University of Central Florida | 2.0 | 0 | 0 | 1 | 0 | 2 |
| Peter Strzelecki (3-3) | University of South Florida | 4.2 | 3 | 3 | 5 | 5 | 3 |
| Andrew Perez | University of South Florida | 3.1 | 0 | 0 | 3 | 0 | 4 |
Hitting
| | | | | | | | | | |
| --- | --- | --- | --- | --- | --- | --- | --- | --- | --- |
| Player | Team | AB | H | R | HR | RBI | SB | BB | SO |
| Kyle Marsh | University of Central Florida | 2 | 2 | 2 | 0 | 0 | 0 | 1 | 0 |
| Rylan Thomas | University of Central Florida | 3 | 1 | 0 | 0 | 2 | 0 | 1 | 1 |
| Kam Gellinger | University of Central Florida | 3 | 2 | 0 | 0 | 1 | 0 | 1 | 0 |
| Luke Borders | University of South Florida | 4 | 2 | 0 | 0 | 1 | 0 | 0 | 1 |
| Kevin Merrell | University of South Florida | 5 | 1 | 1 | 0 | 1 | 0 | 0 | 3 |
UCF starting lineup: 1. Luke Hamblin (8) 2. Eli Putnam (9) 3. Brennan Bozeman (6) 4. Kyle Marsh (7) 5. Rylan Thomas (3) 6. Kam Gellinger (5) 7. Matthew Mika (4) 8. Ryan Crile (DH) 9. Anthony George (2)
UCF starting pitcher: Joe Sheridan (9-4)
USF starting lineup: 1. Kevin Merrell (6) 2. Duke Stunkel (7) 3. Luke Borders (DH) 4. David Villar (5) 5. Joe Genord (3) 6. Tyler Dietrich (2) 7. Coco Montes (4) 8. Camer Montgomery (9) 9. Garrett Zech (8)
USF starting pitcher: Peter Strzelecki (3-2)