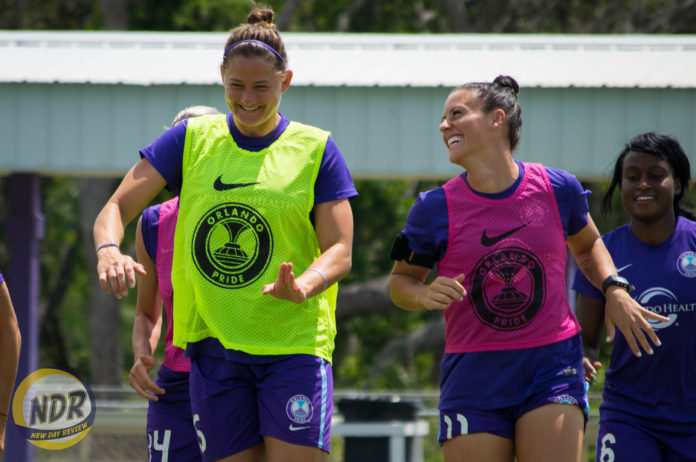 (Photo by Victor Tan / New Day Review)
May 12, 2017 at Seminole Soccer Complex
Availability: HC Tom Sermanni, DF Ali Krieger
HC Tom Sermanni
Despite the Orlando Pride surrendering a goal in the 84th minute to draw 1-1 with FC Kansas City, Sermanni said there were a lot of positives from the match.
There were a lot of positives from the game at Kansas City. I thought we were the better team part from maybe the first 25 minutes when we started a little bit slowly. But once we came into the game, I thought we basically dictated the tempo of the game, dictated possession, and we're actually looking comfortable with the score at 1-0. But, obviously, 1-0 is not a comfortable scoreline. So the disappointing and frustrating thing for everybody at the end of the game was the fact that we drew the game when it was a game we felt we should've won and deserved to win.
Sermanni would consider the Kansas City match to be a match where the Pride have dominated the most in a single game.
No, we've done it in spells. I think it's probably the best, the most we've dominated a game in the sense of sort of being in charge of the tempo and the rhythm of the game. It's the best we've been in not giving up opportunities to the opposition, the tightest that I think we've been. So there were good signs from that perspective, but, as I say, I think in all the games we've played this year, we've had—and the statistics bear this out—we've had long periods where we've been in control of games and in every game created significant chances. So, yeah, it was a step up, and hopefully we'll go another step this weekend.
The Pride host the North Carolina Courage on Sunday at 5 p.m.
There's a few things. I think that the first thing we need to do in North Carolina is physically match them. That's a key. You know, they play a very—I say basic; I don't say that in a disrespectful way, but they're fairly basic kind of soccer, but it's difficult to play against. They've got big, fast, physical players. They play things early. They play things forward quickly. They're very competitive. So, you know, the key thing for us this weekend is to match that physicality. If we can match the physicality, then play our game, then we should be able to get the result.
North Carolina took the first meeting 3-1 on April 29.
Yes and no. It gives us an idea of what they do and what they're good at. But we kinda know that anyway. They stick to the basic game plan, but the key thing is to be able to effectively nullify how they play to the extent that we are then able to play how we play.
Sunday's match will be the Pride's second home match this season.
It's always exciting to come back home. It's been a difficult start this season, having, I think, five of our first seven games away from home. It is good to come home, and it's good to be playing a team that's top of the league.
For Sermanni, staying positive when his team isn't winning is key.
Well, you always worry when you're the coach. It's part of the job. You keep working away. What's really important is that when results aren't coming, but things are going well, is to make sure that there's no negativity creeps in, whether that's in the staff, or whether it's in the players, or just whether it's in the general environment. So, it's really important for us to keep, as part of my job and part of the job as a group, is to make sure that every day we come into training, we come enthusiastic and ready to go. Whether that result goes for us this weekend or not, we've gotta come back in next week and get ready for the following game. You know, this is a season over 24 games, and, you know, it's—obviously, we need to start putting more results on the board, but we also need to make sure that we don't let anything impact us in a negative way.
Sermanni believes defender Toni Pressley deserves to start.
I thought she played really well at the weekend. I think she deserves that opportunity to start in the team. She went into the offseason and has been really focused with what really have got herself into tremendous shape, physically. We've always known she has the soccer ability, and she's now started to, or she's now got herself in a situation where she's ready to go forth soccer-wise and physically, and the game at the weekend, I thought, her focus and her concentration were first-class. So, if Toni can keep all those three things going, she can be a tremendous player in the league.
When asked if he's tried Pressley's cooking, Sermanni mentioned her muffins.
I have. I've tried her gluten-free, vegan-free, everything-free muffins. And they're actually still quite tasty despite having all that good stuff in them.
Orlando traded for Rachel Hill on Jan. 18.
Well I think we spotted her and traded for her because we feel she's the kind of player that can make an impact in this league. She obviously is coming in four or five weeks, at least, behind all the other players. So it just be more of a time issue and seeing how quickly she adapts to the training, to the environment and to the requirements in the [National Women's Soccer League].
Krieger was acquired by the Pride in a trade with the Washington Spirit on Nov. 2, 2016.
(jokingly) No, she's been rubbish. I cannot believe we signed—trouble off the field. She's just a nightmare. No, she's way surpassed the expectations. We had high expectations. I knew Ali from, obviously, in my days with the national team. I know what kind of character and personality she's got. And what—she highlights all the qualities that you want in a senior professional. She's fantastic in the training environment. She's a first-class player, outstanding player, but she's also a great leader. And by her being a great leader, she's someone who demands the best of herself, demands the best of others around about, but, the same time, has the ability to have great relationships with players and be a kinda senior player that younger players love to go to and talk to and ask advice from.
For Sermanni, Krieger's personality is what helps keep the team positive.
Yeah, definitely, because of her personality, because of her experience and because just how she is around the team. And, you know, she's played in leagues in various parts of the world and played with teams that have had highs, and they've had lows. Every team can't be the U.S. national women's team. So she knows what it's like when you're in these kind of environments. That's when I talk about where leadership becomes really, really important from your senior players. So it's getting that bound where you really have to go out there demanding complete and utter effort and concentration from all your players, but, the same time, you've got to make sure that players don't lose their confidence, players don't get down on themselves, players don't have a negative impact, they're frightened to do stuff. And Ali has that character and that personality where players can go in and can relate, confide in her, etcetera. And then, as I say, that's what makes her a great pro and a great leader.
DF Ali Krieger
For Krieger, maintain a positive mentality is key during a time where the Pride haven't won a game yet.
Obviously, we build off of each game and each training session that we have. And it's not the result that we wanted, but we're staying positive, and we're taking the good pieces out of it, which is, I think, we have the momentum most of the game, and we played some good football, and we're gonna take some of those details and, obviously, add it to this game this weekend. We're just taking one week at a time and one training at a time, and I think that's the focus that we need. But we had a really good mentality. Unfortunately, in the very end, you know, they got that goal. Wasn't happy about it. We all were a little bit upset because it felt like losing the two points rather than gaining one point on the road. So, I think we're gonna just continue that energy and that mentality going forward into this game and hopefully be successful on the weekend.
Taking it one game at a time is Krieger's strategy to stay positive.
It's difficult in a time in the season where you've tied twice, and you've lost twice, and you haven't won a game. So I think that it's very difficult, but we just take one game a time, like I said, and one training at a time, and we continue to keep that energy. We, hopefully, emphasized we're good at and add that to the game and keep the energy high. We are okay. I had brought the team together last week with some of the other girls, and I just said, "Look, like, we're just gonna take one training at a time, but we have to demand a little bit more out of each other to reach the highest level," and, I think, to be successful here, you just have to have good mentality, positive mentality. Stay positive around the team, in training and focus on your individual effort. And that is something that I think all of us can improve as a team and as a whole in order to, you know, continue to move forward together.
The Courage are at the top of the NWSL table with a 4-0-0 record and 12 points.
It's difficult. You're playing now the best team in the league twice in a two-week period. You learn a lot about your team in that amount of time, but we're very excited for the opportunity, obviously, and each game in this league is different. You never know who's gonna win on any given day. So, I think that's the something that's even to our advantage. Obviously playing at home in front of our home crowd and with our community there behind us and our fans behind us, I think it's to our advantage. And we don't have to travel; we don't have to worry about that. So, we're gonna be going into this weekend fully positive and mentally prepared. And, obviously, it's tough to do that, but you have to—in order to be the best, you have to beat the best. And I've always said that. So, we're obviously up for this challenge, and we know that we can win. So that's how we're gonna be going into this weekend on Sunday.
North Carolina is regarded as a physical team by the Pride.
I think one of the main things that we have to do is to win the first and second balls and be little bit more—in our chance in the final third, being attacking-minded—we have to finish our chances that are given to us. Because I think if we would've finished some of those chances in the very beginning of last game, the game would've been completely different. And I think that that is the mentality we have to have. We have to claw, scratch. We have to fight in front of the goal in order to get the ball in the back of the net. And sometimes that's how the games have to finish and how the game is played. It's not necessarily the best, most quality football match, but if you finish your chances, you're scrappy in the box, which they were at a couple of their goals, the game's gonna be different. So that's what we're—the mentality that we're going into this game. We're going to fight, and we're gonna try and finish in the final third as much as we can. 'Cus we are getting chances. Now we just have to put 'em away.
For Kreiger, matching the Courage's athleticism and physical status is key to winning.
We have a great mentality. We're very positive. We know what we have to do to get the job done. We just now have to perform well. I think more individually than as a group, we have to, obviously, stay compact in this weekend because we don't want them to get through us. They're gonna be playing balls up to the front, and they're gonna be looking to get in behind, and that's what they do, and they do it well. That's how they've been very successful. They play very direct games. So I think we have to match that. But, obviously, our intensity, our drive to want to match that type of athleticism needs to happen on Sunday in order for us to win, but we're fully prepared for that. We prepared all week for that. And we're all very excited because we know, in front of our home crowd, we can be very successful, and that's that extra motivation to wanna win, and I think that that is something that's to our advantage this weekend, which we're very excited about. But they play a direct game, so we just have to be prepared for that, but if we're scrappy, we tackle, you know, we're winning those first and second balls, I think we have an amazing opportunity.
Krieger acknowledges that with new teammates for the Pride, it still takes time to develop a fitting chemistry.
Obviously, it's very difficult, too, because—there's nothing good and bad. It's just different. There's different personnel. There's basically a new team this year, even from last [year] in Orlando. So it's obviously difficult for all of us to come kind of, like, join in and find our niche and, you know, have this cohesion that you need, and, automatically, you're not gonna get that from the very first game. That's inevitable. No team that has come into the league has done that right off the bat. It takes some time. We're meshing together really well. We have good chemistry. We all have really enjoyed playing together. We all really like each other off the field, and I think that's something that is very, very important. You have to have good chemistry, both on and of the field to succeed. And I think that is something that we have, which is so motivating, inspiring for us because that's very difficult for some teams to have. When you don't have that, it's difficult to put a good product on the field. But, since we have that, you know, now, it's just getting the job done, physically, in our positions and taking care of our individual battles, and the bigger things will take care of themselves.
When asked if she worries if the Pride don't win on Sunday, Krieger said no.
No, I do not worry. You know, last year, what, the New York Flash lost their first four or five games of the season, and they ended up winning the championship. So I think we are fine. Everyone needs to know we are fine, we are gonna—once we win, I think it's gonna be, you know, a different story. But that's something that you can't forget about. You look at some of the scores last year compared to this year, and some were better, some were worse, and so I'm not nervous at all. We're gonna be just fine, and I know that this game on Sunday is gonna be a battle, and we're gonna be successful.
---
Follow Victor Tan on Twitter at @NDR_VictorTan.