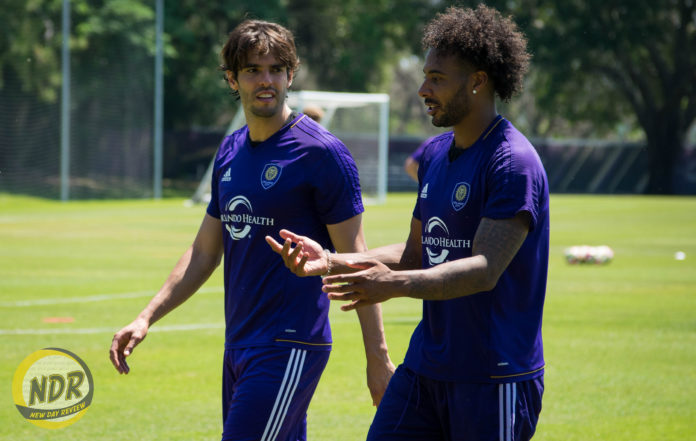 May 10, 2017 at Sylvan Lake Park
HC Jason Kreis
Orlando City SC hosts Sporting Kansas City on Saturday at 7 p.m.
It's been good, really good. Today's sessions, I think, were really intense, and the guys were focused. I think that we'll be ready for Saturday, for sure.
Very organized team. Look like they've been together for quite a while now, and the majority of their players have been with the same coach, and so I think they have a very clear identification of who they are and what they're trying to do. So, as you said, very dangerous opponent for us this weekend.
Due to yellow-card accumulation, Kansas City's Dom Dwyer will not play against the Lions.
Yeah, I mean, you tend to think that somebody that's that important for them and sort of their leading goal-scorer, the guy they look to score the majority of their goals being out is always going to have an effect. But we gotta be careful that we don't relax about that situation because whoever plays in his spot, I'm sure will be a quality player as well.
For Kreis, looking at the competitiveness that both his past team, Real Salt Lake, and Sporting play with is key with regard to City's development this season.
There's no reason to hide from them. Always incredibly intense affairs, incredibly competitive and physical. When you get physical in a hurry, that really, I think, was led by when they kind of changed their coaches and got into a new stadium. They acquired a new sense of competitiveness and combativeness and just willing to do whatever it took to get results. And you see that. Hopefully, I feel like we were part of that RSL, and we made the change and the transition. I think they were part of that, Kansas City, and that's our objective now, here at Orlando, is we're trying to do the same thing. We're trying to influence our players and get players and have everybody buy into the fact that we should be willing to do whatever it takes to win games.
When asked if his team hits the "reset button" after the 4-0 loss to the Houston Dynamo, Kreis said that's a necessity.
Yeah, for sure, we need to hit the reset button. But before we hit the reset button, I think that it's important that we take ownership of that performance. And so that's what we've been talking to our players about is that while we're very happy with where we're at right now, being 6-3, we can't be content, we can't be complacent. And I felt like the first half against Toronto and the majority of the match against Houston, there was an air of complacency in the group. And that cannot be us. So now it's fully on us to show that that was a blip in the road. To take ownership of it and to move forward.
For Kreis, returning home after the two-game losing streak is ideal.
I think it's ideal to be in front of our fans in our stadium with an opportunity to set the record straight, I think.
After each of the two losses, Kreis said he saw anger from his players and staff.
Absolutely. We saw some anger. We saw some real, grave disappointment on the players' faces in the locker room. Us as a coaching staff, we were angry and disappointed. And all that's the emotions that go into losing, no matter the score, because I saw a lot of the same things against Toronto actually. So, I think that's an important part of the process. No. 1, you need to have players that feel really disappointed and take ownership of results like that. Then, No. 2, you need to move forward from that and show that we're all experienced and of the right mindset to be able to do that.
Kreis said when Tommy Redding stepped in for an injured José Aja that he played better than expected.
You know, truthfully, we started the season believing that our best center-back pair was [Jonathan] Spector and Aja. And those two players played very well. Got a couple of wins right away in the season. And then José got hurt. Then in stepped Tommy Redding and did probably a little better than we would have hoped for. You certainly know about his potential, but to know whether he'd be able to step in and do as seamless a job as he did, he performed extremely well. And so now we go back with a player like José who has had success already for us, and so we believe that he can get the job done as well.
For Kreis, the second half against Toronto was one of the best halves the Lions have played.
For me, it was a one-game blip. The performance against Toronto, especially in the second half, I thought was arguably one of our better ones in the entire season. And, again, I talk performances rather than results. Obviously, we lost the game, but the performance was still good. So, from my point of view, really the Houston game is the first time where I would say the performance was pretty disappointing. But, having said that, I think it's important that we remind ourselves that Houston was very good. They came into the game with a very clear game plan, and they took advantage of everything they tried to do. So, the credit should go to Houston. It shouldn't be all about, oh, how disappointed we are with our performance. But the final piece is that we have to move on. We have to move on quickly to show that that was exactly what it was was just a one-game letdown. The best teams in the league are able to do that, and the ones that struggle are the ones that put together game after game after game of poor performances.
Kreis said center-back Seb Hines is about 50-percent fit.
It's been interesting 'cus he's come back from a knee injury, so I know it takes a lot of time to not only get your base-level fitness back but then your soccer fitness and then, on top of that, your soccer playing. So a lot of steps to take. And I feel like he's about 50 percent there. He'll be playing with OCB this weekend, and, ultimately, it'll be the matches where he shows that he's ready to perform and play with the first team again.
On the pitch, Hines is a leader-type figure for Kreis.
He's a leader-type guy for us. He's a communicator and an organizer. And that's the way we've put the team together in the offseason as we went about it and tried to have two leader-type organizer center-backs and then two that were younger and could take cues from the others.
Starting with Kansas City on Saturday, the Lions will enter another stretch of three games in eight days. City will travel to play the San Jose Earthquakes on May 17 at 10:30 p.m. and then will host New York City FC on May 21 at 7 p.m.
Again, I think a lot of it, for me, has to do with energy levels and fitness levels. Being there was the first time that we had to do it this year. I expected there would be some extra fatigue, in particular, in a couple positions, I think there was more fatigue than others. And it turns out the Houston game put stress on those players, in particular. So I think that that's something that we need to be mindful of as we go further.
MF Giles Barnes
For Barnes, the loss to Houston, the team's worst loss of the season so far, is just another "blip."
You have to just take it as a blip. We have to learn from it. We have to realize the mistakes that actually went wrong. And it's been addressed. But, you know, we've had a fairly good run so far, and that's what we need to focus on. Obviously, we take the negatives out of that game and turn it into a positive into the next game.
Barnes acknowledged the quality that Kansas City has.
They're a good team. They're traditionally a good team every single year. I don't think they really change formation or really change personnel. If they wanna get people in and out, they're kind of one-for-one. They've got a good defense. They've got good strikers. You know, obviously, you guys know Dom. He's done well over the few years. But, at the end of the day, you know, we just gotta take those negatives we had out in the game, have the rest of this week good training and just practice and focus on getting back to what we're best at.
Hard-working, pressure you. They're good on the ball. I think a lot of people underestimate how they like to actually keep the ball. And they're pretty direct. They like to get the ball up to Dom and play off of him. So, you know, it's important for whoever plays in that six role for us is kinda screening that and making sure, when we get the ball, we dictate the tempo of the play.
Barnes said that the responsibility for the losses aren't on the coaches; rather, it's on the players.
It's always hard to go away from home. I think you underestimate the travel, especially—you know, we had the three games in a week, and two of 'em were actually were on the road, you know? Getting from Toronto to Houston, you know, everyone tries to do his best as they can to prepare, but sometimes you just can't be the actual freshness that you can get into your legs from just having that extra day in the week or just not being on a plane. But, as I said, I think the coaches do great here to prepare us and get us ready for all that, so, the end of the day, we have to take it on the chin, and we accept the responsibility. It's not on the coaches—it's on us—to go out there and perform. We didn't, so we need to make that right on Saturday.
What's key for Barnes during the upcoming three-game stretch is showing up to training with enthusiasm.
There's a lot to learn from, for sure. It's important that everyone comes out to training every day with a smile on their face and works hard, for sure, because there's gonna be rotation again. There's gonna be minutes up for grabs, and it's up for us to as a team because that's what we are, you know? One big family. We have to really buy into that over these next few games, [and] there's gonna be people coming in, people going out, and everyone's still got the same goal at the end of the day.
Barnes isn't blocking out the loss against Houston. For the first-year Lion, it's about using that as fuel.
I don't think you block [it] out of your mind because you want to use that to be angry when you go and play. You want to use that to spring board you into getting your winning mentality back. So you use that as your fuel to not feel like that, to not feel like rubbish for the whole week. You know, so, we're back at home, and that's where it's gotta start, and, then, as I said, the three games in eight days, and we gotta make sure we get maximum points from them.
Fatigue isn't a good excuse for Barnes because he said everyone has to go through the same thing.
You don't really wanna look for excuses and blame that kind of thing because everyone in the league has to travel. Everyone's got the same kind of schedule, give or take a few extra miles. But, you know, it's hard, it's tough to go to places after giving so much every single game to go and play on a Wednesday and then travel again to another different place and give again on a Saturday. But what can never be in question is this group's mentality and willingness to actually put work in. If it is a blip like that, it is—we feel down to that freshness that we didn't quite have.
When asked if his team is better than a 4-0 loss, Barnes reiterated his sentiments on the team's third loss of the season being a blip.
I think everyone knows the answer to that. It's a blip. As I said, we have to use that to fuel us and use that anger and turn that into a positive for this weekend.
Barnes knows the importance of taking care of his body at virtually all times when the team is traveling.
It's making sure when you're on the plane and you're traveling, you have to almost double your water intake. You know, you do get dehydrated off the plane, obviously coming off the back of a game as well. Your energy levels are low. You have to get the right food inside you. You know, [director of fitness Dave McKay] does a great job of getting us in the gym after getting off the plane to make sure that the lactic acid gets out of your legs straight away. Pool sessions. Training, sometimes, has to be a little bit lighter. As I said, the coaches, for me, and then the rest of the boys feel the same way, they did everything they could to try and prepare us correctly for that game, and us, as players, have to take it on ourself and realize that we can perform to our levels.
MF Antonio Nocerino
For Nocerino, the two-game losing streak is in the past.
It's a last game last week. Is a pass. Is a play two game. For me, is a—with the second half with the Toronto is well. With Houston, no. But is important look next game because is very important work for three points especially when play in the home, you know? After two lose, is no possible to have another game. Have the good opportunity for win, especially when play in home.
For Nocerino, traveling extensively is "physically incredible."
I look for me. For me, my difficulty is to fly because, for me, when I fly with Orlando, Toronto, after you playing with Houston, it's no simple. It's no simple. This is no excuses, but, for me, is no big problem, but is no simple. And the team is no play well because the Houston play well—very, very well. My question is no excuses because I know when I lose, when I win, I no have excuses. But is a very difficulty, for me, is when I fly the long, long time because is a, physically, is a very incredible. And who fly understand my question. But is normal in MLS, and is no problem. Look the next game is…important.
No matter if the result is a win or a loss, Nocerino knows the result is in the past.
When lose two game, in the locker is the moment, is a—the my idea is, is the my question is when I win, I no am phenomenal. I no am is a change because I win. When the same or when I lose, is no change the my…work and my training, but, when I win, when I lose, my work is the same. This is important for team because when win is normally you have the heartbeat, you have the confidence. This is important when you lose is no have the, is the moment is no down, is no? I have a long time. Is the season is play only 10 game, have the second in the table with the one point with Toronto. I no have a worry, you know? Stay relax. The team is stay good, is work good. This is very important. Is normally when I lose, I no happy. Is normal because, for me, I repeat, every single day, for me, is a lose, a win is no sleep. For my experience, when I lose, I no sleep because I have angry. But is the soccer. Is important to look at the next game with confidence, with attitude and the work same when you win, when you lose.
Is no different. No have the different the moment when you lose the Houston. Because is a you lose is important in this week is a look the error and the look next game with confidence because is important no look before the game, but you look what time is the next game because you lose—"Okay, I lose." Same when I win. "I win? Okay." I no remember the win the game because, okay, "I win. I am happy." No. "I win? Okay." Next game. I look next game. When win, look next game. When you lose, I look next game. Is normal. Is normal. Is important to work with confidence because when I understand the—when I lose, is no happy. But is a 10 games, guys. Relax. Two in the table. Second in the table. 18 point. You remember last year. Relax. The horse is a look in the finish. No problem.